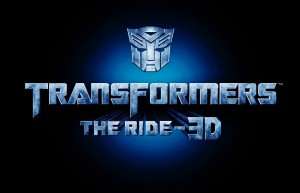 Universal City, Calif. — "Transformers: The Ride-3D," based on the iconic brand from Hasbro and hit film franchise directed by Michael Bay, celebrated its premiere at Universal Studios Hollywood on May 24 before making its big public splash Memorial Day Weekend.
Costing an estimated $100 million, the park's most ambitious ride to date fuses original high-definition 3D media, elaborate flight simulation technology and cutting-edge special effects with spectacular action sequences and an inventive storyline to immerse guests in the action-packed world envisioned by the feature films.
The pulse-pounding breakthrough thrill ride, which finds humanity caught in the middle of an intergalactic war between alien robots — the heroic Autobots and the evil Decepticons — propels guests in dynamically pitching and spinning 12-passenger vehicles along 2,000 feet of ride track, surrounding them with 14 gigantic screens (many of which stretch to heights of 60 feet).
Created by a roster of Hollywood heavyweights, the attraction was a collaboration between creative consultant and filmmaker Michael Bay, the Oscar-winning technical luminaries at Industrial Light & Magic, Hasbro, Inc. and Universal Creative.
"We've pushed the boundaries of 3D, hyperrealism and immersive visual effects to transport our guests, physically and viscerally, into the world of Transformers," said Mark Woodbury, President, Universal Creative. "Our collaboration with the immensely talented director Michael Bay has been extraordinary. With his blockbuster filmmaking capabilities, Universal Studios Hollywood has created an original story that taps into the real heart of these bigger-than-life characters and delivers an epic ride experience of a lifetime that will thrill guests from around the world."
---
Comments are closed.
---