Tickets, Cabana, Memorabilia auctioned to raise funds for Oklahoma tornado victims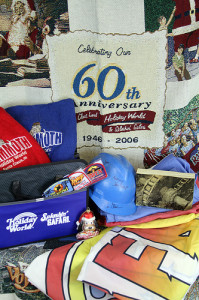 SANTA CLAUS, IND. — An eclectic collection of park memorabilia is up for auction, as Holiday World raises funds for the Red Cross's relief efforts for victims of yesterday's tornado in Oklahoma.
"We've put together an awesome package to appeal to fans of our park," says Holiday World president Matt Eckert. "The auction winner will receive eight Holiday World tickets, meals, use of a cabana, first ride of the day on our Mammoth water coaster, plus a set of park flags, one-of-a-kind coaster art, and more."
The online auction package includes:
8 one-day admission tickets for 2013
First ride of the day on Mammoth (or other ride of your choice)
Private Cabana in Splashin' Safari
Lunch served in your Cabana
Dinner at Plymouth Rock Café, with table service and tour
Holiday World Hard Hat, used, signed by our Coaster Cats
Customized Coaster Art (you choose the photo) on Raven track wood
Holiday World Logo Flag (flown at the front gate)
Splashin' Safari Logo Flag (flown at the front gate)
3 Voyage Flags (flown at the top of the lift hill)
Holiday World 60th Anniversary throw
Roller Coaster Patches (Raven, Legend and Voyage)
2 Mammoth beach towels
Family photo on the ride of your choice (posted on our Facebook page, if you'd like)
Holiday World laminated trunk organizer
Holidog Christmas ornament
All proceeds from the auction, which will run through noon on Tuesday, May 28, will be donated to the American Red Cross for Oklahoma tornado relief efforts.
To place a bid, go to HolidayWorld.com/Oklahoma.
Holiday World & Splashin' Safari are open daily for the season. For more information, visit the park's website at HolidayWorld.com or call 1-877-463-2645.
Iron Rattler is the second Six Flags wood coaster to undergo a transformation into a completely re-imagined steel-track sleek machine. Rocky Mountain Construction (RMC), aided by Alan Schilke of Ride Centerline, transformed the original 20-year-old Rattler into a completely new experience with the new Iron Rattler.
Fiesta Texas has much to boast about with its new coaster — a 180-foot-tall lift hill leads to 171-foot drop all the way to the quarry floor. Four overbanked turns, an innovative uphill barrel-roll inversion and dramatic dives from the top of the cliff walls make for an amazingly smooth, but incredibly wild roller coaster experience that is leaving riders breathless.
Look for complete coverage of Iron Rattler in the June issue of Amusement Today.
Park Patrons will have a chance to experience Iron Rattler this coming weekend when the coaster opens to the public on May 25. The park will be open daily through August 25.
American Coaster Enthusiasts to promote roller coaster preservation and enjoy
modern steel and a Landmark wood coaster.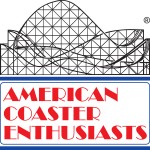 DENVER, Colo. — 150 roller coaster enthusiasts from across the U.S. will trek to Elitch Gardens (May 17-18) and Lakeside Amusement Park (May 18-19) to celebrate these traditional amusement parks and recognize coaster preservation efforts. This three-day celebration is the preservation conference of American Coaster Enthusiasts (ACE), which will be held Friday through Sunday at two parks full of thrills, character and history. A prime feature of the conference will be multiple hours of riding the two wooden and several steel roller coasters at both parks.
Participating ACE members can also attend multiple VIP park tours at these two great Denver parks.
Attendees will enjoy camaraderie with like-minded people and share stories of coasters ridden in all corners of the world as many ACE members have traveled to Europe, Central America and Asia.
Anywhere there is a coaster, you will find an ACEer.
More information on the event is available at AmericanCoasterEnthusiasts.org.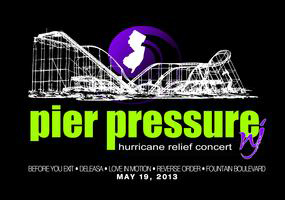 SEASIDE HEIGHTS, N.J. — A Pier Pressure Hurricane Concert will be held Sunday, May 19, at Hemingway's Cafe, 612 Boulevard in Seaside Heights from 5:30 p.m. to 10 p.m. The concert will feature Fountain Boulevard, Love in Motion, Reverse Order, Deleasa and Before You Exit. This event has been planned by two Toms River teens, Amanda Kacperowski and Sara Brilliant, in an effort to raise funds for those affected by Hurricane Sandy. On December 1, 2012, Amanda and Sara successfully organized and held their first Pier Pressure Hurricane Relief and raised over $15,000 for 2 Hurricane Relief Charities. For sponsorship opportunities, please contact pierpressurenj@gmail.com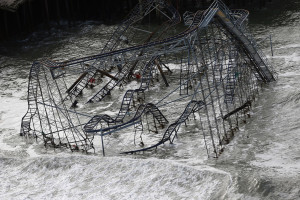 SEASIDE HEIGHTS, N.J. — Casino Pier, the cherished oceanfront amusement park whose boardwalk and pier was dismantled by October 2012's Hurricane Sandy, has hired Weeks Marine to remove the Star Jet roller coaster from the Atlantic Ocean.
Tuesday, May 14, 2013 will commence the first phase of the project — removal of the Star Jet and the other related debris in the water. Weeks Marine will be working around the clock on the removal until completion. The entire project will take several days to complete once they begin on Tuesday.
Members of the media will have the opportunity to observe the commencement of the removal process on Tuesday, May 14th. All media representatives must have their credentials and sign in with the Casino Pier representatives starting at 1 p.m. at the check-in table located at the corner of Sherman Avenue and Ocean Terrace.
At approximately 2 p.m., Casino Pier will conduct a short Q & A for the press with representatives from Casino Pier, Weeks Marine and Seaside Heights municipality. At this time, details of the removal process will be addressed and there will be further opportunity for questions. Following the Q & A, Casino Pier and Seaside Heights representatives will be available for any additional questions.
Casino Pier is located at 800 Ocean Terrace, Seaside Heights, N.J. For more information on Casino Pier, please visit casinopiernj.com.
DOSWELL, Va.— Kings Dominion kicks the Peanuts-themed fun into high gear this summer with the first-ever "SnoopyCon, A Coaster Enthusiast Family and Friends Event."
Slated for Saturday, July 6, 2013, SnoopyCon is a park-sponsored event that will offer coaster enthusiasts and their families unequaled access to the park's new record-breaking Planet Snoopy. SnoopyCon attendees will be treated to a Peanuts character breakfast, early ride time on all 18 rides in Planet Snoopy, behind the scenes tours of the new section and its new live shows as well behind-the-scenes activities including a tour of the Intimidator 305 giga coaster. Other surprises (including a major perk that coaster fans won't want to miss) will be announced at a later time.
"As the home of the bigger, better and world's largest Peanuts-themed children's area, Kings Dominion is very excited to host the first-ever SnoopyCon event. With eight new rides (18 total) in our new Planet Snoopy, SnoopyCon is the perfect opportunity to get exclusive access to all the excitement we have to offer here at Kings Dominion with the entire family," said KD Public Relations Manager Gene Petriello. "Our guests will also have the opportunity to get behind-the-scenes access to the park, along with a chance to experience all that Kings Dominion has to offer, all in one day. We are looking forward to all the smiling faces on the families of our coasting community, family and friends that we'll see on July 6!"
A full list of event details can be found online at: kingsdominion.com/snoopycon.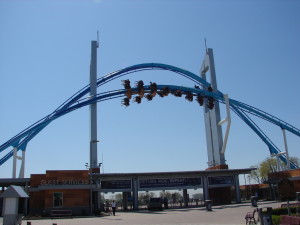 Introducing a new roller coaster to a theme park isn't out of the ordinary, particularly for Cedar Point, a land of giants in terms of record breaking coasters. However, GateKeeper, a new wing roller coaster manufactured by B&M, has done much more than just offer guests a new round of thrills. Visitors to the world famous amusement park are now greeted with a grand new entrance with the high-flying coaster soaring overhead.
One of a relatively new genre, GateKeeper pushes the dimensions of the wing coaster to new statistical dimensions — longer, taller and faster than any before. With two of the ride's six inversions slicing right through two keyhole maneuvers literally above the park entrance, arriving guests have no question from the first moment that a day of the latest thrills lies ahead. This new installation also opens up the Lake Erie beach to new attractive views that have not been seen by park guests before.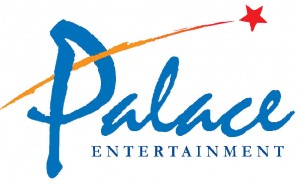 NEWPORT BEACH, Calif. — On Saturday, May 11, the world celebrates the sport of miniature golf. Palace Entertainment is inviting guests to join in on the fun by offering free mini golf, on National Miniature Golf Day, at its twenty-one family entertainment centers across the country. Palace Entertainment family entertainment centers include Boomers, Mountasia, Malibu Grand Prix, and SpeedZone parks in five states.
Miniature golf became an official competitive sport in the US in the 1930s and has been a beloved leisure time activity worldwide for even longer. Palace parks entertain millions of guests of all ages every year on and off the miniature golf course. Each family entertainment center offers hundreds of rides, arcade games, and attractions in addition to multiple mini golf courses with unique themes and obstacles.
For the park nearest you and to print a coupon for a free round of golf on May 11, visit the park websites at boomersparks.com, mountasia.com, malibugrandprix.com, or speedzone.com.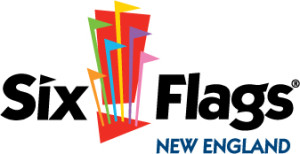 AGAWAM, Mass. — Six Flags New England, the region's largest theme park, is educating young women with the all-new Science Adventure Program. On Saturday, May 11, between 11 a.m. and 1 p.m., over 500 Girl Scouts throughout the New England region will be participating in this educational day focusing on engineering and technology. Girls Scouts will be representing all corners of the northeast from New York, Maine, Connecticut, New Hampshire, Vermont, Rhode Island and Massachusetts.
Science Adventure was created with the assistance of New England educators to utilize the park's top attractions and formulate a Science curriculum around them. Throughout this program, the Girl Scouts will be invited to explore the park in a thrill-packed scavenger hunt, following clues and answering questions about energy and motion along the way. These future scientists will take the field as they compete in teams to earn fun and exciting prizes. The Girl Scouts Science Adventure program includes a Q & A with Six Flags' very own Corporate Engineer, Mike Neuzil. Mike will discuss the importance and relevance of modern technology within the theme park industry. After the Girl Scouts complete the entire program, they will be awarded a Science Adventure patch and Certificate of Completion.
"Women's representation is low at all levels of the STEM (Science, Technology, Engineering & Mathematics) career pipeline, from interest and intent to majoring in a STEM field in college to having a career in a STEM field in adulthood," said Pattie Hallberg, Girl Scouts of Central & Western Massachusetts (GSCWM) CEO. "Studies show that girls lose interest in math and science during middle school, and STEM interest for girls is low, compared to boys. Partnering with Six Flags to bring the science and thrill of motion alive for girls is a fabulous opportunity to provide inspiration. Inspired girls may just become the next generation of inventors and innovators building the next thrilling roller coaster." Science Adventure is open to students in grades 4 through 12.
Interested schools and learning professionals will want to reach out directly to Samantha Biondolillo at sbiondolillo@sftp.com.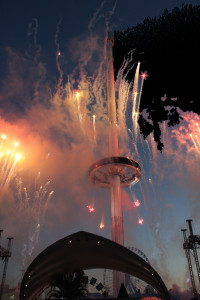 Summer Adventures in Fair Park exploded onto the Dallas entertainment scene with its grand opening May 3, 2013. At its preview party before an enthusiastic crowd, Summer Adventures officials christened its new park and signature Top o' Texas Tower ride with a pyrotechnics display unparalleled by the amusement park industry.
The three-minute, custom-manufactured event was produced by Dave Groves and Scott Britt with Interlaced Productions of Atlanta. The company used 850 cues of pyro, shot from five ground locations in front of the 500-ft. tall tower and up and down in angled directions from the unoccupied passenger gondola. Fireworks set to angle from four locations atop the ride's machine house, cleared the attraction's mast. The tallest pieces of the display launched fireworks 750 to 800 feet in the air in a demonstration of impressive close-proximity pyrotechnics.
Summer Adventures in Fair Park officially opened to the public weekends beginning May 4 with daily operations starting June 7 through August 18, 2013. For more information visit fairparkfun.com.