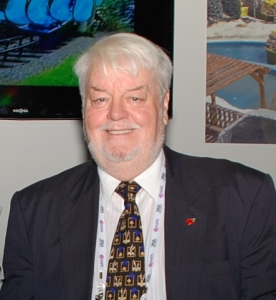 NEWCASTLE UPON TYNE, United Kingdom — Mike Anderson, well-known throughout the amusement and theme park industry as part of the Interlink team, passed away at the end of August.
Anderson began his career in the industry somewhat by default after he was asked to build a monorail for the UK park Flamingoland in North Yorkshire in 1983. In that same year he founded ride manufacturer Mimafab Ltd. and subsequently went on to work for Interlink in 1986/87.
Anderson's particular areas of expertise were in engineering and fabrication, in particular with water based leisure attractions, while he also had many years' experience in the operation of rides in parks. He managed Interlink's UK company, working as technical and commercial director, and was also responsible for the company's rides installation sub division. He celebrated his 70th. birthday on July 15.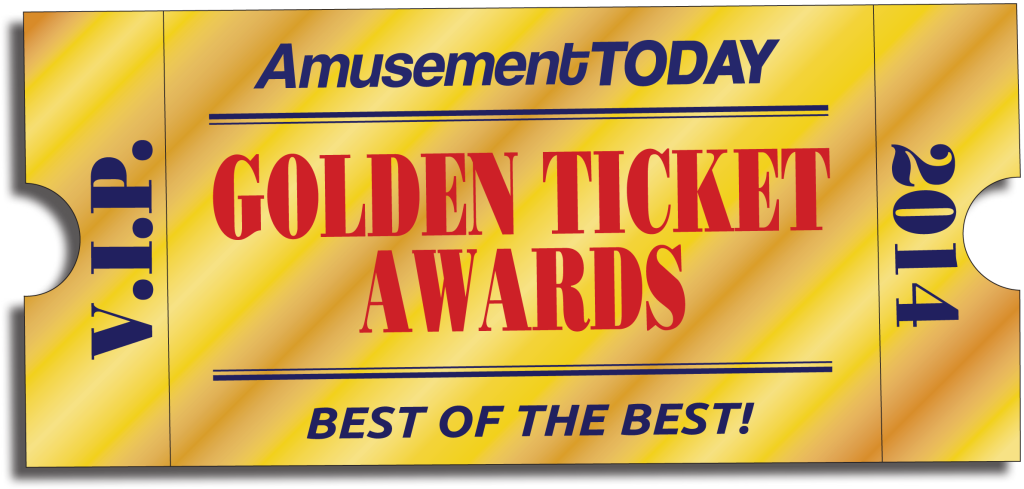 SAN DIEGO, Calif. – In an awards' show hosted by SeaWorld San Diego, Amusement Today announced the winners of its prestigious 2014 Golden Ticket Awards, which are presented annually to the "Best of the Best" in the amusement industry. Calculated from an international poll conducted by Amusement Today, the Golden Ticket Awards are the results of a detailed survey that is sent to a database of experienced and well-traveled amusement park fans around the world – in balanced geographical regions – asking them to rate the "bests" in 25 categories.
The poll revealed some surprises. For the first time in the 17-year history of the Golden Ticket Awards there was a new winner for "Best Amusement Park" when Europa-Park in Rust, Germany, took top honors; 16-year perennial favorite Cedar Point in Sandusky, Ohio, came in second place. And in a tight race for "Best Landscaping," Gilroy Gardens in Gilroy, Calif., came within one percent of the votes to nearly beat always-favored Busch Gardens Williamsburg in Williamsburg, Va., for the first time ever.
For a complete listing of the 2014 recipients visit goldenticketawards.com.
Restored, 1925 Prior and Church car will be a jewel in museum collection.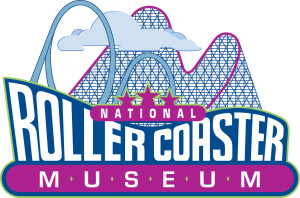 SAN DIEGO, Calif. — The nearly ninety year journey from iconic roller coaster to a beachside Saloon is finally ending as a coveted piece of history in the National Roller Coaster Museum.
The Prior and Church car ironically sat in front of The Coaster Saloon in San Diego for many years after it was retired from service on Belmont Park's Giant Dipper wooden roller coaster.
The car will join an unrestored Prior and Church car from the Giant Dipper in the NRCMA collection. "We certainly want to thank San Diego Coaster Company, Belmont Park, John Renna owner of the Coaster Saloon, former members of the Save the Coaster committee and, of course, Dana Morgan, for the donation and the tireless hard work in preserving this beachfront icon of California and the amusement industry," NRCMA Chairman Gary Slade said.
Ongoing acquisition of artifacts like this one from Belmont Park and the Coaster Saloon, which include items from Cedar Point, Six Flags New Orleans, Knott's Berry Farm, Elitch Gardens, Circus Circus, Lakeside Park, Adventuredome, White Water Branson, Busch Gardens, AstroWorld, Morey's Piers and Adventure City forced the NRCMA to outgrow its current facility.
"We are always looking for facilities interested in our mobile or custom exhibits. In order to continue to acquire artifacts, we need the industry to support us and to help us expand. If we don't preserve our history for generations to come, it will be lost," Slade said.
ARLINGTON, Texas — The latest schedule for attendees of the Golden Ticket Awards, to be held September 5, 6 & 7, 2014, is now available as a PDF file. Attendees are encouraged to download the file to their smartphone for reference throughout the event. A paper copy of the schedule will also be available at the event check-in table.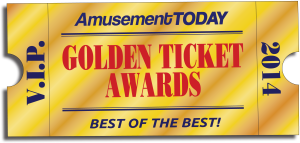 SAN DIEGO, Calif. — SeaWorld San Diego will host the 2014 Golden Ticket Awards on September 5, 6 and 7, 2014. Presented by trade newspaper Amusement Today, the private, three-day event for amusement industry professionals recognizes the "best of the best" in the amusement industry.
In addition to the Golden Ticket Awards ceremony at the Mission Bay Theater and dinner with Shamu, the three-day event includes a welcome reception, behind-the-scenes tour, and a fundraiser for the National Roller Coaster Museum at Belmont Park's Giant Dipper roller coaster. Guests will also have the opportunity to visit the U.S.S. Midway, SeaWorld Aquatica and the world-famous San Diego zoo.
Beginning shortly before 7:30 p.m. Pacific Daylight Time on September 6, 2014, the public can watch the Golden Ticket Awards streaming live online at seaworldparks.com/en/seaworld-sandiego/pages/goldenticket.
The annual Golden Ticket Awards are the amusement industry's equivalent of the Oscars, with amusement park owners and managers, ride manufacturers, and other industry officials gathering to salute the industry's top parks. Winners were selected by amusement park enthusiasts, voting from around the world.
Host park SeaWorld San Diego is celebrating its 50th anniversary. For five decades, SeaWorld has surprised and amazed guests with unique entertainment, thrilling rides and up-close encounters with marine animals. The original SeaWorld park opened its gates for the first time in March 1964 on Mission Bay in San Diego. SeaWorld's 18-month, 50th Celebration highlights some of the most memorable SeaWorld experiences.

SANTA ANA, Calif. — The board of Directors of AIMS International (Amusement Industry Manufacturers & Suppliers International) is pleased to announce the appointment of Karen Oertley to Executive Director. Oertley brings nearly 30 years of industry experience to AIMS International and will assume overall responsibility for day-to-day management and operation of the association. Based in Nashville, TN, she will report to the board of directors.
"Karen brings wealth of industry knowledge and relationships along with a strong business background to AIMS. On behalf of the entire board of directors, we are thrilled to have her at the helm," said Roger Berry, President of AIMS International Board of Directors.
Oertley's earlier career with Amusement Business spans more than 25 years. As Publisher and Editor in Chief of the international live entertainment newsweekly, she held complete responsibility for the division and maintained a highly visible industry presence. She is the former chair of the Amusement Business/Liseberg Applause Award Board of Governors and was a member of AIMS International's board of directors for eight years. She served on several IAAPA (International Association of Amusement Parks & Attractions) committees including the Manufacturers & Suppliers (M&S) Committee, Small Parks Committee and Exhibit Awards Committee. She has written columns and articles on trends in the industry and has spoken at industry gatherings.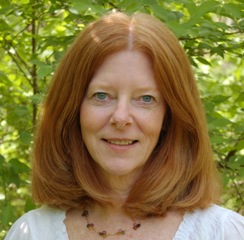 In accepting this position, Oertley commented, "I am more than honored and very excited about this opportunity. I have the utmost respect for AIMS International and its mission to improve safety, which is essential to the entire industry. I see tremendous potential for the future of the organization and I look forward to working with our board to accomplish great things!"
Most recently, Oertley was Director of Marketing for Hopkins Rides and held marketing and communications responsibilities for WhiteWater. Prior to joining WhiteWater, Oertley was the Executive Director of Leadership Music, an educational non-profit organization based in Nashville. Earlier, she was Publisher of Hospitality Design magazine, based in New York City.
About AIMS International
AIMS International is a non-profit 501(c)(6) association dedicated to improving amusement Industry safety through its leadership in education. AIMS International provides training classes and certification (CEU) programs for operations, aquatics and maintenance personnel through its annual Safety Seminar and at other venues throughout the year. AIMS also serves to inform its members on legislative and other issues relating to industry.
The 2015 AIMS International Safety Seminar will be held in Orlando, FL January 11-16, 2015 with more than three hundred expected to attend. For more information about AIMS International and the AIMS Safety Seminar, please visit www.aimsintl.org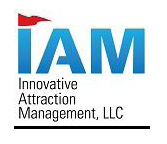 WINDERMERE, Fla. – Innovative Attraction Management, LLC (IAM) has formed a partnership with Atlantis, Paradise Island to provide the IAM Elite Aquatic Risk Prevention program at the destination resort location in the Bahamas. Their exceptional aquatic guest experience includes an unprecedented 141-acre waterscape, Aquaventure. This water experience, containing 7 million gallons of water, consists of thrilling water slides, a mile-long river ride with high intensity rapids and wave surges, 11 pools, a life-size replica of a Mayan Temple, a 7-acre snorkeling lagoon, a lazy river and special effects that add a level of excitement to the overall experience.
IAM and Starfish Aquatics Institute, LLC (SAI) formed a broad strategic alliance using their complementary strengths and expertise to create a new option for aquatic training and elite risk prevention services. The IAM Elite Aquatic Risk Prevention Program utilizes SAI's StarGuard lifeguard program as its foundation. SAI's programs have been in use in all 50 states in the United States and around the world since the agency was formed in the late 90's, and together the two organizations provide the aquatic industry with client-based and cost-effective services that set the industry standard.
"We are incredibly fortunate to have this opportunity to partner with the team at Atlantis, Paradise Island" IAM President Mike Friscia said. "Their facility is incredibly unique that exceeds their guests expectations and we are prepared to exceed Atlantis expectations with the implementation of the IAM Elite Aquatic Risk Prevention program".
The Elite program has the following features and is designed for water park and resort clients:
Exceeds recognized safety standards
Audit reviews for both lifeguards and dispatch positions
Aquatic incident investigation support
Litigation support
Annual pre-season park inspection and in-service training session
IAM/StarGuard Instructor and Instructor Trainer sessions that fit the needs of the client
Experiential, objective-based training that results in a certificate of completion and a site-specific license and accountability program.

WINTER GARDEN, Fla. — The Haunted Attraction National Tradeshow and Conference, sponsored by DarkLight, is proud to announce that HAuNTcon 2015 will be help in Baton Rouge, La. at the Belle of Baton Rouge Hotel and Conference Center February 6 to 11. HAuNTcon has a group discount at the hotel and they provide free shuttle service to and from the Baton Rouge Airport to the Hotel.
Designed for haunter's, by haunters, the 2015 conference starts early Friday morning with an all day "Inspiration" Pre Show Bus Tour of everything spooky and interesting to see in Southern Louisiana. Friday night concludes with a lights off full actor October style tour of 13th Gate and Necropolis. Saturday morning begins with haunter education and hands-on workshops sponsored by Garage of Evil. In between classes be sure to check out the HAuNTcon Tradeshow, filled with product and service providers, special effects and prop companies, costume and make up manufacturers. Saturday night concludes with the infamous HAuNTcon Costume Ball, sponsored by Froggy's Fog.
Education, Workshops and Tradeshow continue on Sunday and continues Sunday night with a tour of Rise Haunted House. Monday morning brings a full day of in depth workshops and education and concludes with a haunt tour and Haunter's Party at The Mortuary Monday night.
But the fun is still not over. Tuesday is filled with all day hands-on workshops designed for the serious haunter looking to take their event to the next level. Attendees can take advantage of the nightly networking in the HAuNTcon Hospitality Suite and impromptu meeting of haunters and vendors all over the hotel. There is even a Casino attached to the hotel to keep spouses entertained.
We are still finalizing things so you will not be able to get a room or buy tickets just yet, but you will very soon. Stay tuned.
This year's event is shaping up to be the largest to date and we look forward to seeing you February 6-11 in Baton Rouge for the haunter's convention, HAuNTcon 2015! For more information visit the HAuNTcon website.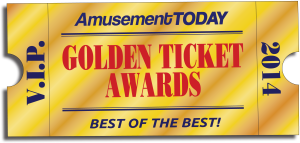 ARLINGTON, Texas — Although registration for Amusement Today's 2014 Golden Ticket Awards is still available at goldenticketawards.com. Today is the last day to book a room at the host hotel — the beautiful Hyatt Regency Mission Bay — at the Golden Ticket special rate. On Saturday morning the room block will be released and the rooms will be open to the general public. Make your reservation now at the Golden Ticket hotel web page.
To check out the itinerary, hotel information, and to register, please log on to goldenticketawards.com. This event is reserved for working professionals in the amusement industry. Representatives from parks and attractions, manufacturers, suppliers, consultants and more will come together to celebrate another industry season – all in the name of fun.
SeaWorld San Diego in California is planning to roll out the red carpet for industry attendees on Friday and Saturday, Sept. 5 and 6. Nearby Belmont Park will host an Opening Reception on Friday, Sept. 5, while the San Diego Zoo is extending an extra play day on Sunday, Sept. 7.
This is the 17th annual year for the Golden Ticket Awards; they are presented to the "Best of the Best" in the amusement industry and are calculated from an international poll conducted by Amusement Today.

Charlotte, N.C. – For more than 40 years, Carowinds has been the place where the Carolinas come together. It's where the Tar Heel State and the Palmetto State meet. It's where families and friends bond over thrilling rides and entertainment. Carowinds will now unite its storied history with its future as the standard for thrills by unleashing Fury 325, one of the world's tallest and fastest mega coasters.
Fury 325 will simulate the wild, daring and spontaneous flight of the hornet. The new ride will be visible from uptown Charlotte, renewing the park's skyline and serving as a symbol of changes to come. Fury 325 is part of a planned $50 million dollar multiyear investment to bring new life to founder Pat Hall's original vision for Carowinds. The park will be revamped from top to bottom to celebrate Carolina culture including new rides and attractions, signature Carolina food offerings and entertainment. Opening in Spring 2015, Fury 325 will be the centerpiece of a new 8.2 acre main entrance plaza that includes a state–of–the–art ticketing and season pass processing area and expanded guest service facilities.
"Starting with Fury 325, we plan to make Carowinds a destination for thrillseekers to celebrate the Carolinas," says Mike Fehnel, Carowinds Vice President and General Manager. "The new ride will build on the heritage of the park, creating new memories and traditions for our loyal fans and future guests from around the world."
Riders will board into three 32–passenger open air trains and begin their ascent to the top of a 325–foot (over 30 stories) hill. This immense hill is followed by an exhilarating 81 degree first drop. Like an angry hornet chasing its target, Fury 325 will race through a series of hills, curves and quick transitions while reaching speeds of up to 95 miles per hour. Riders will speed along 6,602 feet of track during the nearly three and one half minute ride.
Fury 325 is designed and manufactured by Bolliger and Mabillard (B&M) of Monthey, Switzerland, a recognized industry leader in roller coaster development and the same firm that brought Vortex to Carowinds in 1992, Afterburn in 1999, and The Intimidator in 2010.