CHICAGO, Ill. — The very notion of what's magical will take on new meaning in America's most famous theme park this November. For the first time ever, the Walt Disney World Resort will be the venue to For A Cause, a 501(c)3 nonprofit organization that orchestrates multi-day charity walks in vacation destinations that uniquely allow participants to walk for the charity of their choice.
The "A Walk Around The World" event (awalkaroundtheworld.org), a walk-only fundraiser limited to 50 participants, takes place November 14–18, 2013. Over the course of three days, walkers will hit the sidewalks and walkways (not streets) averaging 10 miles a day, following a suggested journey through Florida's Walt Disney World Resort. The adventure will take them through major resorts, water parks, and several of the famed theme parks, where walkers will experience all the sites and attractions along the way, at their leisure. In addition, everyone will have a chance to enjoy group meals, activities, shows, fireworks and several very special surprises, according to Robert Webber, president of For A Cause.
"There are so many die-hard WDW fans out there who are going to love the idea of visiting their favorite theme park while walking to raise money for the nonprofit of their choice," Webber says. "In years past, For A Cause participants have traveled to castles in Europe and trekked miles throughout historic destinations, but this is the first time they'll be given a chance to visit Cinderella's castle and walk miles throughout a fantasy destination. It's going to be some serious fun — the Walk will be both magical and meaningful. If your feet get a little tired, you can just hop on one of the enchanted rides and take a break!"
The registration fee for A Walk Around The World is $350 per person and includes a portion of the event expenses, as well as lodging at Disney's Coronado Springs Resort, group meals and group snacks. Single participants will be paired with a roommate, although single rooms are available for an extra charge. Walkers must be 14+ years old to participate. There is a minimum fundraising requirement for the charity of the participant's choice.
"As with all For A Cause events, A Walk Around The World will put participants up in comfortable accommodations, offer excellent food, and an unforgettable experience — this time made possible by the extraordinary setting and fanfare at the Walt Disney World Resort," Webber says.
A complete list of frequently asked questions pertaining to registration, lodging, and walk logistics is available at: awalkaroundtheworld.org/FAQ.html.
For more information about For A Cause, visit www.rfac.org.
About For A Cause
A 501(c)3 nonprofit organization, For A Cause is grounded in its mission to energize and inspire people to make a difference in the world for those who are less fortunate. Orchestrating highly unique, creative and exciting walking and cycling events, For A Cause differentiates itself from other fundraising events by allowing its participants to choose the charity/nonprofit that will benefit from their efforts. Event participants are individuals who walk or ride for everything from breast cancer to AIDS/HIV, homelessness, diabetes, childhood cancers and disabilities, and much, much more. Together, they've raised over $500 million while walking or cycling in incredible destinations worldwide — Italy, Ireland, France, Spain, Scotland, the Netherlands, and, soon, the United States' Walt Disney World Resort.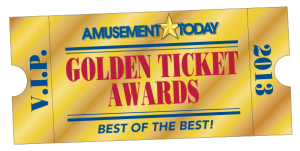 Save the date! Industry professionals are invited to mark Friday and Saturday, Sept. 6-7 on their calendars for Amusement Today's 2013 Golden Ticket Awards. Representatives from parks and attractions, manufacturers, suppliers and consultants will be able to enjoy this two-day event hosted by the beautiful Santa Cruz Beach Boardwalk in Santa Cruz, Calif.
The itinerary and specific details will be finalized in the coming months; however, for those looking ahead to make travel plans, the Golden Ticket Awards registration will kick off on September 6 at noon with behind-the-scenes tours beginning at 2 p.m. The event will conclude with a reception, the awards show and dinner on September 7 from 5–11 p.m. A possible off-site activity is being considered for September 8.
The Golden Ticket Awards have become a "don't miss" industry event, and the Amusement Today and Santa Cruz Beach Boardwalk teams are working hard to roll out the red carpet for attendees. The two-day event will feature special park tours, social receptions, presentations, dinners and time to experience Santa Cruz Beach Boardwalk in operation. The highly anticipated awards show will entertain attendees on September 7.
This will be the 16th annual year for the Golden Ticket Awards; they are presented to the "Best of the Best" in the amusement industry and are calculated from an international poll conducted by Amusement Today. More details to come later this spring!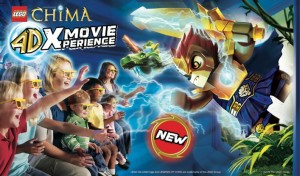 GRAPEVINE, Texas — A heroic new attraction is arriving to Legoland Discovery Center Dallas/Fort Worth as LEGO Legends of Chima is brought to life in an exclusive 4D Movie Xperience.  The all new 12 minute animated 4D film, complete with high impact special effects, will immerse audiences in the fantastical LEGO world of Chima where tribes of animal warriors compete in epic battles for CHI, a mystical energy source of limitless power and destruction.
The story follows four young animals as they take a guided tour of Chima with Plovar the Parrot and become entwined in a struggle between good and evil as they help their hero Laval the Lion Prince do battle with Cragger the Crocodile King.  State of the art 3D animation will bring the audience right into the heart of their journey as they sweep through dramatic landscapes, flying through the magical waters of Mount Cavora and soaring over the majestic Speedorz Arena of Chima in a high speed chase. The climax of the adventure comes as Laval and Cragger take to their Speedorz vehicles in a super-charged, super-fast race to capture a precious supply of CHI. Will good prevail or will evil win the day?
The LEGO Legends of Chima 4D Movie Xperience is an exciting introduction to this exciting new range from LEGO, bringing to life its key characters in a fast paced adventure set to enthrall audiences. A range of special effects synchronized to the action on screen, add the 4D element of extra excitement and drama.  Watch out for wind, smoke, water and plenty of edge of the seat surprises and fast paced LEGO-tastic fun.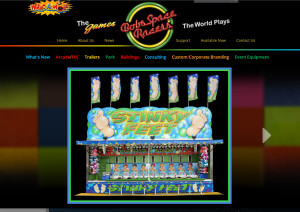 DAYTONA BEACH, Fla. — Renowned midway and arcade games manufacturer Bob's Space Racers (BSR) recently took the wraps off its new and improved website – www.bobsspaceracers.com
The website's revamping provides visitors and potential buyers with an in-depth view, including photos and descriptions of all BSR games. A new video feature illustrates how BSR games are played.
From Arcade games to Trailer games and Park Model games. The new BSR website dedicates specific pages related to these selections.
For companies seeking a portable, practical solution for their clients, BSR offers scaled-down versions of those ever so popular midway games in the "Event Equipment" section.
Shoppers searching for a more 'experienced' game should check out the "Available Now" section where they can choose from numerous pre-owned, refurbished games currently for sale.
The "Support" page offers game manuals, tech support and parts for existing games while soon to be available is a "Live Chat" option to connect real time with BSR sales and support specialists.
Keep up with Bobs Space Racers newest games, designs and concepts in the "News" section. The new "Customs and Branding" page shows some of the spectacular work BSR has done for clients around the world to help promote their business.
Bob's Space Racers continues to work diligently to provide the best "Games The World Plays"!
— Scott Rutherford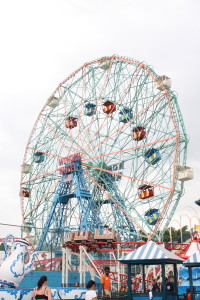 CONEY ISLAND, Brooklyn, N.Y. — To celebrate the reopening of Coney Island and its comeback from Superstorm Sandy, rides on Deno's Wonder Wheel will be free on Sunday, March 24. Deno's Wonder Wheel Park will be open from 11 a.m. until 6 p.m. on that date.
Visitors are encouraged to join park and borough officials on the boardwalk in front of Deno's Wonder Wheel Park and its titular, 1920-built landmark on March 24 at 11 a.m. for the 29th annual Blessing of the Rides — a tradition unique to Coney Island. Local pastor Debbie Santiago of Salt N Sea Mission will officially launch the amusement season with a blessing and ribbon cutting ceremony attended by the park's owners, the Vourderis family.
Also on that date, the park will open the Coney Island History Project and host over 200 local kids from the Salt N Sea Mission.
Deno's Wonder Wheel Park, which features 21 rides, arcades, live entertainment, a family pizzeria and more, will be open every day for Spring Break, March 25 to April 2,  from 12 noon until 6 p.m. The park is open daily Memorial Day through Labor Day 11 a.m. to midnight, and 12 p.m. to 6 p.m. weekends and school holidays in March, April, May, September and October.
All park operating dates and hours, including Friday fireworks and karaoke nights beginning in mid-June, are weather-permitting.
— Dean Lamanna
Pigeon Forge, Tenn. — About 35 vacation cabins in the Black Bear Ridge Resort were destroyed by a wildfire in Pigeon Forge, just outside of Dollywood Theme Park. Some of the cabins were occupied and about 150 to 200 people were evacuated. The fire, which so far has burned 145 acres, was first reported around 5 p.m. on Sunday, March 17. The Tennessee division of Forestry says the fire appears to be contained and is not expected to spread.
On Saturday, March 16, firefighters were called in to extinguish a brush fire at Dollywood that may have been started by the park's train. Dollywood spokesman Pete Owens said about 80 firefighters responded to the fire that was in an undeveloped portion of the park. Owens said that it appeared the fire was started by sparks from the train, but the fire department will have to investigate to determine the exact cause. Firefighters remained throughout the evening and the last of the crews left at 7 a.m. Sunday.
Nathan Waters of the Tennessee Forestry Service said brushfires have broken out in other counties in East Tennessee, including Loudon, Claiborne and Grainger counties.
Downtown Disney expansion brings new shops, dining, entertainment to guests and economic boost for Central Florida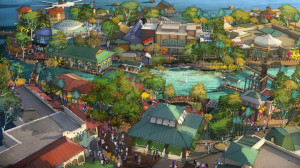 LAKE BUENA VISTA, Fla. — Walt Disney World Resort announced, March 14, the multi-year transformation of Downtown Disney into Disney Springs, a unique destination that will treat guests to significantly more shopping, dining and entertainment amid beautiful open-air promenades, meandering springs and waterfront charm.
Disney Springs will feature an eclectic and contemporary mix from Disney and other noteworthy brands. From boutique shops to unique flagship anchor stores, guests will be able to explore a variety of shopping, dining and entertainment experiences and discover options unlike any other currently available in Central Florida.
"Disney Springs will be a timeless, vibrant place where Walt Disney World guests and local residents can relax, shop, dine and be entertained in an imaginative setting where they'll instantly feel at home," said Tom Staggs, chairman of Walt Disney Parks and Resorts. "Featuring distinctive brands, world-class restaurants and unforgettable entertainment, Disney Springs will be brought to life with the same focus on storytelling and attention to detail that goes into our theme parks, resorts and cruise ships, resulting in a welcoming space that only Disney could create."
Disney Springs will double the number of shops, restaurants and other venues for guests to explore, resulting in more than 150 establishments. In addition, Staggs noted, Central Florida stands to benefit from the expansion with more jobs, tax revenues and business opportunities.
Drawing inspiration from Florida's waterfront towns and natural beauty, Disney Springs will include four outdoor neighborhoods interconnected by a flowing spring and vibrant lakefront. In addition to a new gateway with a signature water tower and grand entry, the destination will feature:
The Town Center, which offers a sophisticated mix of shopping and dining along with a promenade where guests can relax, refresh and reconnect.
A colorful and thriving commercial district called The Landing with inspired dining and beautiful waterfront views.
The family-friendly Marketplace that will continue to delight guests of all ages by combining new experiences, such as an over-the-water pedestrian causeway, along with classic Disney favorites, including an expanded World of Disney store.
A West Side that provides an exuberant atmosphere with lively entertainment, along with a series of new elevated spaces that provide both shade and an overlook to the activity below.
Collectively, these efforts will not only have an impact within Walt Disney World, but will also have an economic ripple effect on Central Florida. The project will create an estimated 1,200 construction jobs and nearly 4,000 operational roles.
Disney will share more details on specific experiences coming to Disney Springs in the future. Construction is slated to begin next month with new areas opening in phases. Disney Springs is expected to be complete in 2016.
Branson, Mo. — Silver Dollar City's new roller coaster debuts to the public on Friday, March 15. The media was treated to an advance look on Wednesday. An assemblage of media, enthusiasts, park personnel and city dignitaries rode for the first time. An overwhelming and rousing cheer of praise was bestowed on the new Outlaw Run.
Designed and built by Rocky Mountain Construction, this new woodie premiers under the tag line "The World's Most Daring Coaster." It is no false claim. The thrills are huge and so many of the maneuvers are dramatically unique to a wooden coaster. As the first-ever wooden coaster to boast topper track from the beginning, the universal appeal of the ride was that it was amazingly wild, yet still comfortably smooth. The ride's location in the hilly, wooded terrain of Silver Dollar City is once again an intriguing setting for a ride full of surprises.
Outlaw Run is also the attraction to debut new coaster trains designed and manufactured by Rocky Mountain Construction. Efficient and comfy, the two trains navigate the curvaceous, twisted track that features many overbanked turns and barrel roll inversions.
As the first new coaster to debut this coaster season, Silver Dollar City's Outlaw Run hits a home run for the park, and quite possibly sets the bar extremely high for all other subsequent coasters yet to come.
—Tim Baldwin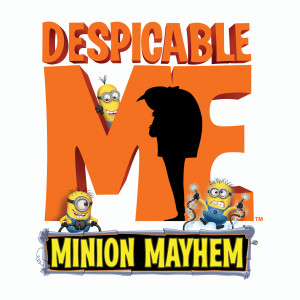 UNIVERSAL CITY, Calif. — Universal Studios Hollywood announces the much-anticipated arrival of Despicable Me Minion Mayhem, a 3D Ultra-HD movie motion-simulator adventure. Universal Pictures and Illumination Entertainment's worldwide blockbuster Despicable Me will come to life in Hollywood in an attraction modeled after the one in its sister park, Universal Orlando Resort — with the addition of a few surprises.
"Based on the consumer feedback at our sister park, we expect the Despicable Me ride experience to be a popular, family-friendly attraction for Universal Studios Hollywood. The ride continues the story line of the main characters from the blockbuster film through all-new 3D Ultra-HD animation, together with an interactive ride vehicle system," said Larry Kurzweil, President and Chief Operating Officer, Universal Studios Hollywood. "In Despicable Me Minion Mayhem, our guests will experience the hilarious and heartwarming characters of the beloved film in a whole new way."
The fully immersive experience will debut in 2014 with the loveable cast of leading characters that have captured the laughter of audiences worldwide: super-villain Gru, his adorable girls (Margo, Edith and Agnes) and the unpredictably hilarious Minions.
"The Despicable Me Minion Mayhem attraction at Universal Studios Hollywood will continue to push the creative envelope with its exceptional show content, sight gags, special effects and 3D digital animation. The exterior treatment will feature even more thematic and colorful creative touches that will literally place park guests inside Gru's world," said Mark Woodbury, President, Universal Creative.
Guests will experience whimsically themed queues, preshow videos and comedic dialogue that set up the fundamental plot: Gru schemes to create more mischievous Minions from human recruits.
Guests will be transported into Gru's house as they meander through his living room and encounter visual elements as seen in the film – including the moon-shrinking SR-6 shrink ray – while they zig zag through a zany adventure featuring Gru's super-villain laboratory. The exciting journey continues as they swerve, bounce and plunge to get through the frantically humorous Minion training mission while donning specially designed 3D Minion goggles. Fun and frolic continue in a post-show dance party where Minion walkaround characters invite guests to strut their stuff in an impromptu Minion-inspired dance party.
Despicable Me Minion Mayhem was produced in collaboration between Universal Creative and Illumination Entertainment, and was recently honored as Best Animated Special Production at the 2012 Annie Awards, which recognizes Outstanding Achievements in the field of Animation.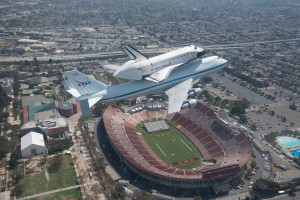 LOS ANGELES — The California Science Center will open "Mission 26: The Big Endeavour," an exhibition that will add a new experience for guests visiting the Space Shuttle. The exhibition is composed of more than 80 stunning images, many taken by Los Angeles Times photographers, highlighting spectacular scenes witnessed during Space Shuttle Endeavour's flight over California and her 12-mile, 68-hour journey through city streets to her final destination in the Samuel Oschin Pavilion at the California Science Center. A short time lapse video and contributions from local schoolchildren also invite guests to feel or remember what it was like to be part of this festive, historic occasion. The exhibition opens at the Science Center in Los Angeles on March 11, 2013.
Moving Space Shuttle Endeavour across the United States was a massive, complex undertaking. In September, 2012, Endeavour took flight and was carried on the back of a specially equipped Boeing 747 aircraft from Kennedy Space Center in Cape Canaveral Florida to Dryden Edwards Air Force Base in Palmdale, California. Endeavour honored many California landmarks, as it flew over the State, from Sacramento to Southern California while onlookers marveled at the sight all along the way. After landing at Los Angeles International Airport, Endeavour was prepared for another adventurous journey through the heart of urban Los Angeles to its new home at the California Science Center. At 78 feet wide, 57 feet high and 122 feet long, navigating the streets of Los Angeles and Inglewood required the guidance and skill of over 100 people and numerous citywide agencies in Inglewood and Los Angeles. Traffic was diverted; engineers and technicians lifted power lines and took down traffic lights while approximately 1.5 million people showed up to celebrate the event. Photographers and filmmakers were on hand to document this once-in-forever moment in history. What they captured on film will be on view for guests to the California Science Center through September 2, 2013.
The California Science Center has welcomed more than 1 million guests since Space Shuttle Endeavour was installed in its Samuel Oschin Pavilion on Oct. 31, 2012. This number, achieved in six months, is remarkable since the Science Center's yearly attendance is about 1.6 million visitors.