CHICAGO, Ill. — Ray Pilszak, 82, a long-time employee of Amusement Business, died January 18, 2014, in the city of his birth, Chicago. He would have turned 83 years old on March 5,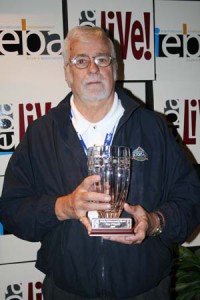 2014.
Known in the industry as a tenacious ad salesman, Pilszak had only one job his entire adult life and that was with Billboard Publications/Amusement Business.
Pilszak had put together a bio most likely when he was inducted into the International Entertainment Buyers Association's Hall of Fame in 2012.
In it, he stated: "After eight years in the [United States] Marines, [I] joined Billboard Publications in Chicago as a trainee in the production department, then moved into advertising sales. [I] transferred to the New York office and was appointed Ad Manager for Amusement Business, publishers of Arena, Auditorium and Stadium Guide, Calvalcade of Acts & Attractions and Funspot Directory, in addition to weekly issues of Amusement Business (this was in the late 1960s).
"AB relocated to Nashville in 1970. I always serviced ad accounts for arenas, fairs, talent and carnivals. Weekly ad campaigns included Reba McEntire, George Strait, Randy Travis, Barbara Mandrell, Louise Mandrell, Alabama, Ricky Nelson. [I] served on the Board of Directors of Gospel Music Association and the Academy of Country Music. Received the Mae Boren Axton Award from the ACM. Received the Maynard L. Reuter Award from Billboard Publications."
Pilszak remained in Nashville until he retired in 2001. He continued being a part of the industry and remained in Nashville until the last couple of years when family members' health needed attention so he went to Chicago to help tend to them.
Pilszak was well-known in the industry and he excelled in the talent area of advertising.
Former AB employees have been remembering Pilszak this past week by relating numerous "Ray Pilszk stories" of how he never took no for an answer and never knew a deadline.
He also was known to do anything he could for his friends and, according to Beth Jenkins, who had known Pilszak since she began working in AB sales shortly after the magazine moved to Nashville, "he considered everyone he worked with and did business with his friends."
Tom Powell, former AB editor who now writes for the Outdoor Amusement Business Association, worked with Pilzsak for more than 40 years. In OABA's ShowTime Xtra, Powell writes: "We used to joke that he drove everybody nuts, but everybody eventually learned to love him. He had a good heart and, literally, would give you the shirt off his back." Powell's column is filled with affectionate humor for a friend he said he would deeply miss…a friend with which he spent much of his life.
Jenkins said: "Ray was a leader in the fields that AB covered. He was a valuable source in all industries and was one of the leaders in the country music industry at a time when its growth was taking off in Nashville."
Tim O'Brien, a senior editor for AB for 18 years and who afterwards worked for Ripley's for 10 years, worked closely with Pilszak during his years at AB. Upon hearing about Pilzak's passing, O'Brien said: "Ray was loved by everyone, but no one could really figure him out. As a salesman, he was great because he really knew how to work the room, and he loved to drop names of celebrities! He knew a lot them and would often invite them to come into the AB offices to impress us.
"He kept his personal life close to his vest, but he could talk about the industry and its history for hours," O'Brien said. "I always felt that he had an issue with how the publication was run and he was always quick to point out how it could be improved, but he hung in there and did his best because he loved the industry, especially the talent side. When I close my eyes now, I think of the kind smile he had, the annoying whistle that always seemed to emanate from his mouth, and how he could nurse one bottle of beer during an entire event. He was quite the man. "
At Pilszak's request, no funeral services were planned. Survivors include his wife, of 56 years, Georgia, and a daughter, Krisa Pilszak, a dance instructor.
Please see an extended obit in Amusement Today's March print issue where more former AB employees share their friendships about Ray Pilszak. This author also worked closely with Ray. Our offices were immediately next door to each in the offices on Music Row in Nashville. His enthusiasm for his work was unmatched…well was maybe matched by his buddy and partner in crime, Tom Powell. Almost daily I would hear someone yelling Ray's name and going after him as he would head swifty, with that soft smile on his lips, directly into his office where he would close his door quickly. And, more likely than not, Ray had just sold a full page ad to someone days, a week or perhaps two weeks after deadline, depending on the publication. Sales, editorial and production would be quickly on his heels. But, he was never denied. We ALWAYS found a way to take Ray's advertising dollars.
— Pam Sherborne
2014′s Most Anticipated New Theme Park Experience Opens This Summer and Brings More of Harry Potter's Adventures to Life
ORLANDO, Fla. — Never before has a theme park created a guest experience like this: you climb aboard the Hogwarts Express in Hogsmeade and moments later arrive at King's Cross Station — where the wonders of London and Diagon Alley unfold before you. And it is all real.
With this summer's opening of The Wizarding World of Harry Potter — Diagon Alley, Universal Orlando Resort and Warner Bros. Entertainment will bring even more of Harry Potter's adventures to life inside a new, magnificently themed area that includes a revolutionary attraction experience, as well as all-new themed shops and dining.
The two companies today revealed first-ever details about the new area and the one-of-a-kind adventures it will offer the whole family. The spectacularly themed environment will double the size of the sweeping area already dedicated to Harry Potter's adventures at Universal Orlando, expanding it across both Universal theme parks.
And — just like in the books and films — guests will be able to travel between the two areas aboard the iconic Hogwarts Express.
Universal Orlando launched a global phenomenon when it opened The Wizarding World of Harry Potter — Hogsmeade at its Islands of Adventure theme park in 2010. That area includes the iconic Hogwarts castle — which houses the groundbreaking Harry Potter and the Forbidden Journey attraction — and the village of Hogsmeade. The Wizarding World of Harry Potter — Diagon Alley will be located within Universal Orlando's second theme park, Universal Studios, and will create new experiences based on the signature areas of London, Diagon Alley and Knockturn Alley.
Universal's creative team has been working closely with Stuart Craig and the production team from the Harry Potter films to make the new area as authentic and spectacular as possible — just as it did with The Wizarding World of Harry Potter —Hogsmeade.
The vision for The Wizarding World of Harry Potter — Diagon Alley is unprecedented, with Universal Orlando creating the world's first centrally themed, multi-park experience.
After arriving at King's Cross Station aboard the Hogwarts Express, guests will pass through London and the iconic brick wall archway from the films into Diagon Alley — a bustling, wizarding hub within a Muggle city. There will be shops, dining experiences, and a new ride called Harry Potter and the Escape from Gringotts — a multi-sensory, multi-dimensional journey that will take theme park attractions to a new level.
The Wizarding World of Harry Potter — Diagon Alley will give visitors the exciting opportunity to:
Board the Hogwarts Express and journey between London's King's Cross Station (located in Universal Studios Florida) and Hogsmeade Station (located in Universal's Islands of Adventure). The journey will be filled with views of London and the British countryside — as well as a few surprises. Park-to-park admission is required.
Experience a groundbreaking new, multi-dimensional thrill ride, Harry Potter and the Escape from Gringotts, which will place riders in the middle of an incredible adventure as they navigate their way through the perils of the Gringotts vaults
Witness the magical experience of a wand choosing a wizard at Ollivanders: Makers of Fine Wands since 382 BC, one of the wizarding world's premier wand shops
Discover the darker side of magic in Knockturn Alley, the darkest of dark places that features Borgin and Burkes — a shop specializing in the Dark Arts that will offer a wide variety of Dark objects, such as Death Eater masks, skulls, and other sinister items
Explore some of Diagon Alley's famous shops, including:

Weasleys' Wizard Wheezes, a vibrant shop featuring novelty items, magical jokes, and toys inspired by the books and films that will amaze the mischievous child in everyone
Madam Malkin's Robes for All Occasions, where guests will find a variety of wizardwear from Hogwarts school uniform ties, scarves and jumpers, to authentic wizard's robes and character costumes
Magical Menagerie, which features a collection of plush animals, such as owls and Hippogriffs
Wiseacre's Wizarding Equipment, where guests can grab wizarding essentials such as telescopes, binoculars, armillary spheres, compasses, magnifying glasses and hourglasses
Quality Quidditch Supplies, offering a wide assortment of apparel and equipment including Quidditch sweaters, brooms, Golden Snitches, Bludgers, Bludger bats, Quaffles and more
Scribbulus, featuring authentic writing implements and products such as feather quills, ink and inkwells, bookmarks, journals, parchment paper, seals, stationery sets and postcards

Enjoy traditional British fare that includes favorite dishes such as fish and chips, bangers and mash and more at the Leaky Cauldron
Visit Florean Fortescue's Ice-Cream Parlour for frozen treats in a variety of tantalizing and unique flavors such as strawberry-and-peanut-butter ice-cream and many others
And more!
More details about the unique experiences that can be found in The Wizarding World of Harry Potter – Diagon Alley will be released over time. For more information about the area, visit www.universalorlando.com/harrypotter.

SANDUSKY, Ohio — Cedar Fair Entertainment Company (NYSE: FUN), a leader in regional amusement parks, water parks and active entertainment, today announced Carrie Boldman as the Company's corporate vice president, merchandise and games. In addition, the Company announced the promotion of Matt Shafer to corporate vice president, strategic alliances.
"We are thrilled to have Carrie join our team and to announce Matt's promotion," said Richard Zimmerman, Cedar Fair's chief operating officer. "Our focus is on continually enhancing our guest experience. We believe both Carrie and Matt possess the knowledge and drive to help us elevate the high-quality entertainment value our parks are known for. We look forward to working with both of them in their new roles."
Boldman has 16 years of experience in the amusement park industry, all of which were with the Walt Disney Company. During her many years in the Disney organization, she held senior merchandise positions within the company's parks and resorts segment. In her new role with Cedar Fair, Boldman will assume responsibility for all aspects of Cedar Fair's merchandise and games operations with a focus on creating and implementing a strategic plan that enhances the guest experience.
Shafer has 14 years of experience in the amusement park industry and most recently served as corporate director of marketing where he led the implementation of Cedar Fair's e-commerce programs. In his new role, Shafer's primary focus will be the startup and launch of the Company's new in-house television network.
Active Military Receive Free Admission Plus Family Member Discounts

WINTER HAVEN, Fla. – Legoland Florida salutes the men and women serving in the United States Armed Forces with the continuation of Military Appreciation Days throughout 2014. As an appreciation for their continued service, all active duty military personnel including the Army, Navy, Air Force, Marines, Coast Guard, National Guard and Reservists are now entitled to free single day admission to Legoland Florida and the Loegoland Water Park (open seasonally). Specifically geared for families with children ages 2 to 12, Legoland Florida also offers substantial savings for family and friends of military personnel so all can enjoy the more than 50 rides, shows, attractions and the newest expansion, The Lego World of Chima presented by Cartoon Network featuring an interactive family water ride, The Quest for Chi.
To redeem their free admission ticket, active duty military personnel should present their military identification card to Legoland Florida's ticket window the day they plan to visit. Family and friends of military personnel also receive substantial discounts on admission tickets and should make purchases in advance through participating military base ticket offices.
"We are pleased to continue our Military Appreciation Days. This is a great way for Legoland Florida to say thank you for the selfless service our military men and women provide every day throughout the year," said Kim Isemann, director of sales and marketing at Legoland Florida.
For the most current information on operating hours and special events throughout the year at Legoland Florida, visit Legoland.com.
TAMPA, Fla. — Construction on Falcon's Fury at Busch Gardens Williamsburg surpasses the 300-foot mark on Tuesday, January 7m 2014. The first-of-its-kind Intamin drop ride will top out at 335 feet and feature seats that tilt 90 degrees forward so riders are facing the ground as they plummet from the top of the ride.
ORLANDO, Fla. — The New England Association of Amusement Parks and Attractions (NEAAPA) held its annual Tom Morrow Social during the International Association of Amusement Parks and Attractions (IAAPA) Expo in Orlando, Fla. The late Tom Morrow was called "Mr. NEAAPA" for his years of contribution to the association. Shown at the gala are NEAAPA Past Presidents John Frantzis (left) and Ed Connor (right) with Morrow's son, Greg, who is with Lake Winnepesaukah, Rossville, Ga. More than 100 attended the association dinner.
Housing closes Monday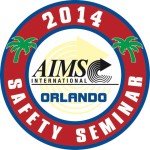 The 41st Annual AIMS Safety Seminar is set to Kick off on Sunday January 12, 2014. Industry professionals from around the globe will gather in Orlando for five days of intensive education, testing and certification. For those that have not yet arranged housing with the host hotel — now is the time. Housing will close on Monday 1-6, so book today.
AIMS commitment to the industry is safety and education, as such, registration will not close, and walk up's are welcome. Visit us at aimsintl.org for more information. See you in Orlando.
ARLINGTON, Texas — The offices of Amusement Today will close at noon on Monday, December 23, 2013, and will re-open on Thursday, January 2, 2014 in order to give our employees a chance to celebrate Christmas and New Years with their family and friends.
Amusement Today desktop edition will not be published on December 24, 25, December 31, 2013, and January 1, 2014.
The Amusement Today staff wish each and every one of our readers and followers a safe and Merry Christmas and a Happy New Year.
An Open Letter from SeaWorld's Animal Advocates

ORLANDO, Fla. — Inaccurate reports recently have generated questions about SeaWorld and the animals in our care. The truth is in our parks and people, and it's time to set the record straight.
The men and women of SeaWorld are true animal advocates. We are the 1,500 scientists, researchers, veterinarians, trainers, marine biologists, aquarists, aviculturists, educators and conservationists who have dedicated our lives to the animals in our care as well as those in the wild that are injured, ill or orphaned. Whether it's a sea lion, manatee, sea turtle or whale, we are on call 24/7.
Here are some important facts about SeaWorld and our work:
SeaWorld does not capture killer whales in the wild. Due to the groundbreaking success of our research in marine mammal reproduction, we haven't collected a killer whale from the wild in 35 years. In fact, only two of the whales in our care were collected by SeaWorld and they continue to be in our care today. In addition, our research has led to a much greater understanding of whales in the wild, giving researchers important scientific insights surrounding marine mammal reproduction.
We do not separate killer whale moms and calves. SeaWorld recognizes the important bond between mother and calf. On the rare occasion that a mother killer whale cannot care for the calf herself, we have successfully hand raised and reintroduced the calf. Whales are only moved to maintain a healthy social structure.
SeaWorld invests millions of dollars in the care of our killer whales. In the last three years alone, we have invested $70 million in our killer whale habitats and millions of dollars annually in support of these facilities. Our habitats are among the largest in the world today. They are state-of-the-art, multimillion-gallon environments of cooled and filtered water that allow for the highest and safest standards of care. We give our animals restaurant-quality fish, exercise, veterinary care, mental stimulation, and the company of other members of their species.
SeaWorld's killer whales' life spans are equivalent with those in the wild. While studies continue to define the average life span of killer whales in the wild, the most recent science suggests that our killer whales' life spans are comparable — indeed, five of our animals are older than 30, and one of our whales is close to 50.
The killer whales in our care benefit those in the wild. We work with universities, governmental agencies and NGOs to increase the body of knowledge about and the understanding of killer whales — from their anatomy and reproductive biology to their auditory abilities. Some populations of wild killer whales have been classified as endangered or threatened, demonstrating the potential critical nature of these research opportunities. This type of controlled research and study is simply not possible in the wild, and has significant real-world benefits to the killer whales that live there.
SeaWorld is a world leader in animal rescue. The millions of people who visit our parks each year make possible SeaWorld's world-renowned work in rescue, rehabilitation and release. We are constantly innovating when it comes to this care: Our veterinarians have created nursing bottles to hand-feed orphaned whales, prosthetics to save sea turtles, and a wetsuit to help injured manatees stay afloat during rehabilitation. Whether it's the result of natural or man-made disasters, SeaWorld is always on call and often the first to be contacted. We have rescued more than 23,000 animals with the goal of treating and returning them to the wild.
Naturalist Baba Dioum put it best when he said, "In the end we will conserve only what we love; we will love only what we understand; and we will understand only what we have been taught."
At SeaWorld, this has been our calling since we first opened our doors 50 years ago. It is a responsibility we do not take lightly. More than 400 million guests have visited SeaWorld. We are proud that their experiences here have a lasting and positive impact on them, and on the world in which we live.
The truth about SeaWorld is right here in our parks and people. Our guests may enter our gates having never given much thought to the remarkable animals in our oceans. When they leave with a greater appreciation for the importance of the sea, educated about the animals that live there and inspired to make a difference, we have done our job.
CEDAR FALLS, Iowa — A long time employee of Waterloo Tent has passed away. Rick Hagen 49, of Cedar Falls, Iowa passed away Wednesday December 11, 2013 at his home. Rick began his career with Waterloo in 2005 as a Carnival business sales rep. He later became territory manager as his business volume continued to grow. Rick was well liked and a respected asset to the Waterloo family. Our prayers go out to Rick's family and friends, Rick will be missed. Services for Rick took place Tuesday December 17th at Prairie Lakes Church in Cedar Falls.