Trans-Force announces the first U.S. installation of their 5D Interactive Simulator at Luna Park in Coney Island, New York.
The Luna Park simulator, which opened June 5, joins 60 other Trans-Force 5D attractions operating successfully around the world including installations in China, Russia and the United Kingdom. Trans-Force opened it's first in 2004 in St. Petersburg, Russia.
Luna Park expressed their excitement over the partnership with Trans-Force and the new installation. Luna Park Sales Manager Brian Williams commented, "I am very pleased with the Orion simulator. The revenues have been strong and technically everything has run smoothly. Guests at Luna Park really enjoy the experience and frequently ride more than once so they can check out the multiple programs offered."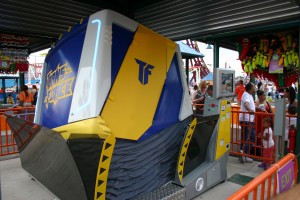 Trans-Force's Orion 5D Interactive Simulator is a four-seat attraction fitted with individual joysticks for each seat and uses a stereo image system with optical shutter glasses and high definition projection onto a large panorama screen allowing every rider to enjoy the maximum experience. The cabin is fitted with a 3D motion system for dynamic movement, quick acceleration, and large incline angles, as well as a special effects vibration system. In addition to the Orion 5D Simulator, Trans-Force also manufacturers the Aries Interactive Theatre Café and the Pegasus 5D Interactive Edutainment Adventure Attraction.
Trans-Force has modeled its business around the concept that education and entertainment go hand-in-hand and has extensive experience working with major science, technical, and children's museums around the world.
Sales efforts for the installation at Luna Park were managed by Trans-Force's U.S. sales arm, the TJ Timco Agency. Trans-Force and TJ Timco Agency look forward to additional announcements in the near future of installations within other U.S. amusement facilities.
For more information about Trans-Force or its products, contact Sales@trans-force.com
---
Comments are closed.
---