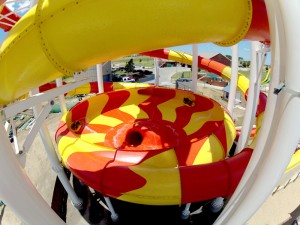 Roanoke, Texas — July 18th marked the grand opening of the very first Double BowlsEye in the world at Hawaiian Falls Roanoke. The patent-pending Double BowlsEye is a contemporary twist on a high-speed family raft chase. At the towering 60 ft. launch platform, the family of four splits up into two 2-person rafts positioned back-to-back on custom-controlled launch platforms. The rafts are launched simultaneously into two separate 54-inch enclosed slides-reaching speeds of up to 30 mph. After an exhilarating ride, they empty into a massive bowl, where the riders chase each other to the finish.
"There is simply no other ride in the world like the Double BowlsEye," said Steve Levine, Founder and CEO of SplashTacular. "This is the first time that the entire family can enjoy a competitive thrill ride together." For the waterpark owner, the ride also has "remarkable throughput," at nearly 480 riders per hour, added Levine.
---
Comments are closed.
---