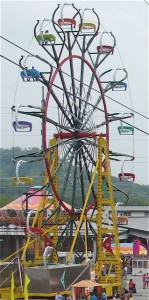 FRANKLIN, Tenn. — Weather played into a lighter than normal midway for the first weekend of the Williamson County Fair, which runs Aug. 3–11, but James Graybeal, general manager, Drew Expositions, said crowds picked up when weather cooperated.
Fair and carnival officials had to move everyone on the grounds into the main arena building Saturday afternoon when weather forecasters sent an warning alert out for severe storms.
"We had to get everyone inside," Graybeal said. "Everyone on the grounds. The sky did look dark. We had to shut down for about an hour. We had a few sprinkles of rain and that was it. We must have been right on the edge of it. Afterwards, everybody came back out on the grounds. Actually, I think everyone sort of appreciated what we did. Plus, that building is air-conditioned and I think everyone liked being inside where it was cool for a while. It was about 3 p.m., a time when we were really getting ready to gear up for a big night."
But, the midway did get busy that evening, just maybe not as much as it would have. Low clouds and predictions of rain yesterday also keep the crowds down during the day.
Drew Expositions brought 29 rides to the fair. This is the eighth year they have played it and the eighth year since Williamson County decided to reinstitute a fair committee and have a fair. "They hadn't had one in about 50 years," Graybeal said. "The first year we were here we had about 18 rides. We have been adding a couple of more every year and sort of mixing them up."
The carnival has two new rides at the 2012 Williamson County Fair — their X-Factory by KMG and VISA Circus Train. Plus, during the off-season, they had the panels of their Zierer Wave Swinger repainted and renamed it the Flying Circus. "You know people will just tell you that Drew Expositions does so well because there is just something magical about this show," said Graybeal, who at almost 60 years old has been with Jimmy Drew for 38 years.
---
Comments are closed.
---