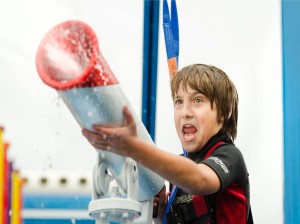 Birmingham, Alabama — The good times on Celebration Street got even better with the opening of the new Wipeout Adventure Course at Splash Adventure Waterpark July 28th. The first of its kind anywhere, this multi-level attraction allows thrill seekers of all ages to create their own wet and wild experience.
The world's first 360° interactive water-based obstacle course, the Wipeout Adventure Course sends guests through a series of ropes, towers and bridges where they control a variety of geysers and sprays, overhead deluges, and hand- and foot-activated water elements, allowing them to take the fun in any direction they choose. Blast each other with spray from rows of mounted water cannons. Pull a rope to ambush their friends with a flood of water from above.
Equipped with a specially designed harness system that keeps participants safely upright, the Wipeout Adventure Course removes the traditional barriers of an obstacle course, giving adventurers total control over the experience. The result is an endless assortment of challenges and opportunities that provide a unique thrill every time. The course also features a family deck for those wishing to stay out of the fray but still get in on the fun.
Part of Splash Adventure's huge 1.5 million dollar expansion, along with the heart-stopping Zip Line and the amazing MIST-ical Maze, the Wipeout Adventure Course can only be found at Splash Adventure.
Due to the later start date for Alabama schools, Splash Adventure also announces extended summer operations. The waterpark will be open daily through August 19 and weekends through September 16th.
---
Comments are closed.
---