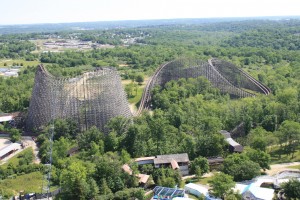 KINGS ISLAND, Ohio – After a lengthy evaluation of all alternatives, Kings Island announced July 27 the decision has been made to remove the Son of Beast roller coaster to make room for future park expansion.
The dismantling of the ride will begin later this summer.
With a height of 218 feet, Son of Beast was the largest wooden coaster in the world when it opened in 2000 and the first wooden coaster to incorporate a vertical loop. Problematic from the day it opened, the ride went through many revisions throughout the years including removal of the vertical loop at the end of the 2006 season. The coaster was permanently closed in June 2009.
---
Comments are closed.
---