Park guests share highlights of the one-of-a-kind Orlando day resort experience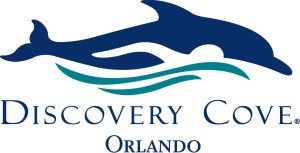 ORLANDO, Fla. — Discovery Cove in Orlando was recently awarded the TripAdvisor Certificate of Excellence This accolade recognizes superior service and is only given to establishments that consistently achieve outstanding traveler reviews on TripAdvisor. Discovery Cove receives top ratings based on a variety of factors, including awe-inspiring, up-close animal encounters, all-inclusive offerings, a lush, tropical atmosphere and exceptional guest service.
"Winning the TripAdvisor Certificate of Excellence confirms what we know to be true: Discovery Cove delivers an extraordinary, immersive experience." said Stewart Clark, Vice President of Discovery Cove. "Our guests are inspired to talk about their day, and TripAdvisor gives them the perfect format to share their experiences. The information that we gain from these guest reviews allows us to continuously improve and deliver the best possible guest service."
Just in time for summer vacation planning, Discovery Cove identified the top five reasons TripAdvisor reviewers believe the day resort is a must-visit attraction.
Discovery Cove feels like "a vacation within a vacation." Located in the heart of the world's most popular travel destination, Orlando, Florida, guests are often astounded upon arrival; they feel like they've encountered a tropical oasis. The lush landscape, wondrous waterways, rocky lagoons and pristine white sandy beaches provide a serene and relaxing environment. With the exception of the dolphin swim and SeaVenture, an underwater journey of the Grand Reef®, nothing is scheduled – allowing guests to enjoy the park at their own pace.

Discovery Cove boasts a wonderful variety of up-close animal encounters. At Discovery Cove, visitors from around the world fulfill lifelong dreams of swimming with dolphins. TripAdvisor reviewers rave about the experience and say it's a true highlight. While the dolphin swim is a favorite, guests are also wowed when snorkeling alongside giant rays and thousands of tropical fish. SeaVenture, the 30-minute underwater journey, gives guests a fully immersive adventure into the Grand Reef® sea floor and is regularly mentioned on TripAdvisor as a highlight of their visit. Guests also enjoy hand feeding exotic birds in the free-flight Explorer's Aviary, and are surprised to come face-to-face with playful otters and marmoset monkeys in Freshwater Oasis.
Discovery Cove is an all-inclusive day resort. From meals to snacks, snorkels to sunscreen, everything is included. Unlike a traditional theme park, Discovery Cove includes an abundance of amenities – making for a hassle-free visit. TripAdvisor reviewers often comment on the ease of unlimited access to freshly prepared food and refreshing beverages.
A Discovery Cove reservation offers a full vacation package with admission to SeaWorld® Orlando and Aquatica, SeaWorld's Waterpark™. When guests book a reservation, they're also guaranteed unlimited admission to SeaWorld and Aquatica, SeaWorld's Waterpark in Orlando for 14 days surrounding their Discovery Cove reservation. For the ultimate vacation experience guests can add on Busch Gardens Tampa for a nominal fee.

Discovery Cove cares deeply about their guests' experience, which reflects in the first-class level of customer service. Guests consistently mention their connection with the park's friendly staff. The Discovery Cove team caters to a diverse set of needs and strives to add a personal touch. From ensuring a marriage proposal is delivered perfectly to offering amazing animal experiences, the first-class team goes above and beyond to make lifelong memories.
To read the reviews of the Discovery Cove experience visit TripAdvisor.com. To learn more about Discovery Cove, or to book a reservation, visit DiscoveryCove.com.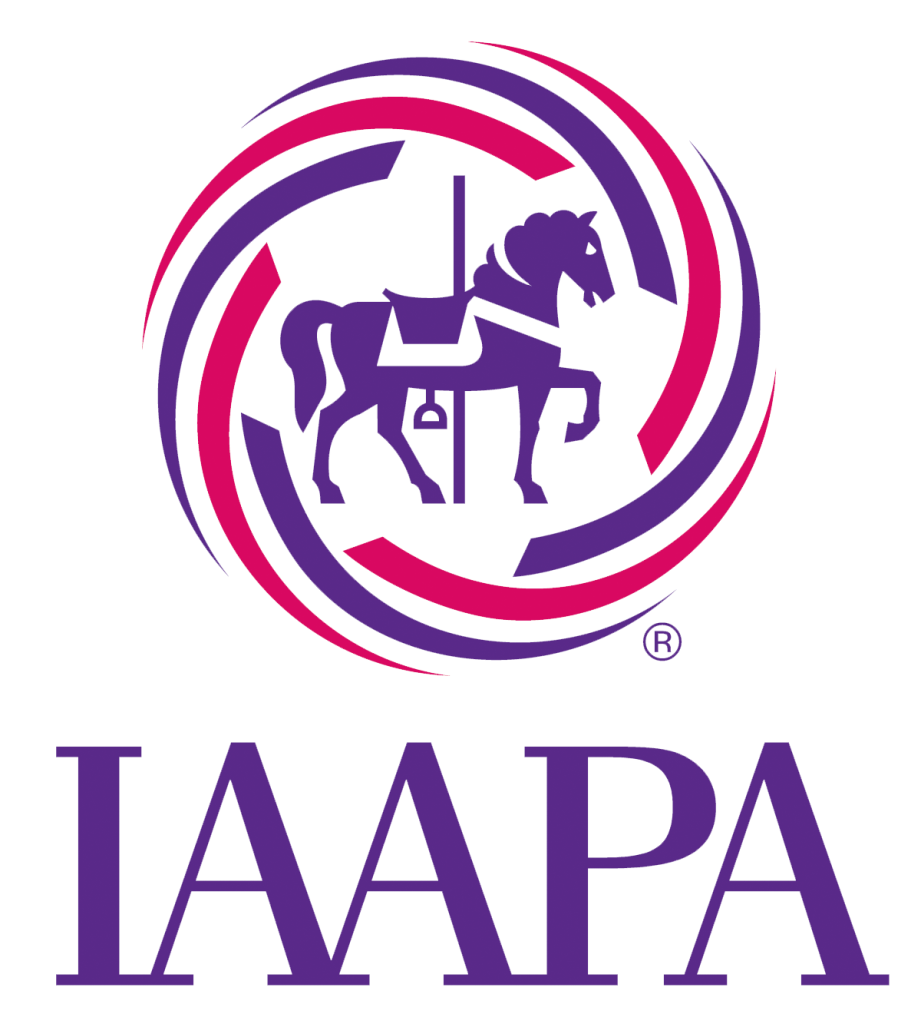 Save the Date: FEC Dallas Feb. 8-10, 2015
What: FEC Dallas is an unparalleled conference designed by and for family entertainment center (FEC) owners, operators, manufacturers, and suppliers to Share, Engage, and Grow. Leading FEC professionals will gather to solve challenges, build their networks, compare information, and discuss successful strategies to increase profits. FEC Dallas will be the third consecutive year IAAPA has offered this high-energy professional development FEC conference. The 2013 event was held in Las Vegas and the 2012 edition was held in Phoenix.
Who: FEC owners, operators, manufacturers, and suppliers from around the world.
Where: Hilton Dallas/Rockwall Lakefront
2055 Summer Lee Drive, Rockwall, Texas, United States
When: Feb. 8-10, 2015
Registration is expected to open in September 2014.
How: Additional information and registration is available at the IAAPA website. Limited sponsorship opportunities are now available and information is available from Brian Skepton at bskepton@IAAPA.org.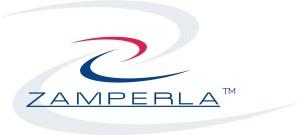 ORLANDO, Fla. — Antonio Zamperla SpA of Vicenza, Italy and Zamperla Inc. of Boonton, N.J., U.S.A. announce that the ride company has successfully prevailed in separate lawsuits against two manufacturers of amusement rides.
The suits asserted that Beijing Shibaolai Amusement Equipment Co., Ltd and Zhongshan Golden Dragon Amusement Equipment Company Co., Ltd, both of China, wrongfully engaged in unfair competition and patent infringement in violation of United States Federal law, and deceptive trade practices under Florida law. The United States District Court of the Middle District of Florida (Orlando Division) entered permanent injunctions against both China companies which forbid them from selling or attempting to sell counterfeits, copies, or confusingly similar rides to Zamperla's Disk'O, Moto Coaster, Power Surge, Rockin' Tug and Jump Around amusement rides.
Commenting on the court ruling, Zamperla SpA's President and owner Alberto Zamperla told Amusement Today said, "We invest a great deal of time, money and creativity in order to visualize, engineer and bring to market beautiful, innovative, safe and thrilling rides. We will not and cannot tolerate other companies infringing on our works. We are pleased to have resolved these lawsuits and we will continue to protect our company and the public from rides which appear to be Zamperla equipment, but which were not engineered or manufactured to our standards."
Thomas Sheehan, The Sheehan Firm PC in Cary, Ill, was Zamperla's legal counsel in these two cases.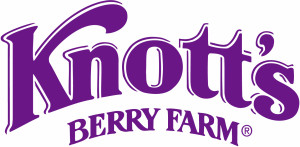 BUENA PARK, Calif. – Knott's Berry Farm reintroduced its fully updated Calico Mine Ride and a completely refreshed Camp Snoopy to the media on June 12. The public begins enjoying the new attractions June 14.
The top-to-bottom refurbishment of the 54-year-old Calico Mine Ride began in early January and includes dozens of new, richly-detailed animatronic figures, state-of-the art lighting, audio and all-new special effects.
The basis of the iconic attraction was a simple handshake agreement between Knott's founder, Walter Knott, and theme park pioneer Bud Hurlbut in1959. From that handshake emerged a first-of-its-kind "dark ride" with elaborate show scenes and full-sized human figures. The attraction was an instant hit with guests at its original November 22, 1960, opening, and earned back Hurlbut's initial $1 million investment in less than two years.
Knott's Berry Farm's design team, in partnership with San Bernardino, Calif.-based Garner Holt Productions, has elevated Hurlbut's design while preserving the original mining experience. Nearly fifty animatronic humans and dozens more animals populate the updated adventure, with more than 120 characters spread through classic and re-imagined scenes. New denizens of the mountain include an old miner just inside the first tunnel (see accompanying photo) who welcomes guests into the Calico Mine and warns them of dangers that lie along the rails ahead.
The attraction's rustic wooden loading platform has been refreshed and now includes a "peek-in" similar to those found throughout Ghost Town, offering guests windows into the rich mining history of the 1850s on their way toward boarding the mine train car. A new guest and employee elevator has been installed to improve access to the attraction, especially for guests seeking ADA accommodations.
The twisting, turning tunnels and expansive caverns of the eight-minute ride were completely repainted, including a brilliant new color scheme in the spectacular "Heaven Room." Here, guests will thrill to the glorious sight of the thousands of spectacular stalagmite and stalactites accompanied by the original musical score, which has been digitally re-recorded. Original special effects have been lovingly re-created, like real steam in the Bubbling Pots scene with its surprising steam geyser and tipping barrels and other effects in the Explosion Room finale.
The makeover of the family-friendly Camp Snoopy features new pavement, rustic log fencing and three new, compatibly themed kiddie rides from Zamperla. Craig Schultz, son of late Peanuts creator Charles Schulz, was among the special guests on hand for the media preview.
Look for comprehensive coverage of all the Summer 2014 improvements at Knott's Berry Farm in the July issue of Amusement Today.
—Dean Lamanna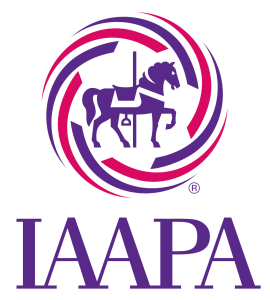 The International Association of Amusement Parks and Attractions (IAAPA) announced President of Ripley Entertainment Jim Pattison, Jr. will address attractions industry leaders as the GM and Owners' Breakfast keynote speaker on Wednesday, Nov. 19, during IAAPA Attractions Expo 2014. The Expo, which is the premier conference and trade show for the $24 billion global attractions industry, takes place Nov. 17-21 at the Orange County Convention Center in Orlando, Florida.
Pattison will tell the compelling story of Ripley Entertainment, stretching back to 1918 when founder Robert Ripley began to establish himself as a household name with the popular cartoon "Believe It or Not!" Today, Ripley Entertainment operates more than 90 attractions in 10 countries, including Ripley's Believe It or Not! Odditoriums, Ripley's Aquariums, Guinness World Records Attractions, Ripley's Moving Theaters, Ripley's Marvelous Mirror Mazes, Ripley's Haunted Adventures, and many more. The company also publishes more than 1 million books annually and has the longest continuously published newspaper comic in history.
Pattison will share what has enabled Ripley Entertainment to remain successful for nearly a century and is anticipated to surprise the audience in true Ripley fashion.
Since joining Ripley Entertainment in 1990, Pattison has played key roles in the company's operation and growth. He was named president of the company in December of 2007.
"Jim is a well-respected industry veteran with a long track record of success," said IAAPA President and CEO Paul Noland. "Attendees of the GM and Owners' Breakfast will take away valuable lessons that Pattison used to help build Ripley into what it is today."
The IAAPA Attractions Expo 2014 GM and Owners' Breakfast will take place Wednesday, Nov. 19 at 8:30 a.m. in the IAAPA Theater presented by The Wanda Group. Tickets to attend the event are now available. To purchase a ticket, register for IAAPA Attractions Expo and select a ticket for that event. Tickets must be purchased in addition to Expo registration and in advance of the event. Cost to attend the event is US$90 for IAAPA members and US$120 for non-members. Ticket price includes a hot plated breakfast.
Texas Highway Patrol, rodeo clown, Silver Dollar City, two Six Flags Texas parks highlighted long career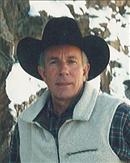 CEDAR HILL, Texas — William "Bill" Hays White, 67, of Cedar Hill passed away Monday, May 26, 2014, surrounded by family and close friends.
Bill was born Aug. 24, 1946, in Bryan-College Station. Known as "Bull" to his six doting granddaughters, Bill graduated from A&M Consolidated High School in 1964 and from Texas A&M University in 1968.
Larger than life, Bill lived more in his 67 years than most people could in three lifetimes. He always said he had done the three things all little boys dreamed of doing someday: He was a policeman, rodeo cowboy and rodeo clown, and "ran away with the circus" (worked for theme parks).
"Wild Willie," as he was affectionately called in his rodeo days, was an undercover narcotics agent for the Texas Highway Patrol for many years and then worked for Silver Dollar City in Branson, Mo., and retired from Six Flags Over Texas and Hurricane Harbor in Arlington in 2007.
Reflecting on his years with the two Arlington parks [Six Flags Over Texas and Hurricane Harbor], park President Steve Martindale told AT: "Bill White was a huge influence on all that had the good fortune to know him. He was a consummate operator, strategist, mentor and friend. It was a privilege and a blessing for the Six Flags Team to have had Bill as part of our family for 18 years. He will truly be missed."
A celebration of Bill's life was held on May 31 at his barn. The family has requested that memorial donations be made to the Texas Department of Public Safety Troopers Foundation.
AUSTELL, Ga.— Six Flags Over Georgia opened its new waterpark, Hurricane Harbor, on May 30, 2014. As the largest expansion in the park's 47-year history, Hurricane Harbor boasts four new water attractions and spans seven acres.
"Hurricane Harbor is unlike any other water park in the region, and will quickly become a must-visit destination for all of Atlanta and the southeast region," said park president Dale Kaetzel. "Our enormous water park will create a 'getaway atmosphere,' as guests are able to cool off on several one-of-a-kind water attractions and then take flight on one of our 11 world-class roller coasters, all in the same day. We expect Hurricane Harbor to have a significant economic impact to the community as it draws thousands of guests from near and far, which should positively impact future development in the area."
Hurricane Harbor also features 11 relaxing cabanas with reserved seating and food service, a beach-themed restaurant with window service, several retail locations, bathhouses, locker rentals, tube rentals and lounge chairs.
AT will include a full report on the Hurricane Harbor in a future issue.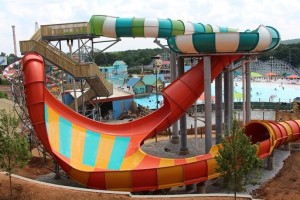 TAMPA, Fla. — Busch Gardens' new thrill ride Falcon's Fury includes first-of-its kind design elements, systems and parts. Due to a delay in the fabrication of key component parts, neither the manufacturer nor Busch Gardens are able to complete the lengthy testing processes needed to open the ride to the public. The safety of our guests and team members remains Busch Gardens' top priority and none of these delays involve safety systems. The ride has been safely operated in the initial stages of the testing process, and all other elements of the park's newest re-imagined land Pantopia are now open to guests. Busch Gardens will provide updates on the ride opening as events warrant. We are committed to delivering world-class thrills and the best possible ride experience, and we look forward to the launch of Falcon's Fury, North America's tallest freestanding drop tower, later this summer.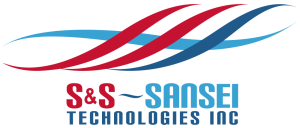 LOGAN, Utah — S&S Worldwide, Inc. is pleased to announce that it has signed a contract with Casino Beach Pier in Seaside Heights, New Jersey, to build and install a 120-foot Double Shot Tower Ride. The ride is planned to open at Casino Beach Pier in the 2015 season.
Casino Beach Pier sits along the Jersey Shore and extends right into the heart of the Atlantic Ocean. "The Double Shot tower is a perfect addition to our park," says Vincent Storino, of Casino Pier. "We think this thrilling ride will complement our other rides and bring a new level of excitement to our guests."
S&S Worldwide, the largest U.S. manufacturer of major amusement rides and roller coasters, has been manufacturing air-launched rides since 1994. The company has installed over 450 rides and roller coasters in 33 countries, including over 150 tower rides around the world. Tim Timco, Vice President of Sales and Marketing for S&S said, "We're really thrilled to be working together with our friends at Casino Beach Pier. It's great to be a part of their rebuilding process."
Timco added, "We appreciate the great relationships we have built, while leading the amusement industry and marveling millions around the globe every day. Watch for more exciting products yet to be launched from S&S."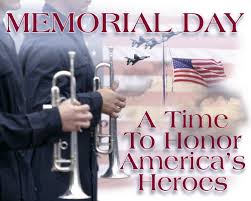 ARLINGTON, Texas — The offices of Amusement Today will be closed on Monday, May 26, in recognition of Memorial Day. The next desktop edition of extra extra will be delivered on Tuesday, May 27.