The World Waterpark Association will broadcast a live webinar on March 6, 2013, at 2 p.m. ET with a session on the Patient Protection and Affordable Care Act, brought to you by the WWA's Government Relations Committee and the WWA Insurance Program and its partner agency, Haas & Wilkerson Insurance.
The Affordable Care Act: What It Means For Waterpark Operators
Healthcare expert Dennis Maggart will deliver a presentation on the Patient Protection and Affordable Care Act (PPACA) that was signed into law in 2010. Many of the major changes are scheduled to be enacted on January 1 of 2014. Maggart will speak to World Waterpark Association members on how these new laws may affect your company. The seasonal nature of the waterpark business and the amount of part-time and temporary labor the industry hires makes compliance with many of these new requirements very challenging. This webinar will be very useful in helping you with your compliance and in developing a strategy to deal with these new rules and regulations.
Dennis Maggert is President of McInnes Maggart Consulting Group, located in Fairway, Kan., McInnes Maggart Consulting Group is a strategic partner of Haas & Wilkerson Insurance.
There is no cost to attend this webinar. However, space is limited for the live event and turnout is expected to be strong, so register today and sign-in at least 5 minutes before the event begins. To register visit the webinar registraton web page.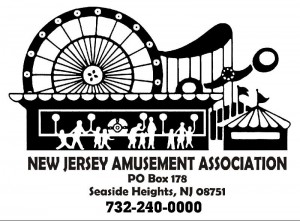 The New Jersey Amusement Association is helping to spread the word that American Express and Clear Channel are teaming up to assist Hurricane Sandy relief efforts by offering free radio time for small businesses to announce to their communities that they are open for business.
From now until March 31, 2013, small businesses can visit any of the links for the radio stations below and follow the directions provided to complete the submission form and include the details of an eligible small business in a Hurricane affected area that is open for business. Clear Channel will then review the submissions and, in select cases, provide free radio time to help get the word out to the small businesses community that they are open for business.
The program is open only to small businesses in New York, New Jersey, Pennsylvania, and Connecticut that have been adversely affected by Hurricane Sandy, have $10 million or less in annual revenue, are not considered a franchisee, and do not sell any products or services in a retail establishment or via the Internet that are deemed to be illegal by federal, state and/or local laws.
Participating Clear Channel radio stations include:
Sussex County, NJ
WHCY-FM
WNNJ-FM
WSUS-FM
Philadelphia, PA
WDAS-FM
WIOQ-FM
WISX-FM
WRFF-FM
New York, NY
WAXQ-FM
WHTZ-FM
WKTU-FM
WLTW-FM
WOR-AM
Nassau/Suffolk, NY
WALK-FM
Poughkeepsie, NY
WBWZ-FM
WKIP-AM
WPKF-FM
WRNQ-FM
WRWD-FM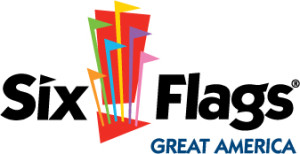 GURNEE, Ill. — Go Big. Go Backward! For a limited time only, the world's first suspended looping coaster, Batman The Ride, will be more intense than ever when riders dare to take on an all new experience – going backward!
As the roller coaster climbs the 10-story lift hill, riders will take in the full scope of Batman The Ride's track as they anticipate the adventure that lies ahead. The train will reach speeds of 50 mph and travel through 2,700 feet of track, all while maneuvering hairpin turns, vertical loops, corkscrews and a zero-g roll. The excitement is magnified since guests cannot see the maneuvers that await.
"Batman The Ride will open for its [22nd] season this spring, offering our guests an entirely different ride experience by going backwards. No matter how many times you have been on Batman The Ride, nothing compares to the thrill of racing down 10 stories facing the other direction," said Hank Salemi, Six Flags Great America park president. "You literally have no idea what is coming next. This is a tremendous new experience for our guests and one to take advantage of quickly since it will only be available for a limited time."
Six Flags has given Amusement Today confirmation that all of the seats on both trains will face backward. No forward-facing seats will be available during this limited time period.
Since opening in 1992, Batman The Ride has given more than 28 million thrilling rides and reigns as one of the most popular roller coasters in the world. Batman The Ride backward will launch on Saturday, May 4 – the park's opening weekend – and be available for a limited time this summer.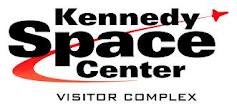 CAPE CANAVERAL, Fla. — Watch the powerful sights and sounds of the thunderous roaring engines of a SpaceX Falcon 9 rocket as it bursts into the sky on Friday, March 1, 2013. Kennedy Space Center Visitor Complex guests can enjoy a front row view along the NASA Causeway. The launch is scheduled for 10:10 a.m. ET from Launch Complex 40 at Cape Canaveral Air Force Station.
This flight will continue a series of missions to the International Space Station (ISS) under NASA's Commercial Resupply Services contract to deliver and return significant amounts of cargo aboard the Dragon spacecraft. The Dragon will carry 1,200 pounds of supplies for the space station crew and experiments being conducted aboard the laboratory. Upon arrival to the ISS, Expedition 34 Commander Kevin Ford and Flight Engineer Tom Marshburn will use a robotic arm to grapple the Dragon and attach it to the ISS. The Dragon, scheduled to return to Earth on March 25, will bring more than 2,300 pounds of experiment samples and equipment back with it.
Located along the Banana River and only six miles from the launch pad, the NASA Causeway viewing area offers the closest public viewing opportunity in Brevard County. This viewing area will feature live NASA launch countdown commentary, and food and souvenirs available for purchase.
A limited number of NASA Causeway launch viewing tickets can be purchased for $20 plus tax, in addition to admission. Bus loading for the NASA Causeway viewing area will begin at 7 a.m.
Launch viewing from Kennedy Space Center Visitor Complex is included in regular admission and will feature live mission control commentary.
For more information or to purchase tickets, call 877-313-2610 or visit KennedySpaceCenter.com.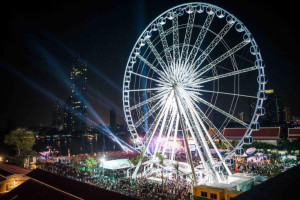 THAILAND — The Asiatique Sky started operations in the latest, greatest leisure venue in Bangkok, called Asiatique the Riverfront, owned by TCC Land Group. The Giant Wheel in Thailand has been delivered by Dutch Wheels from the Netherlands and opened to the public on December 15. This R60 giant wheel type carries 42 fully enclosed, air conditioned gondolas and gives its passengers a stunning view over Bangkok and the Chao Phraya river bend from 60-meter (170-foot) high wheel.
Asiatique offers 40 restaurants and bars on site, along with many stores for great shopping, a puppet theater and the Calypso Bangkok Theater. The first phase of the project occupies 12,000 acres, but the entire site, when completed, will measure 28,880 acres. The development also features the city's longest public boardwalk, at 300 meters, where concerts and festivals are set to take place. The headline attraction now undoubtedly is the Asiatique Sky, a landmark that puts the Asiatique leisure development on the map.
Swiss AEX Group has secured a long term agreement with Asiatique/TCC to operate the wheel as an integral part of its leisure activities. The Asiatique Sky has been very successful since its opening and is already turning into an icon for the city of Bangkok.
More information about the Asiatique Sky can be found at asiatiquesky.com.
Dutch Wheels, based in Vlodrop, the Netherlands, is a global leader in standalone giant wheels. Dutch Wheels giant wheels are operational in well-known tourist locations in the UK, USA and now Thailand. Other new projects in various continents are slated to open in 2013, 2014 and 2015. Many local authorities and project developers have recognized the trend to include a giant wheel in their expansions, acknowledging the business opportunity and the importance of a landmark to attract visitors.

Jeff Ellis and James Harhi are pleased to announce the hiring of Mike Friscia as President of Ellis and Harhi Attraction Management. Mike Friscia joins the team from Palace Entertainment where he served as Vice President of the Water Park division. Prior to Palace, he held executive positions with PARC Management, a leadership role with ContraVest Builders and had a 10-year career with Walt Disney World Resorts working in various roles throughout his tenure.
Ellis and Harhi Attraction Management is a newly formed company that will expand upon the successful Jeff Ellis Management concept currently in place in various domestic locations, bring the internationally recognized industry-leading lifeguarding concepts of Ellis & Associates, the successful Operations Infrastructure of JEM and combine them with a "turnkey recreation operations management" module. Mike will provide leadership to this new business unit with specific focus on new business development. E&H Attraction Management will provide this service to perspective clients looking for operational expertise within a turnkey solution. This unique concept continues Jeff Ellis' long history of innovation within the Amusement Industry.
Friscia brings over 20 years of industry experience in park operations both at a local level as well as the Corporate/Divisional level. Following his onboarding, Friscia will take the lead in developing the Attraction Management brand. He will also provide support within the current Ellis organizations to help with an initiative to better integrate the existing companies sharing resources and gaining efficiencies. The three companies will work together by leveraging their industry expertise to meet the demands of the company's ever-evolving client base.
"I have been a longtime admirer of Jeff and what he and his high performing teams have accomplished since starting his companies many years ago. His teams both at Jeff Ellis & Associates and Jeff Ellis Management have done an amazing job in taking this vision and creating iconic organizations with unprecedented success both domestically and internationally. My new role will focus on the growth of a new business model growing out of the successful aquatic management module within the JEM group and leveraging the expertise that James Harhi brings to our industry. We believe that adding a comprehensive Attractions operations piece to the management model is a strong area for growth. Our team will conduct an assessment of an operation and provide a targeted, strategic management program that will drive revenue while identifying operational efficiencies. We will implement the operating plan integrating staff as needed and infuse external resources appropriate for the operation. This module of the management group will be attraction based, not just focused on aquatic facilities. Additionally, I hope to bring my experience and resources gained by working in many unique and diverse work environments, working with Jeff and his teams to identify areas where synergies exist between the different business units incorporated in the Jeff Ellis companies. We will work to create a culture that is more integrated than what currently exists while allowing the entities to focus on their core businesses."
Friscia's industry experience and resource network gives him a skill set that will fit nicely within the dynamics of the overall teams at JEM, E&A and now E&H Attraction Management.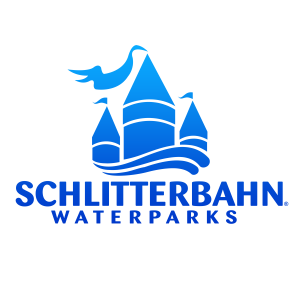 CORPUS CHRISTI, Texas — Corpus Christi residents turned out in force February 15, 2013, to celebrate the groundbreaking of Schlitterbahn's newest Waterpark and Resort. The new 65-acre project will embody the best of Schlitterbahn — rivers, rides, slides, surf, and lodging — in a community that has been anxiously anticipating the new park.
"We've been impressed by the incredible support and enthusiasm from citizens in Corpus Christi," said Jeff Henry, owner of Schlitterbahn. "We're glad to announce that the wait is over and we are breaking ground today!" While the groundbreaking is taking part today, ride fabrication is already underway. Schlitterbahn plans on opening Summer of 2014.
Schlitterbahn's Waterpark and Resort in Corpus Christi will launch with Schlitterbahn's signature attractions including a Torrent Tidal Wave River, a river system that allows guests to float along a wave-filled river; swim-up bars; beaches; and of course, a Boogie Bahn, the world's best inland surfing ride; as well as on-site lodging. Details on specific rides, prices, and timing will be shared in the coming months.
San Antonio — Six Flags Fiesta Texas today announced on February 13, the completion of Iron Rattler's thrilling Zero-G Barrel Roll that flips riders completely upside down. This amazing new ride element is the first of its' kind to be featured on a hybrid coaster!
"It's so exciting to actually see such an iconic feature as the Zero-G Barrel Roll completed," said Park President Martin Bozer. "It will be an unbelievable thrill when riders are able to experience zero gravity during such a high-speed, twisting inversion."
Iron Rattler is a unique technological marvel combining a classic wooden support structure with a modern steel track, allowing for an unprecedented ultra-smooth ride experience. Construction is currently underway for the new Iron Rattler hybrid wood and steel roller coaster as technicians are working on additional signature components to bring the massive Iron Rattler to life. The next exhilarating Iron Rattler element under construction is the thrilling drop over the quarry cliff into the tunnel!
In addition to the thrilling Zero-G Barrel Roll of the Iron Rattler, additional epic features include:
A massive 180-foot lift hill
Thrilling 81 degree drop, almost straight down
A blazing top speed of 70 mph
Four over-banked turns—more than any other hybrid coaster
Camelback Airtime Hills
An awe-inspiring free fall into the quarry tunnel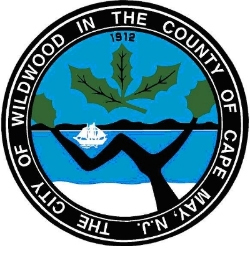 Wildwood, N.J. — The Board of Commissioners of The City of Wildwood pulled the beach fee referendum and announced yesterday at the Wildwood Commissioners meeting that they will enter into serious discussions on the implementation of Shared Services with the municipalities of Wildwood Crest and North Wildwood as an alternative solution to beach fees.
The Shared Services solution is a collective effort by the Island's three municipalities, Wildwood, North Wildwood and Wildwood Crest, and is with the support of the Greater Wildwoods Tourism Improvement and Development Authority (GWTIDA).
"There are always a number of possible approaches when it comes to addressing budget issues. Shared Services is a viable and financial solution that could work for everyone," said Commissioner Byron. With the Shared Services solution, the three municipalities would pool their efforts and assets and share various services, including, but not limited to, beach maintenance, lifeguarding, fire and police.
"We are excited and thrilled to be collaborating with the other municipalities on this solution. We are all working together for common goals," said Mayor Troiano. "These goals include the preservation of tourism — the life blood of the island — and unifying and strengthening our municipalities' budget issues and shortages," he added.
The three communities have agreed to form a Shared Service Committee, to include members or officials from each municipality and GWTIDA to work out and oversee the details on a Shared Services Plan for maximum benefit to all.
"We strongly believe that this Shared Services solution is a win-win for everyone involved," added Commissioner Leonetti.
Athol, Idaho — Silverwood Theme Park has announced the addition of two new rides; the first a thrilling new 104' tall giant thrill ride exhibiting 3.5 Gs. The second a family-fun ride named Barnstormer. Both rides are expected to open this spring and will be operating for the 2013 season.
Recently purchased from Italian manufacturer VISA International, the new thrill ride is being shipped and will arrive at the beginning of April when it will be assembled and ready to operate at the beginning of the 2013 season. Also Italian-made, Barnstormer has already arrived at the park and will be assembled as soon as weather permits and the snow dissipates.
With an expense of over $2.2 million for the two new rides, Silverwood continues to invest in its infrastructure to maintain its position as the northwest's premiere destination for family fun and thrills. The naming contest will run from January 22nd through February 22nd. Submissions and contest details can be made at silverwoodthemepark.com.
Silverwood Theme Park is the largest Theme and Water Park in the Northwest with 216 acres of fun and over 65 rides, slides, shows and attractions. The park boasts 4 massive roller coasters, 1 drop tower and a myriad of other family friendly rides and attractions as well as the Boulder Beach Water Park with 2 expansive wave pools, numerous water slides, play areas for the kids and VIP cabanas. Opening in 1988, Silverwood has grown from a local attraction into a fixture in the Northwest tourism industry as the most attended attraction in the state of Idaho.
Ride Specs: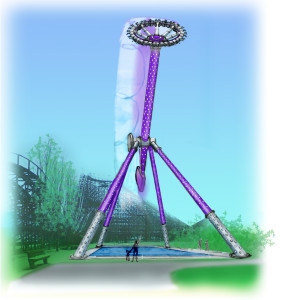 New Thrill Ride
(Name to be determined through contest)
Manufacturer: SBF VISA Group, specifically VISA
Ride Height: 102′–5″
Seats: 24 passengers
Speed: Rotation speed of main vehicle 15 rpm. Overhead rotation speed: 14 rpm
3.5 Gs
Total Cost with install and transport: $2 million
Arrival date at the park: 4-15-13 (area of installation will be prepped and ready; ride can be put up in 5 days). It is shipping via land and sea in 5 containers from Italy.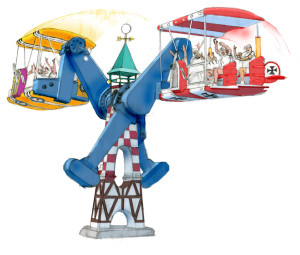 Barnstormer
Manufacturer: Zamperla (Italy)
Manufacture Date: 2000
Height: 25′–7″
Seats: 20 passengers (can be 20 adults)
Speed: Variable up to 10 RPM
Hourly Capacity: 500
Total Ride cost: $200,000.00
One of only 2 rides like it in the United States, the other being located at Six Flags Great Adventure.