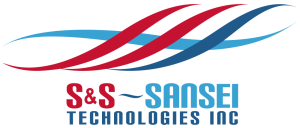 LOGAN, Utah — S&S Worldwide, Inc. is pleased to announce that it has signed a contract with Casino Beach Pier in Seaside Heights, New Jersey, to build and install a 120-foot Double Shot Tower Ride. The ride is planned to open at Casino Beach Pier in the 2015 season.
Casino Beach Pier sits along the Jersey Shore and extends right into the heart of the Atlantic Ocean. "The Double Shot tower is a perfect addition to our park," says Vincent Storino, of Casino Pier. "We think this thrilling ride will complement our other rides and bring a new level of excitement to our guests."
S&S Worldwide, the largest U.S. manufacturer of major amusement rides and roller coasters, has been manufacturing air-launched rides since 1994. The company has installed over 450 rides and roller coasters in 33 countries, including over 150 tower rides around the world. Tim Timco, Vice President of Sales and Marketing for S&S said, "We're really thrilled to be working together with our friends at Casino Beach Pier. It's great to be a part of their rebuilding process."
Timco added, "We appreciate the great relationships we have built, while leading the amusement industry and marveling millions around the globe every day. Watch for more exciting products yet to be launched from S&S."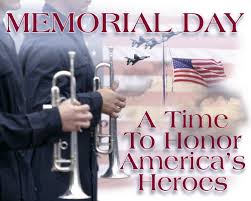 ARLINGTON, Texas — The offices of Amusement Today will be closed on Monday, May 26, in recognition of Memorial Day. The next desktop edition of extra extra will be delivered on Tuesday, May 27.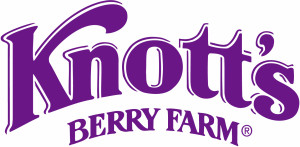 BUENA PARK, Calif. — Knott's Berry Farm and Knott's Soak City water park are pleased to announce that they will be offering FREE admission to active and retired United States Military personnel Saturday through Monday of Memorial Day weekend (May 24-26).
A tribute to the Knott's Berry Farm Armed Forces Program all active Military, Retired Military, Department of Defense personnel are eligible for free admission. A valid military ID must be presented to receive free admission.
Active and retired members of the U.S. military will also be able to purchase discounted admission tickets for members of their immediate family (maximum of six) for Knott's Berry Farm for only $38.00 for each Regular ticket $33.00 each for a Junior ticket and $30.00 for each Regular Knott's Soak City ticket.
"We would like thank our men and women in the military and their families for the sacrifice they make", said Raffi Kaprelyan, general manager of Knott's Berry Farm, "this program is a small way we can show our gratitude and appreciation for all of their hard work and dedication to the safety of our country."
For more information on everything there is to do at Knott's Berry Farm and Knott's Soak City go to knotts.com.
CARLSBAD, Calif. — Fueled by unseasonably warm temperatures and the region's notoriously hot, dry Santa Ana winds, eight wildfires — including several that impacted this affluent seaside city and its premier attraction, Legoland California — were sparked within a few hours of each other across San Diego County last week.
Legoland, 35 miles north of downtown San Diego, evacuated guests and closed its attractions by midday on Wednesday, May 14, as billowing dark plumes from three of the wildfires appeared uncomfortably close — contrasting ominously with the park's brightly colored environs.
"Legoland California was affected by several power outages… caused by fires nearby," according to an official park statement. "All rides [were] evacuated to ensure the comfort and safety of park guests."
The park's closures included the Sea Life Aquarium. The Legoland Hotel remained open, though a few guests reportedly opted to check out early. Some 23,000 evacuation notices were issued elsewhere in Carlsbad, and the nearby Camp Pendleton Marine Corps base also was evacuated.
Legoland was able to reopen as normally scheduled the following day.
By the weekend, a change in the weather bringing onshore winds and a deepening marine layer helped firefighters get the upper hand on the blazes. Although air quality was poor and noticeably hazy between Interstates 5 and 15 from Los Angeles and San Bernardino south to San Diego, there were no other closures or operating issues reported among Southern California's major theme parks.
Damage countywide initially was estimated in the tens of millions, with a couple dozen homes and structures lost; more than 23,000 acres were scorched. Although one of the fires was caused by a construction mishap, the ignition source for the others remained under investigation. One person was charged with attempting to fuel a fire in Oceanside, while arson had not been ruled out in other areas.
—Dean Lamanna

ATLANTIC CITY, N,J. — Registration is in progress for the 2014 IAAPA Tools of the Trade for Midway Games educational event to be held June 24-25 in Atlantic City, New Jersey.
Directors, managers, or supervisors in midway games, will find this is the best opportunity to network and learn with experienced games operations professionals. Attendees will visit five boardwalk attractions and hear local games managers share their experiences, offer tips, and discuss trends to take back to their attractions.
Stops at Keansburg Amusements, Jenkinson's Beach Boardwalk, Steel Pier, Morey's Piers, and Casino Pier will show attendees, firsthand, how these attractions are recovering from the devastation of Hurricane Sandy.
The IAAPA Tools of the Trade event will help answer some of the most pressing questions for the 2014 season on topics, such as emerging trends, plush, hard goods, flashing, merchandise, training tips and techniques, and game layouts.
More information is available on the IAAPA website. Interested parties can register at the IAAPA tools of the trade registration web page.
BOWLING GREEN, Ky. — Beech Bend Park & Splash Lagoon made good this past weekend on what was termed a "high roller wager" – literally – with Quassy Amusement & Waterpark, Middlebury, Conn. Beech Bend Park flew a University of Connecticut 2014 NCAA (National Collegiate Athletic Association) Men's Basketball Champions flag atop its "Kentucky Rumbler" roller coaster as the property kicked off its 2014 season. The friendly wager was placed between the two family-owned amusement parks prior to when the UConn Huskies faced off against the Kentucky Wildcats (University of Kentucky) back in early April for the national championship.
The wager was simple: the winner of the bet will send its university flag to the other park, where it will be hoisted on its marquee ride for opening weekend. UConn beat Kentucky, 60-54, at AT&T Stadium, Arlington, Texas, for the title.
Quassy's "Wooden Warrior" and Beech Bend's "Kentucky Rumbler" are both ranked among the top 50 wooden roller coasters in the world by theme park and coaster experts.
With the wager settled, both parks are now focusing on the summer season and betting on something far more important for them: good weather. For more information about the parks, visit www.quassy.com andwww.beechbend.com.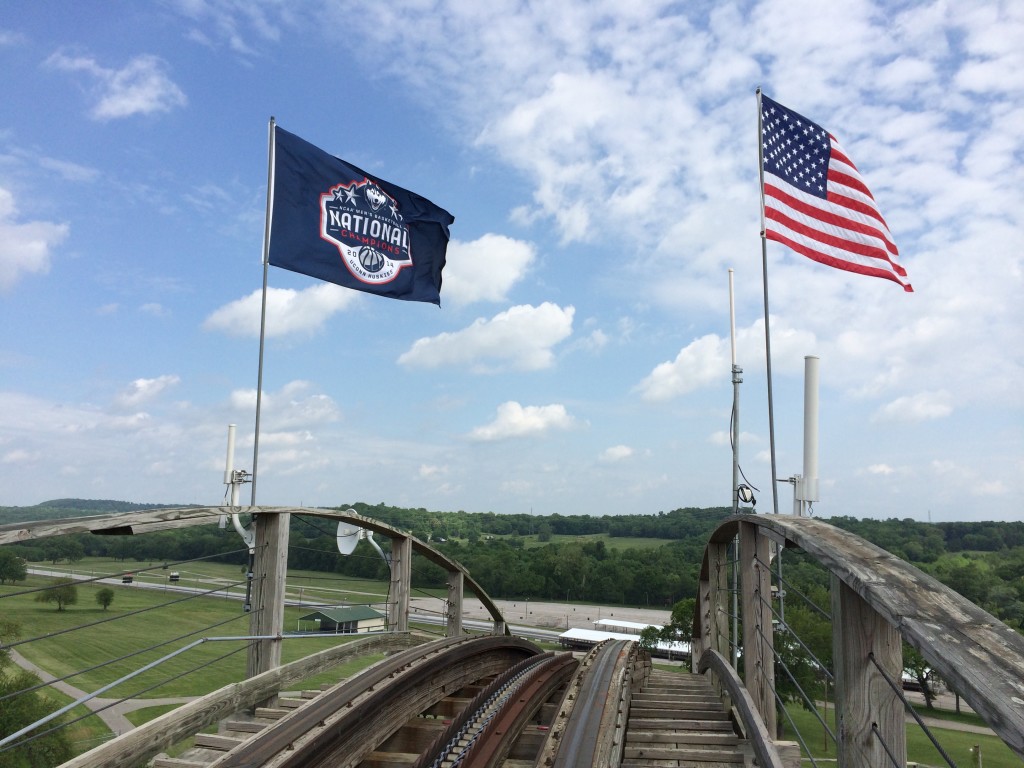 OKLAHOMA CITY, Okla. — The new Winged Warrior started flying at Frontier City on Saturday, May 10, just in time for Mother's Day weekend. The eight-vehicle Flying Scooters takes the place of the removed drop tower and is located between the Starlight Amphitheater gate and the private catering area, just across from the Nightmare building
General Manager Stephen Ball said the decision to go with Larson was an easy one to make. "Larson is close to us — just down the road from us in neighboring Texas. They are really easy to work with and the install only took about two weeks from the time it arrived on the trailers until it was operational." Ball added, "this is our first ride with Larson, and I hope there are many more to come."
Once staples at theme parks from the mid-1930s through the 1950s, Larson International revived the Flying Scooters in early 2000s using an original from Bisch Rocco as a model, and registered a trademark for the original name. Winged Warrior is one of five new Larson Flying Scooter rides opening in 2014.
KEMAH, Texas – Kemah Boardwalk is pleased to announce that it opened its newest thrill ride, the Flare looping coaster on Friday, May 9. The 75-foot tall ride, which is opening just in time for summer, will offer a unique experience for Texas Coast thrill seekers. Flare is the only ride of its size in the state and only the third in the world.
The new looping coaster promises to test riders' courage by combining heart-racing heights at a speed of 27 miles per hour. Guests can let their hair fly as they rock back and forth with suspense before wildly looping seven stories in the air. With back to back seats facing either direction, each ride on Flare is a unique experience with great views of the Galveston Bay and the Kemah Boardwalk.
Complete with 20,000 LED lights, the ride features a dynamic programmed light show that will be visible not only from the Kemah Boardwalk, but also from the Galveston Bay.
"Flare is a seven-story steel looping coaster that will provide an extra bit of thrill to the Boardwalk by sending riders forwards, backwards and head-over-heels in an adrenaline drenched 360° revolution," said Mark Kane, vice president of Landry's amusement division. "We know this attraction will quickly become a favorite for all of our visitors."
Flare is centrally located on the bay side of the Boardwalk next to the Train Station and Drop Zone. Riders must be 48-inches tall to ride. Larson International, based near Lubbock, TX is the ride's manufacturer.
The Kemah Boardwalk has opened two rides, Flare and Iron Eagle, in the last seven months. The Iron Eagle zip line features a comfortable side-by-side two-seat chair lift where riders experience the sensation of flying at a speed of 30 mph. The Iron Eagle zip line opened fall of 2014.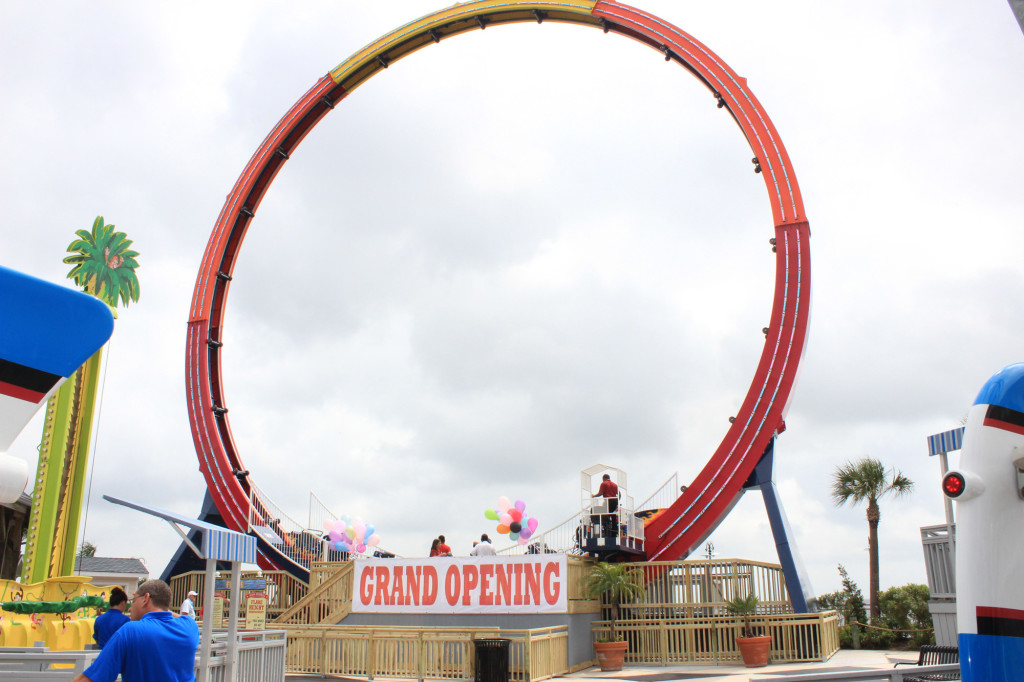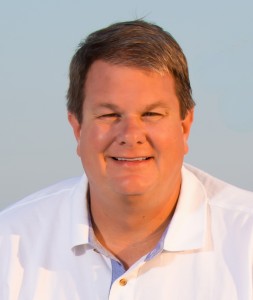 BEECHMONT, Ky. – Darren Clay Jones, 42, of Beechmont, died Monday, May 5, 2014 at 12:22 a.m. at Owensboro Health Regional Hospital.
Clay was born March 9, 1972 in Muhlenberg County, Ky. He was owner of Clay Jones Trucking and DC Transport, vice-president of Clay's Trucking, vice-president of Beech Bend Raceway and Beech Bend Park.
He was also president of Clacey's Auto & Hardware and Clacey's Quick Fuel.
According to the obituary posted on the Tucker Funeral Homes Web site, he was a devoted husband and loving father and a leader in the community. He was a hard working entrepreneur who was loved and respected by all who knew him.
Survivors include his wife, Stephanie Renee Jones, daughter Clacey Renee Jones; parents Dallas and Alfreda Jones of Bowling Green (owners of Beech Bend Amusement Park); sisters Dana (Jonathan) Porter of Beechmont and Charlotte (Rick) Gonzalez of Hendersonville, Tenn.; nephews Broc (Rebecca) Porter, Reed Gonzalez and Grant Gonzalez; nieces Brianne (Jacob) Fortney and Rachel Gonzalez; and grandmother Viola Cottrell of Beechmont.
Funeral Services will be Thurs., May 8, 2014 at 11 a.m. at Second Baptist Church in Greenville, Ky., with Bro. Steve Ayers officiating, assisting by Bro. Charlie Jones.
Burial will be in Bowling Green Gardens in Bowling Green.
Visitation will be Wed., after 5 p.m. at Tucker Funeral Home in Central City. Mr. Jones will lie in state at Second Baptist Church on Thurs. after 9 a.m. Online condolences may be made at tuckerfuneralhomes.com.
LAKE BUENA VISTA, Fla. — Seven Dwarfs Mine Train, the crowning jewel of New Fantasyland in the Magic Kingdom, will officially open to Walt Disney World guests on May 28, Walt Disney Parks and Resorts Chairman Tom Staggs announced today at a media preview of the attraction.
Staggs made the announcement during a dedication of the attraction, which completes New Fantasyland, the largest expansion in the history of the Magic Kingdom.
"Seven Dwarfs Mine Train is both literally and figuratively the centerpiece of New Fantasyland, so we knew it had to be something special," Staggs said. "The attraction appeals to everyone in the family and provides just the right blend of heart, humor, and thrill while keeping with the charm of this special land."
Seven Dwarfs Mine Train is a rocking family-style coaster that will immerse Magic Kingdom guests in the lovable world of Sleepy, Doc, Grumpy, Bashful, Sneezy, Happy and Dopey. Inspired by the Disney animated film classic "Snow White and the Seven Dwarfs," the attraction will send riders on a playful musical adventure into the mine "where a million diamonds shine."
The attraction features an innovative new ride system that allows cars to pivot back and forth during the twists, turns, hills and drops of the ride. Riders pass through magical mountain scenery studded with red poppies and live oak, cedar and birch trees. At the midpoint of the attraction, guests enter a mine aglow with gems and scenes of the Dwarfs and frolicking forest creatures. Music from the film classic accompanies the journey. At ride's end, the cottage of the Dwarfs, replicated from the film to exacting detail by Walt Disney Imagineers, comes into view with a dancing Snow White visible through a window.
Staggs was joined at Friday's dedication by Snow White and all Seven Dwarfs who proudly brought their freshly-mined gems: buckets of glowing diamonds and jewels and wheelbarrows stacked with oversized rubies, emeralds and sapphires.
"It's my honor to dedicate the Seven Dwarfs Mine Train, which we think will become an instant classic in New Fantasyland," said Staggs.
— Scott Rutherford