BOWLING GREEN, Ky. — Beech Bend Park & Splash Lagoon made good this past weekend on what was termed a "high roller wager" – literally – with Quassy Amusement & Waterpark, Middlebury, Conn. Beech Bend Park flew a University of Connecticut 2014 NCAA (National Collegiate Athletic Association) Men's Basketball Champions flag atop its "Kentucky Rumbler" roller coaster as the property kicked off its 2014 season. The friendly wager was placed between the two family-owned amusement parks prior to when the UConn Huskies faced off against the Kentucky Wildcats (University of Kentucky) back in early April for the national championship.
The wager was simple: the winner of the bet will send its university flag to the other park, where it will be hoisted on its marquee ride for opening weekend. UConn beat Kentucky, 60-54, at AT&T Stadium, Arlington, Texas, for the title.
Quassy's "Wooden Warrior" and Beech Bend's "Kentucky Rumbler" are both ranked among the top 50 wooden roller coasters in the world by theme park and coaster experts.
With the wager settled, both parks are now focusing on the summer season and betting on something far more important for them: good weather. For more information about the parks, visit www.quassy.com andwww.beechbend.com.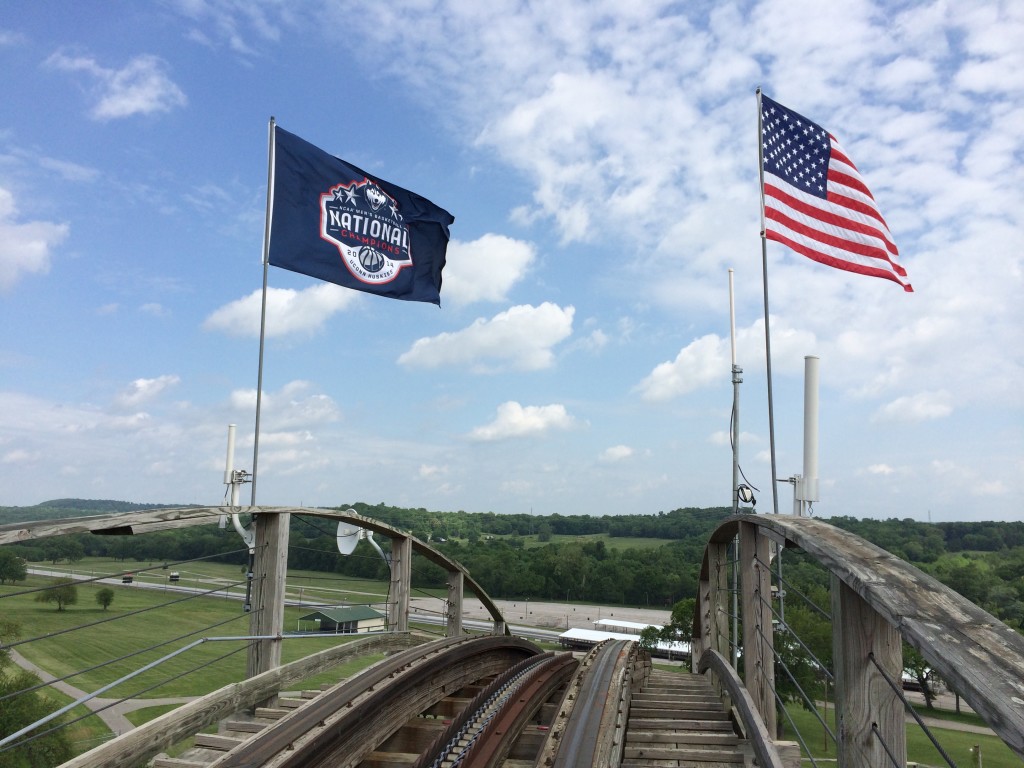 OKLAHOMA CITY, Okla. — The new Winged Warrior started flying at Frontier City on Saturday, May 10, just in time for Mother's Day weekend. The eight-vehicle Flying Scooters takes the place of the removed drop tower and is located between the Starlight Amphitheater gate and the private catering area, just across from the Nightmare building
General Manager Stephen Ball said the decision to go with Larson was an easy one to make. "Larson is close to us — just down the road from us in neighboring Texas. They are really easy to work with and the install only took about two weeks from the time it arrived on the trailers until it was operational." Ball added, "this is our first ride with Larson, and I hope there are many more to come."
Once staples at theme parks from the mid-1930s through the 1950s, Larson International revived the Flying Scooters in early 2000s using an original from Bisch Rocco as a model, and registered a trademark for the original name. Winged Warrior is one of five new Larson Flying Scooter rides opening in 2014.
KEMAH, Texas – Kemah Boardwalk is pleased to announce that it opened its newest thrill ride, the Flare looping coaster on Friday, May 9. The 75-foot tall ride, which is opening just in time for summer, will offer a unique experience for Texas Coast thrill seekers. Flare is the only ride of its size in the state and only the third in the world.
The new looping coaster promises to test riders' courage by combining heart-racing heights at a speed of 27 miles per hour. Guests can let their hair fly as they rock back and forth with suspense before wildly looping seven stories in the air. With back to back seats facing either direction, each ride on Flare is a unique experience with great views of the Galveston Bay and the Kemah Boardwalk.
Complete with 20,000 LED lights, the ride features a dynamic programmed light show that will be visible not only from the Kemah Boardwalk, but also from the Galveston Bay.
"Flare is a seven-story steel looping coaster that will provide an extra bit of thrill to the Boardwalk by sending riders forwards, backwards and head-over-heels in an adrenaline drenched 360° revolution," said Mark Kane, vice president of Landry's amusement division. "We know this attraction will quickly become a favorite for all of our visitors."
Flare is centrally located on the bay side of the Boardwalk next to the Train Station and Drop Zone. Riders must be 48-inches tall to ride. Larson International, based near Lubbock, TX is the ride's manufacturer.
The Kemah Boardwalk has opened two rides, Flare and Iron Eagle, in the last seven months. The Iron Eagle zip line features a comfortable side-by-side two-seat chair lift where riders experience the sensation of flying at a speed of 30 mph. The Iron Eagle zip line opened fall of 2014.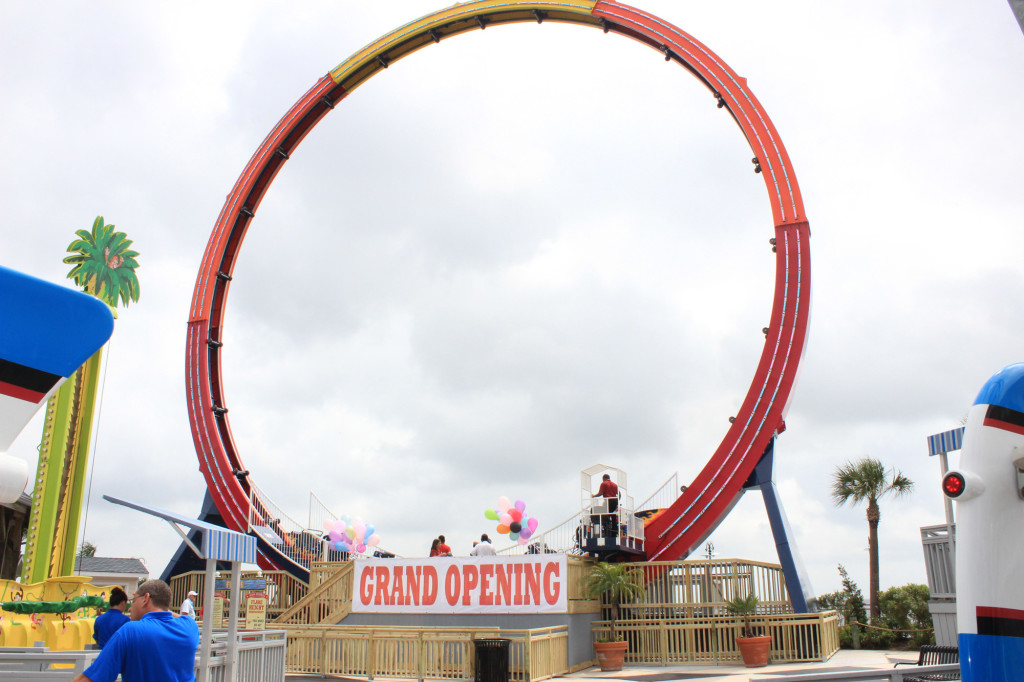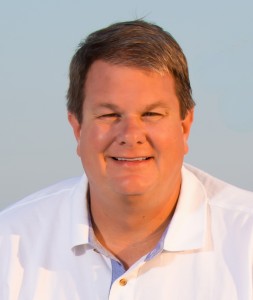 BEECHMONT, Ky. – Darren Clay Jones, 42, of Beechmont, died Monday, May 5, 2014 at 12:22 a.m. at Owensboro Health Regional Hospital.
Clay was born March 9, 1972 in Muhlenberg County, Ky. He was owner of Clay Jones Trucking and DC Transport, vice-president of Clay's Trucking, vice-president of Beech Bend Raceway and Beech Bend Park.
He was also president of Clacey's Auto & Hardware and Clacey's Quick Fuel.
According to the obituary posted on the Tucker Funeral Homes Web site, he was a devoted husband and loving father and a leader in the community. He was a hard working entrepreneur who was loved and respected by all who knew him.
Survivors include his wife, Stephanie Renee Jones, daughter Clacey Renee Jones; parents Dallas and Alfreda Jones of Bowling Green (owners of Beech Bend Amusement Park); sisters Dana (Jonathan) Porter of Beechmont and Charlotte (Rick) Gonzalez of Hendersonville, Tenn.; nephews Broc (Rebecca) Porter, Reed Gonzalez and Grant Gonzalez; nieces Brianne (Jacob) Fortney and Rachel Gonzalez; and grandmother Viola Cottrell of Beechmont.
Funeral Services will be Thurs., May 8, 2014 at 11 a.m. at Second Baptist Church in Greenville, Ky., with Bro. Steve Ayers officiating, assisting by Bro. Charlie Jones.
Burial will be in Bowling Green Gardens in Bowling Green.
Visitation will be Wed., after 5 p.m. at Tucker Funeral Home in Central City. Mr. Jones will lie in state at Second Baptist Church on Thurs. after 9 a.m. Online condolences may be made at tuckerfuneralhomes.com.
LAKE BUENA VISTA, Fla. — Seven Dwarfs Mine Train, the crowning jewel of New Fantasyland in the Magic Kingdom, will officially open to Walt Disney World guests on May 28, Walt Disney Parks and Resorts Chairman Tom Staggs announced today at a media preview of the attraction.
Staggs made the announcement during a dedication of the attraction, which completes New Fantasyland, the largest expansion in the history of the Magic Kingdom.
"Seven Dwarfs Mine Train is both literally and figuratively the centerpiece of New Fantasyland, so we knew it had to be something special," Staggs said. "The attraction appeals to everyone in the family and provides just the right blend of heart, humor, and thrill while keeping with the charm of this special land."
Seven Dwarfs Mine Train is a rocking family-style coaster that will immerse Magic Kingdom guests in the lovable world of Sleepy, Doc, Grumpy, Bashful, Sneezy, Happy and Dopey. Inspired by the Disney animated film classic "Snow White and the Seven Dwarfs," the attraction will send riders on a playful musical adventure into the mine "where a million diamonds shine."
The attraction features an innovative new ride system that allows cars to pivot back and forth during the twists, turns, hills and drops of the ride. Riders pass through magical mountain scenery studded with red poppies and live oak, cedar and birch trees. At the midpoint of the attraction, guests enter a mine aglow with gems and scenes of the Dwarfs and frolicking forest creatures. Music from the film classic accompanies the journey. At ride's end, the cottage of the Dwarfs, replicated from the film to exacting detail by Walt Disney Imagineers, comes into view with a dancing Snow White visible through a window.
Staggs was joined at Friday's dedication by Snow White and all Seven Dwarfs who proudly brought their freshly-mined gems: buckets of glowing diamonds and jewels and wheelbarrows stacked with oversized rubies, emeralds and sapphires.
"It's my honor to dedicate the Seven Dwarfs Mine Train, which we think will become an instant classic in New Fantasyland," said Staggs.
— Scott Rutherford
MIDDLEBURY, Conn. — Quassy Amusement Park's George Frantzis packs up a UConn Huskies' Championship Flag on April 29 in his Middlebury office. The flag is going to Beech Bend Park & Splash Lagoon in Bowling Green, Ky., to make good on a friendly wager. The deal between the two family-owned amusement parks: The winner (park) of the NCAA men's championship basketball game will send a team flag to the other park where it will be flown atop the wooden roller coaster. Connecticut beat Kentucky for this year's title, so Beech Bend's Kentucky Rumbler coaster will fly the flag on opening day this coming Saturday.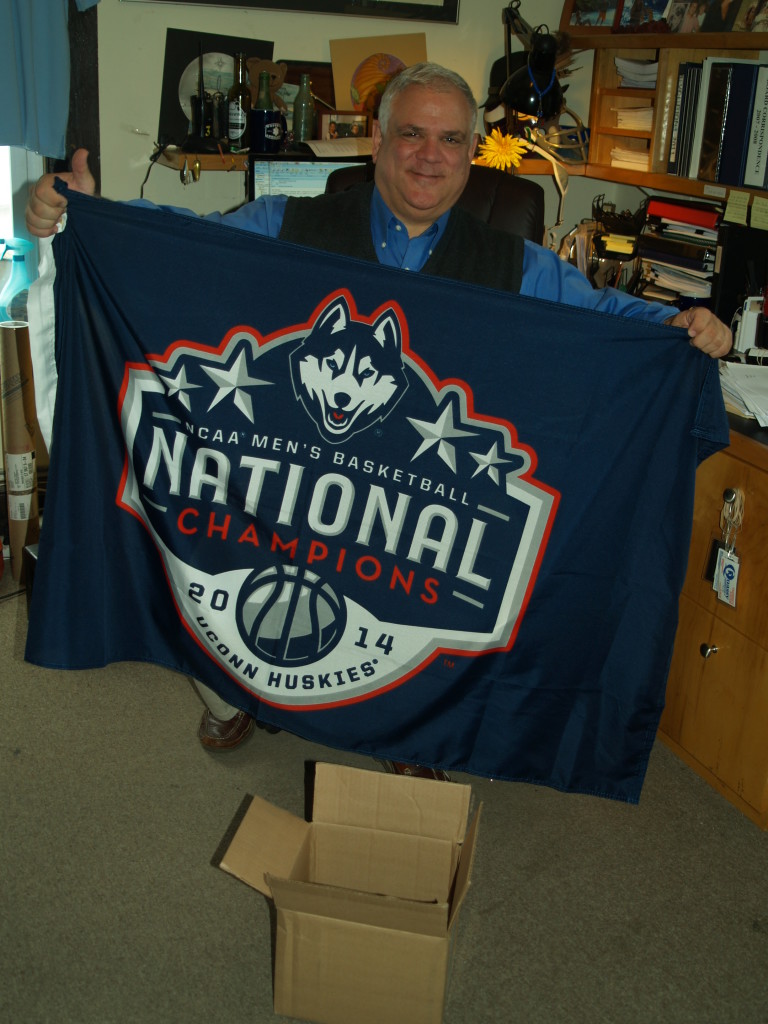 Military members receive special rates from $69 for a poolside room
ORLANDO, Florida, — CoCo Key Hotel and Water Resort – Orlando is offering active and retired members of the U.S. Military a special discounted rate from $69 per night for a poolside room in honor of Memorial Day. Offer available April 21, 2014 through June 6, 2014. A military I.D. card is required at check-in; guests may book using the promotional code: COCOSALUTE.
CoCo Key is in the center of all major attractions and activities in Orlando and offers a complimentary scheduled shuttle service to Universal Orlando Resort and SeaWorld Orlando. Other nearby attractions include: Disney World, shopping at the Orlando Premium Outlets and the Orange County Convention Center.
With more than 5,000 square feet of event space and on-site catering, CoCo Key is the perfect place to hold a birthday party, family reunion, sports group event, or corporate meeting. Come to CoCo Key Hotel & Water Resort-Orlando and enjoy the all the benefits that Orlando has to offer, with big savings.
Book April 21, 2014 through May 31, 2014 and stay through June 5, 2014 to receive this special U.S. Military offer at cocokeyorlando.com or by calling the reservations center at 1-877-875-4681. Offer subject to change, based on availability, and restrictions may apply.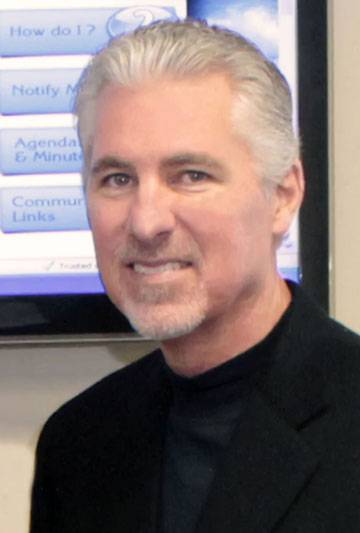 SOMERS POINT, N.J. — James Roy Gillian, "Jimmy", 57, of Somers Point, NJ passed away Wednesday, April 16, 2014 at his home.
He was born August 28, 1956 in Somers Point to Jean (nee Young) and Roy Gillian.
Jimmy was a graduate of Ocean City High School class of 1974.
He was the former owner of Gillian's Island Water Park and Adventure Golf on the boardwalk in Ocean City.
He was a proud member of Ocean City Lodge # 171 F. & A. M. and former member of IAAPA.
He was predeceased by his brother: John David Gillian and step-father: David Simpson.
Surviving are his son: Ryan and daughter: Lauren both of West Chester, Pa, wife: Betsy Belleville Gillian of Somers Point, his mother: Jean Simpson, father and step-mother: Roy and Pat Gillian all of Ocean City, two brothers: Steve of Florida and Jay and Michele Gillian of Ocean City.
A Masonic Funeral Service by Ocean City Lodge will be offered Wednesday at 12 noon immediately followed by his funeral service at the Ocean City Tabernacle, 6th Street at Wesley Avenue, Ocean City, N.J. where friends may call from 10:00 until time of service.
Burial will follow Seaside Cemetery, Palermo, NJ.
The family suggests those who desire send memorial contributions to the John David Gillian Memorial Scholarship, c/o Ocean City High School, 5th Street at Atlantic Avenue, Ocean City, NJ.
Condolences, Flower and Information godfreyfuneralhome.com.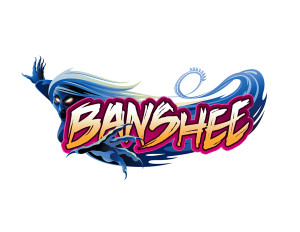 MASON, Ohio — Kings Island introduced Banshee, the world's longest inverted coaster, during a media preview today. Banshee screams onto the scene as the park's 15th roller coaster. With a price tag of $24 million, it is the largest investment in Kings Island's history.
"The ride has been designed with the thrill-seeker in mind. It's an incredible ride delivering two and one-half minutes of non-stop action. The elements incorporated into this ride make for a ride experience that is unmatched on an inverted roller coaster," said Greg Scheid, Kings Island vice-president and general manager.
The new thriller replaces and takes over the same real estate previously occupied by the Son of Beast wooden coaster, which was removed in 2012.
Supplied by Switzerland's Bolliger & Mabillard, Banshee stands 167-feet tall and treats riders to a 68 mph tour of the ride's 4,124 feet of track. The ride layout, specially designed for Kings Island, includes a unique collection of elements: a 150-foot Curved Drop, Dive Loop, Vertical Loop interacting with the lift, Zero-G-Roll, Batwing, Outside Loop, Spiral, In-Line-Roll, and Carousel.
Constructed over undulating terrain, Banshee offers several unique elements that distinguish the ride from others of its ilk. Two of the most unique features about Banshee are the massive size of every loop, and unlike other roller coasters, the top speed isn't reached until halfway through the ride's course. Since Banshee's lift hill is on a higher elevation than the other side of the ride that goes down into a valley, the total elevation change is 208 feet from the highest point at the top of the lift hill to the lowest point, which is the bottom of the Batwing between loops four and five.
"The in-line roll near the end of the ride is one of my favorite elements. It will surprise you." – Greg Scheid, Kings Island ice-president and general manager.
Banshee utilizes three trains with eight cars per train. Riders will be arranged four abreast for a total of 32 riders per train. Hourly capacity with three trains is expected to be 1,650 guests.
Banshee is themed to a wailing mythological messenger from the underworld with flowing white hair and gleaming eyes. Textured lighting and other lighting effects will bring the Banshee legend to reality, creating the ultimate night ride experience.
"If you think riding the Beast at night is a thrill, wait until you experience a night ride on Banshee. Like the Beast, it's something you'll always remember and look forward when you visit Kings Island," said Don Helbig, public relations area manager, Kings Island
"It's everything an inverted roller coaster should be, and more," added Richard Zimmerman, chief operating officer, Cedar Fair Entertainment Company.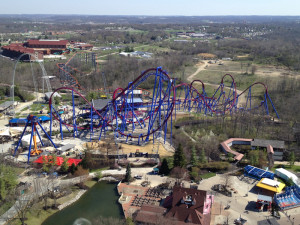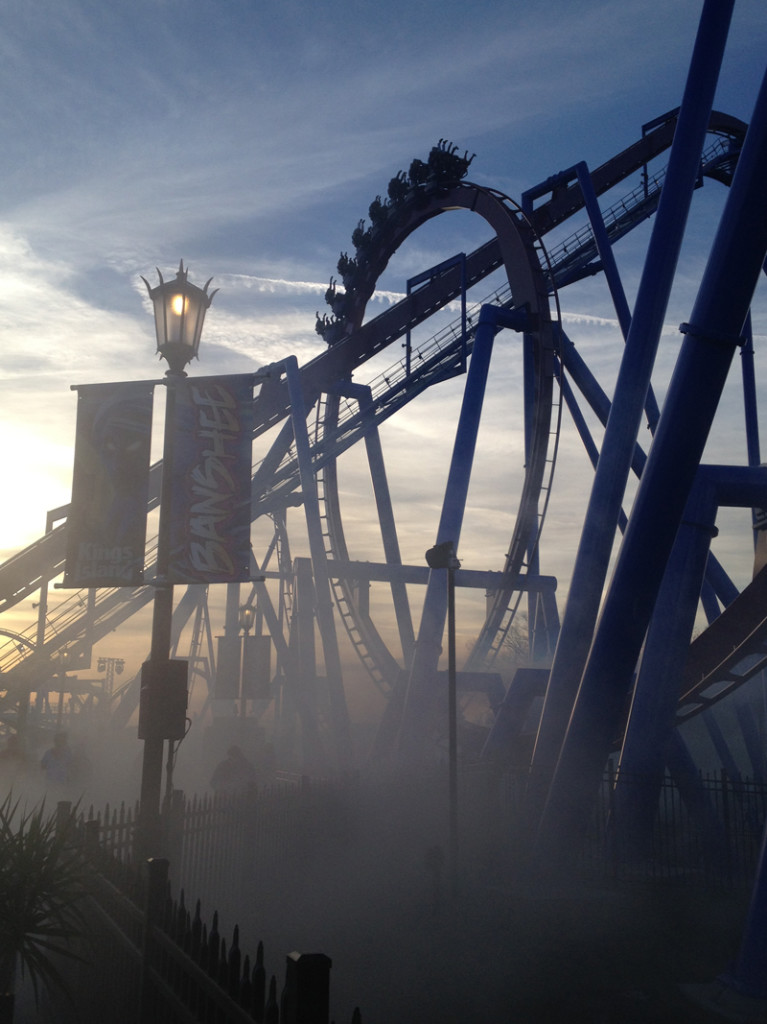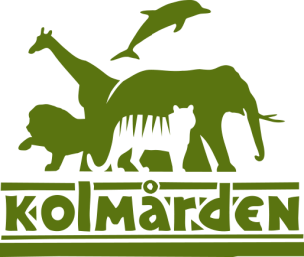 Norrköping, Sweden — This summer, work will begin on Wildfire, a contender for the world's best wooden roller coaster. Thanks to new technology Wildfire is pushing the limits of what was previously possible. Once it is officially opened in the spring of 2016, it will be Scandinavia's fastest and tallest roller coaster and the fastest wooden roller coaster in Europe. The investment totals SEK 110 million ($16.8 million).
At the top of the first climb, guests will be 132 meters (433 feet) above the blue waters of Bråviken bay, with a fantastic view over Kolmården's beautiful scenery. At the crest, the view suddenly gives way as riders plunge 49 metres (161 feet) down toward the bottom of the ravine at an 83-degree angle in free fall with speeds passing 110 km/h (71 MPH) as riders approach the start of the next ascent and enter an Inverted Zero G Stall. The train then speeds onwards through the woods along the 1.3 kilometers (4,266 feet) of track. Wildfire races between the treetops and the sensation that the laws of physics are being broken continues right up to the end.
"For a long time, our goal has been to build the world's best roller coaster at Kolmården. The challenge has been to develop a world class roller coaster that blends in with the extraordinary landscape and the park's atmosphere. This has finally been made possible thanks to modern technology. We are delighted that this dream can finally be realised," says Johan Tidstrand, principal owner of Parks and Resorts.
Wildfire, which will openat Kolmården in the spring of 2016, belongs to the new generation of wooden roller coasters. The ride is being built using new, patented technology that is revolutionising and pushing the boundaries for wooden coasters. The first roller coaster to use the new technology was built in 2013 at the Silver Dollar City theme park. Wildfire will be the first roller coaster of its type outside the USA. The result is a 57-meter high, 1.3 kilometer-long track with a maximum speed of 113 km/h, three inversions and 12 airtime hills (4 with negative G). Wildfire will also be quieter than wooden roller coasters in general.
"We have taken some of the best elements of the world's best roller coasters, added new ideas and created a unique ride. The result is Wildfire, a ride with so much air time, action and intensity that it will have no equal. The two-minute ride through Kolmården's dramatic terrain high above the waters of Bråviken bay, will make it the world's best wooden coaster," says Peter Osbeck, Ride Manager at Parks and Resorts.
Wildfire is being built using Swedish lumber.
"Wildfire, along with the other investments at the park, is being built in order to develop Kolmården as one of Sweden's top destinations. By continuously expanding the park, Kolmården will become an even better destination and we can attract more visitors. This will enable us to reach out to more people with our public education initiatives," says Mats Olsson, CEO at Kolmården.
The name Wildfire has a strong link to the natural and cultural history of the area. Wildfires helped to shape the landscape and have been critical to the unique biodiversity that has been preserved in the area until this day.
Wildfire will open in 2016.