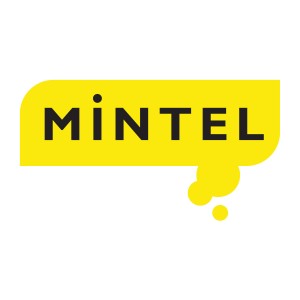 CHICAGO, Ill. — As a new school year looms on the horizon, many American households might be trying to squeeze in one last trip to the amusement park before it's time to hit the books. But when it comes to theme parks, new research from Mintel reveals that while teens are still the most prolific visitors, teen visitation has dropped over the past five years with 67% of those aged 12-17 having visited a park in the last year compared with 76% five years ago. In contrast, visits from adults have remained steady at 22-23%.
It seems price may be a factor in the decline of teen visits, as Mintel's research found during the four years 2007-10, per diem expenses hovered around $150, but by 2012 the per diem increased to $170+. While other leisure sectors have struggled to regain footing lost during the recession, the American theme parks market is poised to reach a record-breaking $14.4 billion in 2013.
Fiona O'Donnell, lifestyle and leisure analyst at Mintel said: "The theme park business has recovered from the recession much faster than some other leisure markets. A record number of visitors passed through the turnstiles in 2012, drawn by elaborate new attractions and assorted pricing schemes to suit a variety of budgets. Major operators continue to upgrade their parks and 2013 is shaping up to be another record-breaking year. However, theme parks can grow revenues further by incorporating other forms of leisure entertainment—namely, gaming and the Internet—into their offering. Theme parks also can improve guest satisfaction by alleviating wait times through technology and providing a more pleasant experience while waiting."
Indeed, it seems technology plays an important part in connecting theme parks with their visitors — with consumers feeling more of it could be used to improve their experience. Some 76% of theme park visitors think theme parks should use technology to manage wait times so that no one has to spend extra time waiting in line. Furthermore — one in five (22%) theme park goers claim to have visited Disney Parks' website, Facebook page or Twitter account before coming, 15% report the same for Six Flags, while 14% report visiting the social media sites for both Sea World and Universal Studios prior to their arrival. Meanwhile, 12% report doing so for Busch Gardens and 19% who visited Cedar Point.
"Theme parks are using social media in some of the most diverse and active ways as seen across all categories analyzed by Mintel. Social media has proven to be a key medium for brands looking to reach potential visitors and as a way to keep fans engaged long after they've left the park," says Gabi Lieberman, social media analyst at Mintel. "For theme parks such as Cedar Point, Six Flags and Busch Gardens, which have shorter seasons than year-round parks Sea World and Disney Parks, using social media to keep people excited and talking about the brand is crucial."
"Blogs have become the leading social media platform utilized by theme park brands to connect the various social media channels under one platform to help facilitate deeper discussion and bring together passionate brand fans," Gabi Lieberman adds.
Today, over one third (36%) of theme park goers consider themselves "avid" visitors. But it is not just younger consumers being thrilled by theme parks — Mintel's research shows that over one in five (23%) over 55 year olds consider themselves an avid theme park goer. The top five purchases while in theme parks are: 1. Food (with 83% of theme park visitors claiming to buy this while there), 2. Beverages (74%), 3. Souvenirs for family or friends (45%), 4. Souvenirs for myself (33%) and 5. Photographs (26%).
Mintel is a leading global supplier of consumer, product and media intelligence. For more than 40 years, Mintel has provided insight into key worldwide trends, offering exclusive data and analysis that directly impacts client success. With offices in Chicago, New York, London, Sydney, Shanghai, Tokyo, India, Malaysia, Singapore and Sao Paulo, Mintel has forged a unique reputation as a world-renowned business brand. For more information on Mintel, please visit mintel.com.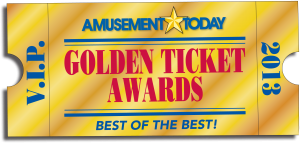 ARLINGTON, Texas — Amusement Today publisher Gary Slade has announced that just a few rooms remain at the Dream Inn, headquarter hotel for the 2013 Golden Ticket Awards in Santa Cruz, California.
The room block will be released to the general public for booking beginning 5 p.m. Friday, August 16, 2013, Eastern Time.
Slade urges all winners, presenters or attendees who have not yet secured a hotel room to do so immediately by calling Dan Smart, Dream Inn sales manager, at (831) 460-5019 and giving the code "Golden Ticket Winner."
Remaining rooms will be booked on a first call basis.
The 2013 Golden Ticket Awards are scheduled for September 6 & 7 at the Santa Cruz Beach Boardwalk, before moving to California's Great America on September 8 for another playday in the park.
GTA event registrations are due by Monday, August 26, 2013, and may be made online at: GoldenTicketAwards.com.

SANDUSKY, Ohio — Cedar Fair Entertainment Company, a leader in regional amusement parks, water parks and active entertainment, announced that it has sold Knott's Soak City — Palm Springs, a stand alone water park in Southern California, to CNL Lifestyle Properties, Inc. Terms of the agreement were not disclosed and are not material to Cedar Fair's results of operations. The sale of the Palm Springs water park has no impact on the Company's other properties located in California.
CNL will retain the rights to the Knott's Soak City — Palm Springs name through the end of 2013 and no impact to customers is expected during this transition. The park will continue its regular operating schedule and all season passes sold will be recognized through the park's 2013 operating season currently scheduled to close on Sunday, October 6, 2013.
The Company noted that the net proceeds from this sale will be reinvested in their core assets including the multi-year refreshment of hotel properties in Sandusky, Ohio which was announced last year.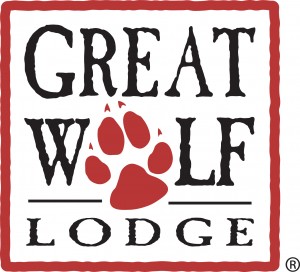 MADISON, Wis. — Great Wolf Lodge has announced its second class of recipients for the Great Wolf Resorts Scholarship. A total of $56,000 will be awarded to 14 Great Wolf Lodge Pack Members to put toward their college education for the upcoming 2013-2014 school year.
"The Great Wolf Resorts Scholarship is quickly becoming a tradition we are very proud of," said Kim Schaefer, Chief Executive Officer, Great Wolf Lodge, "We look forward to helping our dedicated pack members pursue their higher education and are honored to award 14 pack members with scholarships this year."
Pack Members from six Great Wolf Lodge resorts, located in Concord, N.C.; Kansas City, Kansas; Mason, Ohio; Pocono Mountains, Pennsylvania; Traverse City, Michigan; and Williamsburg, Virginia; as well the company's Central Reservations and corporate offices in Madison, Wisconsin, make up this year's group of scholarship recipients.
The entire company is proud of the 135 applicants and 14 recipients of this year's scholarship. A great Howl of congratulations is extended to the following Pack Members as they pursue their higher education goals this fall.
Each September, Great World Lodge holds a fundraising golf tournament in support of the Scholarship Program. The inspiration to create the program originated from the company's participation in the CBS prime-time show "Undercover Boss" three years ago. During her time on the show, Schaefer met pack members at each resort who were working for Great Wolf Lodge while attending college.
To apply for a scholarship, Great Wolf Lodge Pack Members submitted a letter of recommendation, an application and personal essay. All submissions were reviewed by an outside committee. Recipients may choose any area of study they wish and enter any field they desire upon graduation.
KINGS ISLAND, Ohio — The longest inverted steel roller coaster in the world, "Banshee," will make its debut at Kings Island in April of 2014.
The first female-inspired thrill ride at a Cedar Fair Entertainment Company amusement park, Banshee will send riders screaming through 4,124.1 feet of track and seven mind-bending inversions at speeds up to 68 miles per hour during the 2-minute, 40-second ride.
Built over hilly terrain and incorporating the most exciting features of the very best inverted roller coasters in the world, Banshee will feature several unique elements that distinguish the ride from others.
The ride begins with a lift taking riders up to the maximum height of 167 feet. After plunging down 150 feet, riders will go through a dive loop, followed by a vertical loop, zero gravity roller, two batwing inversions, a second vertical loop and a 170-foot long heartline finale.
Two of the most unique features about Banshee are the massive size of every loop, and unlike other roller coasters, the top speed isn't reached until halfway through the ride's course.
Since Banshee's lift hill is on a higher elevation of terrain than the other side of the ride that goes down into a valley, the total elevation change is 208 feet from the highest point at the top of the lift hill to the lowest point, which is the bottom of the batwing between loops four and five.
Passengers will be seated in cars four across. A total of three trains, each containing eight cars, will enable Banshee to accommodate approximately 1,650 riders per hour.
"Banshee reflects our commitment to providing the best in world-class thrills and value for our guests and is an investment in the Ohio tourism industry," Kings Island's vice-president and general manager Greg Scheid said. "People from around the world will plan a visit to Ohio next summer specifically to experience this ride."
Banshee will be the 15th roller coaster at Kings Island, which is home to some of the top-ranked roller coasters in annual industry and enthusiast polls including The Beast and Diamondback, and represents the biggest new product investment in the park's 41-year history at $24 million.
Banshee was designed by Bolliger and Mabillard of Monthey, Switzerland, one of the premier leaders in roller coaster development. Since 1990, B&M have designed a number of ground-breaking and critically acclaimed roller coasters. In fact, B&M features 14 of the top 25 roller coasters on the Amusement TodayGolden Ticket Awards Top
Steel Roller Coasters list for 2012, five of which are listed in the top 10. They have more top-ranked steel roller coasters than any other ride manufacturer on the list.
B&M roller coasters are renowned for their smooth ride, comfortable seats and restraints, reliability, low maintenance, impeccable safety record and ride capacity.
As of 2013, B&M has more than 85 roller coasters operating worldwide, including Diamondback at Kings Island and this year's sensation, GateKeeper at Cedar Point in Sandusky, Ohio.
The construction of Banshee is currently underway in the Action Zone area of Kings Island. Park visitors can see the ride being built from the ground up with great aerial views and photo opportunities available from the observation deck of the Eiffel Tower on International Street. Those who cannot wait until 2014 may take a virtual ride on Banshee at visitkingsisland.com/banshee.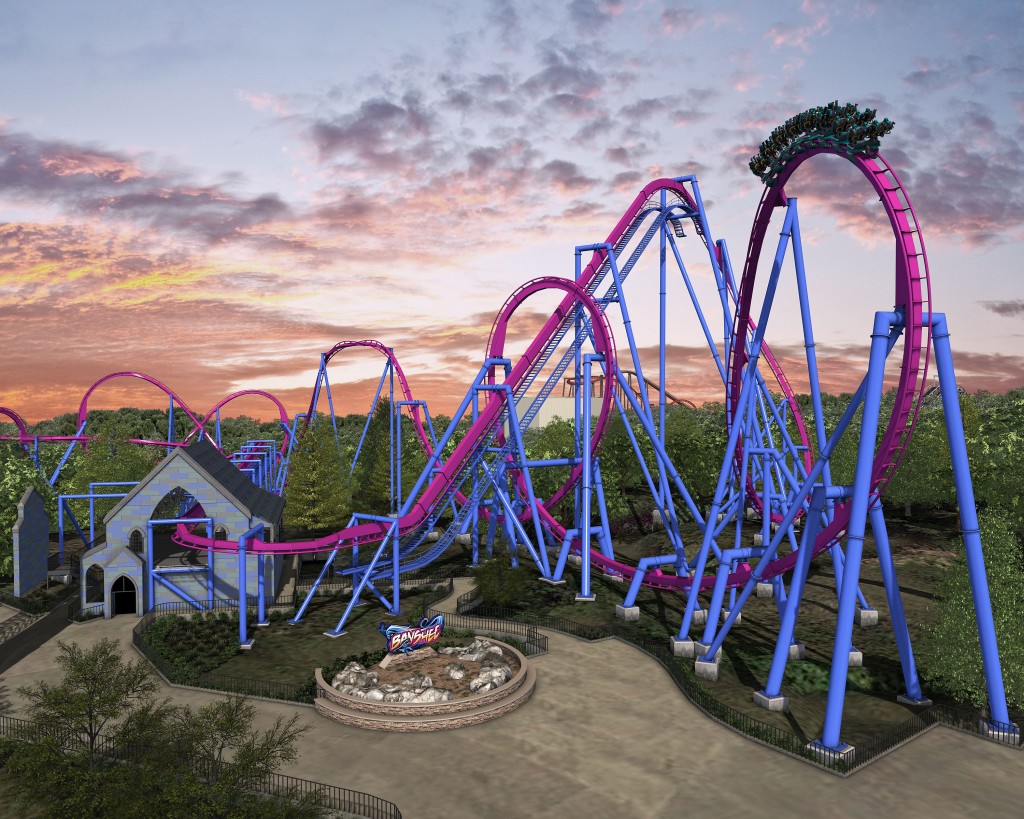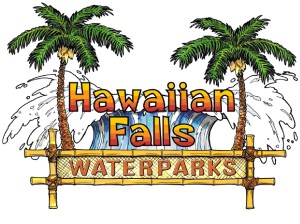 PFLUGERVILLE, Texas — The Pflugerville Community Development Corporation (PCDC) and City of Pflugerville have announced a $21.5 million Hawaiian Falls waterpark and adventure park scheduled to open spring 2014. The Pflugerville City Council approved an economic development agreement with Hawaiian Falls for the development and operation of a 25-acre park near the southwest corner of SH 130 and FM 685.
The year-round entertainment complex is projected to have a significant economic impact on Pflugerville as more than 300,000 guests are expected annually. In an economic impact study commissioned by the PCDC and conducted by Impact DataSource, $6.2 million in annual sales are expected at Hawaiian Falls Pflugerville in its first year of operations, resulting in a significant increase in city sales tax revenue totaling approximately $62,000 the first year alone.
"This is a significant economic development win for Pflugerville for multiple reasons," PCDC Executive Director Floyd Akers said. "Pflugerville will become a regional destination for Central Texas residents. In addition to bringing additional tax revenue to the city, this project will also provide additional funding to the PCDC for economic development, provide jobs to local teenagers and adults, and spur additional development such as hotels in the area."
Hawaiian Falls is expected to employ 250 to 300 part-time seasonal workers, 100 part-time workers year round, and 15 to 20 full-time jobs with health insurance benefits.
The Pflugerville location will be the largest Hawaiian Falls waterpark in Texas, and the first in Texas with an adventure park. Hawaiian Falls also has waterparks in Garland, The Colony, Mansfield, Roanoke and Waco, Texas.
David Busch, president of Horizon Family Holdings, which has developed and operated 24 waterparks across the U.S. including Hawaiian Falls, said the Pflugerville park will span approximately 10 acres, the adventure park will span 5 acres, and the remaining acreage will be used for parking and future expansion.
By selecting Pflugerville for Hawaiian Falls' expansion into Central Texas, Busch said it puts the park within a 25-minute drive of more than 2 million people regionally. It will be the only waterpark of this size within an hour drive.
"We selected Pflugerville because of the business friendly atmosphere and perfect demographics," Busch said. "We wanted a high concentration of children and families, good highway access, regional employers, great weather and people who enjoy the outdoors. Pflugerville provided all that and more."
Busch said his team has been in search of the right location and partnership in the Austin area since 2003. Horizon met with six or seven other cities in the region before choosing Pflugerville.
"Pflugerville was the absolute best choice," Busch said. "They were interested and responsive in working with us to bring Hawaiian Falls to fruition. We need to move quickly to make this project a reality for summer 2014, and Pflugerville is a 'can do' community that will make this happen."
Several economic development agreements are in place for this project between the PCDC and Hawaiian Falls, including lease, development and performance agreements. The PCDC will acquire and own the 25 acre tract of land for the project. Hawaiian Falls will develop and operate the parks under a 30-year lease agreement with two 10-year options to renew. In the first year of the agreement, the economic impact to the City of Pflugerville will exceed $30 million.
Pflugerville residents and City of Pflugerville employees will receive a discount on daily tickets and season passes.
Celebrating 10 years of bringing families closer together, Hawaiian Falls operates waterparks in Garland, The Colony, Mansfield, Roanoke and Waco. The parks' regular operating schedule is daily 10:30 a.m. to 6 p.m. Saturday through Thursday and until 10 p.m. on Fridays from Memorial Day weekend through Labor Day. More at hfalls.com.

CONNEAUT LAKE, Pa. — The 77-year-old Beach Club night club was completely destroyed in a fire that was first reported at 2:19 a.m. By the time firefighters arrived, the Beach Club and the nearby Dockside building were engulfed in flames. Nine fire departments responded to the early morning blaze and the fire was brought under control in about 90 minutes. However, both buildings are considered a total loss.
Also lost in the fire were items from the park stored under the Beach Club including 25 fascination games, a miniature train and a rare National Amusement Devices (NAD) train from the Blue Streak roller coaster. Boats near the Dockside building were also damaged in the fire.
The Dockside had just been recently renovated and was booked with weddings on weekends through the winter including one this coming weekend.
Jack Moyer, Chairperson of the Trustees of Conneaut Lake Park issued a statement saying "The Trustees of Conneaut Lake Park extend heartfelt condolences to the partners, families, and workers of Park Restoration for the tireless hours and the investments made to restore these buildings. The loss for both the Trustees and Park Restoration is significant, as well as those with reservations and plans to use these facilities. The good times there will long be remembered and cherished."
Moyers added, "The remaining areas of the Park including the rides and concessions (open at 1 p.m.), the Hotel Conneaut, and Camperland will continue to be operate as usual and the Park After Dark opening of the new attraction will still be at 7 p.m. on Saturday August 3rd in the midway."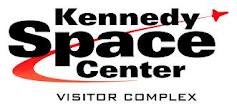 CAPE CANAVERAL, Fla. — Kennedy Space Center Visitor Complex guests can enjoy viewing a dramatic nighttime launch when a United Launch Alliance Delta 4 rocket lifts off from SLC-37B at the Cape Canaveral Air Force Station on Wednesday, Aug. 7. The launch window is from 8:29 p.m. to 9:18 p.m.
Viewing the launch from the Visitor Complex is included in regular admission and features live mission control commentary. Guests are encouraged to bring folding chairs to the viewing area.
Leading up to the opening of the launch window, guests may meet the first space shuttle Atlantis commander, Karol "Bo" Bobko, at the new Space Shuttle Atlantis attraction from 6 p.m. to 8 p.m.
The 200-foot-tall Delta 4 rocket will launch the sixth Wideband Global SATCOM spacecraft. Built by Boeing, the geostationary communications spacecraft will serve U.S. military forces by providing enhanced communications capabilities for the next decade and beyond. The rocket will fly in the Medium+ (5,4) configuration with four solid rocket boosters, enabling the rocket to lift up to 14,475 pounds to orbit.
Launch date and time are subject to change.
For more information or to purchase tickets, call 877-313-2610 and visit KennedySpaceCenter.com.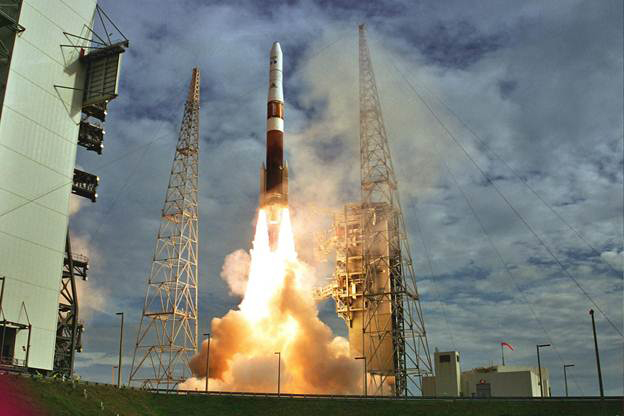 KINGS ISLAND, Ohio — Behind the scenes tours of the legendary Beast roller coaster at Kings Island are available August 1-24 as part of the fourth annual Kings Island for the Cure campaign. Tickets for the 30-minute tour are just $25 when purchased in advance online at visitkingsisland.com.
Beast tour tickets can also be purchased at the park for $30.
Guests learn interesting tidbits about the ride during the tour, such as the Beast was completely designed and constructed by Kings Island personnel, and how the original design was modified so many times the final product looked nothing like the one envisioned when the project began. The tour also provides plenty of great video and photo opportunities.
All proceeds from the Beast tours go to Susan G. Komen for the Cure Greater Cincinnati. Since 2010, the Kings Island for the Cure campaign has raised nearly $600,000 in the fight against breast cancer.
Park admission to Kings Island is required to take the Beast tour.
SANDUSKY, Ohio—Cedar Fair has announced that H. John Hildebrandt, vice president and general manager of Cedar Point, will retire at the end of 2013. He will be succeeded by Jason McClure, vice president and general manager of Dorney Park.
"I would like to thank John for his 40 years of service and extensive contributions to Cedar Fair," said Richard Zimmerman, chief operating officer of Cedar Fair Entertainment Company. "John has helped to grow Cedar Point from a one park, one hotel, one marina operation, to the 'Best Amusement Park in the World' with a separately-gated water park, four hotels, two marinas, cottages and luxury campgrounds. He has directed the marketing campaigns for Cedar Point's most iconic rides including Magnum, Raptor, Mean Streak, Mantis, Millennium Force, and Top Thrill Dragster. Throughout his career, John has led by example, emphasizing the Cedar Fair cornerstones and ensuring that each guest has a 'Best-Day-of-Summer' experience, each and every time they visited a Cedar Fair park. We will miss John and we wish him a happy and healthy retirement."
John began his career with Cedar Point as a seasonal employee in Rides in 1969. He joined the Company full-time in February 1974 as a staff writer in the Marketing Department and went on to serve in various marketing and leadership roles including, Communications Manager, Marketing Manager, Director of Marketing and Vice President of Marketing.
In 2004, John was given the opportunity to move to Allentown, Pennsylvania as Vice President and General Manager of Cedar Fair's Dorney Park and Wildwater Kingdom. He returned to Cedar Point as Vice President and General Manager just prior to the 2005 operating season and has remained in this role for the past eight years.
Jason McClure will succeed Hildebrandt upon his retirement and Michael Fehnel, vice president and assistant general manager of Dorney Park & Wildwater Kingdom, will be promoted to V.P. and G.M. of Dorney Park.
McClure has more than 10 years of experience with Cedar Fair. Prior to his promotion to Vice President and General Manager of Dorney Park in 2008, Jason served as the Vice President of Finance at Kings Island from 2004 to 2008, and as Vice President of Finance at Carowinds from 2001 to 2004. Prior to joining Cedar Fair, Jason was a certified public accountant with Ernst & Young.
Fehnel has more than 20 years of experience with Cedar Fair and its Dorney Park amusement park. He began his career as a seasonal employee within the Games Department and has served in a variety of leadership roles throughout Games, Merchandise and Foods before being promoted to Vice President and Assistant General Manager in 2013.