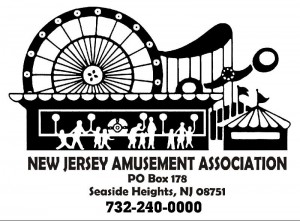 POINT PLEASANT, N.J. — On May 13th, the New Jersey Amusement Association (NJAA) will host its 54th Annual Dinner Dance. This year, New Jersey State Governor Chris Christie will be attending as our guest speaker and honoree, as well as the individuals dedicated to rebuilding the communities, beaches and boardwalks devastated by Super Storm Sandy.
The event brings colleagues and friends together to acknowledge their service and commitment to the amusement industry, discuss future goals and plans, and to celebrate the upcoming summer season. The restoration of the coastline is on everyone's mind, and while its completion may take time, it's quite impressive how far we've come in just a few months. This progression brings renewed hope for the future, and the dinner dance is one way to show appreciation to those who are working hard to restore the shore. We will be awarding first responders that evening through the money that was collected on their behalf to help them in their rebuilding efforts.
The 2013 Summer Season is about to begin, and this special evening is a great way to welcome it in and celebrate with members and guests at Clark's Landing in Point Pleasant, N.J. Festivities include cocktails, keynote addresses, awards, dinner, dancing and a fun time all around.
For information on how to be a part of this special occasion, please visit the NJAA website at www.njamusements.com, email njaa40plus@aol.com or call (732) 240-0000.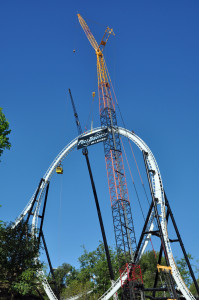 VALENCIA, Calif., — On Thursday, April 11, Six Flags Magic Mountain hoisted the final piece of steel onto the world's tallest and fastest looping coaster, Full Throttle, completing the "Top Hat" feature of the ride. Unlike traditional coasters, this triple launch coaster will launch riders up and over a first-ever "Top Hat" that traces the outside of the world-record loop, towering 160 feet.
Full Throtle will be located near the front of the park in a newly themed five-acre section where videos, music and special lighting will extend Full Throttle's energy and excitement. With this addition, Six Flags Magic Mountain, the Thrill Capital of the World, firmly holds the coveted "Coaster Capital of the World" crown — with a total of 18 roller coasters — more than any other theme park on the planet. Full Throttle is expected to open in early summer.
To begin their journey through the park's distinct mountainous terrain, riders are loaded onto sleek black and silver trains, sitting two abreast, and are suddenly accelerated from zero to 70 miles-per-hour in the first of three launches, experiencing their first inversion and thrill of navigating inside the world-record 160-foot tall loop. Riders then enter into a high-banked curve to the right and then to the left as they approach the second inversion — a Dive Loop that drops them rapidly into a special-effects tunnel. While in the tunnel, the train is dramatically decelerated and stopped, only to be suddenly launched backward up to the high point of the Dive Loop. After a momentary pause, the train drops and is magnetically launched a third time, racing out of the tunnel and through a high G-turn to the left. Riders then race up and over the "Top Hat" that traces the outside of the world-record loop, where riders will experience significant air time and a breath-taking view of the park before dropping back down, rapidly decelerating and taking the final 180-degree turn to the left and returning to the station where riders can catch their breath.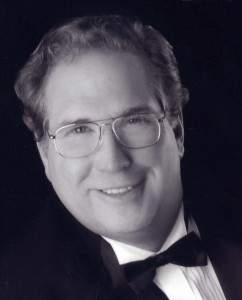 SANTA CLAUS, Ind. — Phil Koch passed away on Tuesday, April 9, at Deaconess Hospital in Evansville, Ind.
Koch was President and CEO of HO HO HOldings LLC in Santa Claus, the parent company of Lake Rudolph Campground & RV Resort, Santa Claus Christmas Store, Kringle Place Shopping Center and Santa's Land LLC. He was chairman of the Santa Claus Christmas Celebration committee, and a member of the Sons of the American Legion in Santa Claus, Dusty Trails Saddle Club, Southern Indiana Horseman's Club, the Spencer County Regional Chamber of Commerce, the National Association of RV Parks & Campgrounds, the Indiana Recreation Vehicle Indiana Council and the Indiana Campground Owners Association. The town of Santa Claus slogan, America's Christmas Hometown, was one of Philip's many ideas.
Phil Koch, the son of Bill and Pat Koch of Holiday World and Splashin' Safari, was born and raised in Santa Claus, Ind., He attended Heritage Hills High School in Lincoln City, Indiana, graduating in 1983. Then attended Purdue University and graduated in 1988 with a BS in Business Administration and Management. Koch is survived by his wife, Carol and two children, Alexa and Logan. He is also survived by his mother, Pat, and siblings Kristi, Dan, and Natalie.
Visitation will be held at Saint Nicholas Church in Santa Claus, Indiana, on Thursday, April 11, from 2–8 p.m., CDT, and also from 9 a.m. until service time on Friday. Koch's funeral is set for Friday, April 12, at 10 a.m. at the church.
In lieu of flowers, as per Philip's wishes, please make all donations to the Santa Claus Museum. The family will create an antique historical train room in his honor.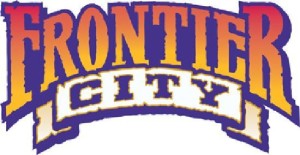 Oklahoma City, Okla. — Frontier City opens for the season at 10:30 a.m. on Saturday, April 13. New this year is a revamped and action-packed "Wild-West Gunfighter Stunt Show." The lovable "Character Tales" are back for another spectacular season, and a number of artists are lined up to take the stage for Frontier City's Summer Concert Series. Making an appearance are Flyleaf (4/27), Neon Trees (6/1), Theory of a Deadman (6/8), Huey Lewis and the News "Sports" 30th Anniversary Tour (6/15), Charlie Daniels Band (7/6), LeCrae (8/10), Easton Corbin (8/24), and more — all free with park admission!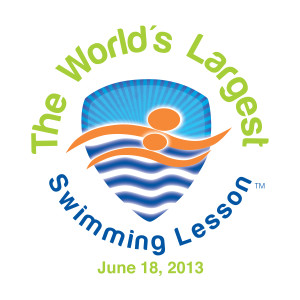 Register your aquatic facility to be a host for the 2013 World's Largest Swimming Lesson, Tuesday, June 18, 2013. Tens of thousands of kids and adults at aquatic facilities around the world will unite for the fourth year in a row to set a new Guinness World Record. The global record attempt for The World's Largest Swimming Lesson (WLSL), will take place at 3 pm GMT (11am ET, 8 am PT.)
This one-day lesson gives you a great out-of-the-box platform to promote safer swimming practices — safer swimmers means fewer accidents! And it is a media-friendly event that will generate positive PR about your facility at the start of the summer season.
Support the WLSL cause and make a difference on June 18th! Visit WLSL.org to register or learn more about the event.
Animals are at the forefront of these educational camps

With summer just around the corner, now is the perfect time for families to sign their children up for summer camp. Looking for a unique camp experience that will help shape or grow a child's interest? Then look no further than SeaWorld Orlando's Day and Resident Camps, offering children an up-close and personal experience with exotic animals and encourage a lifelong passion for wildlife and the environment.
SeaWorld Camps offer something no other camp experience can — the chance to work alongside some of the best animal care professionals in the world. The opportunities campers receive are unequaled — first-hand experiences with veterinarians, animal trainers and animal care staff. But SeaWorld Camps are not all about learning and interacting with animals; they are also about making friends, having fun, exploring the great outdoors, riding world-class coasters and creating lifelong memories.
For more than 40 years, SeaWorld has been committed to animal care, wildlife conservation, education and research. SeaWorld Camps bring kids behind the scenes to teach the synergies that come with caring for animals.
A study by the American Camp Association (ACA) revealed that over 90 percent of campers felt their summer camp experience made them feel good about themselves and helped them make new friends. 70 percent of parents said that summer camp improved their child's self-confidence. SeaWorld Camps offer a learning environment that fosters exploration, inquiry, self-discovery and self-esteem with three distinct camp offerings: traditional "sleep-away" resident camps, day camps and single-night sleepover programs. Camps are offered at SeaWorld parks in Orlando, San Diego and San Antonio, and Busch Gardens in Tampa Bay.
For nearly 25 years, SeaWorld has provided safe, fun and educational camp experiences for kids of all ages — in the not-so-traditional setting of a world-class theme park. In the last 10 years, more than 250,000 youth have attended a SeaWorld and Busch Gardens Camp.
SeaWorld Camps are accredited by the American Camp Association (ACA), a nationally recognized association focused on health, safety and program quality. ACA assists the public to choose camps and works to preserve, promote and improve the camp experience.
For more information, visit SeaWorld.org/camps, call 1-800-406-2244 or visit us on Facebook at Facebook.com/SeaWorldBuschGardensCamps.

BOYERTOWN, Pa. — Gateway Ticketing Systems has announced its 2013 User Group Meeting and the UGM host, The San Diego Zoo. In its 18th year, the annual meeting will be held from August 12–15, 2013, at the US Grant Hotel in San Diego's Gaslamp district. "We're very excited to have The San Diego Zoo host this year's meeting," said Gateway Director of Marketing and UGM organizer Lisa Hagee. "They're not just a world-renowned venue, they're a valuable and knowledgeable customer with whom we enjoy working — the Zoo will be a fantastic backdrop for the User Group Meeting!"
Galaxy System Administrator at the Zoo and UGM Customer Committee member, Michael McSparran, echoed Hagee's excitement: "We're thrilled to be hosting the 2013 Gateway Ticketing Systems User Group Conference in America's fine city of San Diego! We hope the promise of four jammed pack days of presentations, evening social events and networking will make this the best attended UGM yet!"
The annual User Group Meeting focuses on Gateway customers and provides them the opportunity to learn how to do more with their Galaxy investment through the myriad presentation topics and the networking and social activities. This year's agenda will include customer and Gateway presentations, training sessions and interactive panels to learn how to implement and take advantage of new enhancements to the Gateway suite of products. Topics will vary from "For-Profit Strategies in a Non-Profit Environment" to "Keys to Project Success," "Prepping Your Finance Team for Galaxy" and the "Role of a System Administrator," as well as a full day of reseller and consignment sales-themed discussions.
Customers from large and small venues alike will walk away with many ideas they can use for greater operational efficiency and to boost sales. This year's meeting also boasts, for the first time ever, executive-level break-out sessions on Tuesday and Wednesday. The 3-hour "Movers and Shakers" roundtable discussions will focus on management strategies in marketing and finance.
The User Group Meeting is a highlight of the year for Gateway employees and is an important element of Gateway's customer relationships. Again Hagee: "Providing the opportunity for both our customers and our employees to interact and learn from each other at the annual and regional UGMs is fundamental for creating the long-lasting partnerships we have with our customers. The annual UGM continues to grow, because just like with our software products, we take customer feedback about our user group meetings seriously — I'm very much looking forward to seeing our customer's suggestions for topics and format come to life at UGM this year!"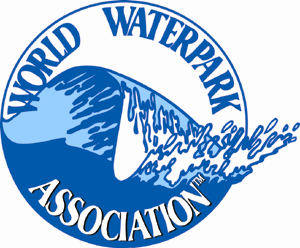 Registration for the Middle East Symposium is now open. This event, held in conjunction with the Dubai Entertainment Amusement & Leisure Show (DEAL) will occur April 22-23, 2013 at the Dubai World Trade Centre. You'll experience two days of networking and educational sessions, as well as tour some of the area's most amazing and innovative waterparks!
We're taking you inside Yas Waterworld in Abu Dhabi and Wild Wadi in Dubai. Plus, there is an optional tour available to go inside Aquaventure at Atlantis the Palm. Click here for more information on these innovative facilities and see just one of the reasons you should join us for the Middle East Symposium!
And, review the following preview of session titles:
Industry Update: Waterparks Around the World
Middle East Safety Forum
Drowning Prevention & Swimmer Protection – Today's Leading Strategies & Training Protocols
Yas Waterworld: Lessons Learned Opening A World Class Waterpark
Legendary Service: Benchmarking The Ritz Carlton Hotel Company Standards of Service
How To Enhance Your Online Visibility
Operators Panel: Addressing Your Top Management/Operations Issues
Download a registration form or click here to review more details & register online.
The DEAL show will be held April 23-25, 2013. Click here for more information or to register for DEAL.
CHICAGO, Ill. — The very notion of what's magical will take on new meaning in America's most famous theme park this November. For the first time ever, the Walt Disney World Resort will be the venue to For A Cause, a 501(c)3 nonprofit organization that orchestrates multi-day charity walks in vacation destinations that uniquely allow participants to walk for the charity of their choice.
The "A Walk Around The World" event (awalkaroundtheworld.org), a walk-only fundraiser limited to 50 participants, takes place November 14–18, 2013. Over the course of three days, walkers will hit the sidewalks and walkways (not streets) averaging 10 miles a day, following a suggested journey through Florida's Walt Disney World Resort. The adventure will take them through major resorts, water parks, and several of the famed theme parks, where walkers will experience all the sites and attractions along the way, at their leisure. In addition, everyone will have a chance to enjoy group meals, activities, shows, fireworks and several very special surprises, according to Robert Webber, president of For A Cause.
"There are so many die-hard WDW fans out there who are going to love the idea of visiting their favorite theme park while walking to raise money for the nonprofit of their choice," Webber says. "In years past, For A Cause participants have traveled to castles in Europe and trekked miles throughout historic destinations, but this is the first time they'll be given a chance to visit Cinderella's castle and walk miles throughout a fantasy destination. It's going to be some serious fun — the Walk will be both magical and meaningful. If your feet get a little tired, you can just hop on one of the enchanted rides and take a break!"
The registration fee for A Walk Around The World is $350 per person and includes a portion of the event expenses, as well as lodging at Disney's Coronado Springs Resort, group meals and group snacks. Single participants will be paired with a roommate, although single rooms are available for an extra charge. Walkers must be 14+ years old to participate. There is a minimum fundraising requirement for the charity of the participant's choice.
"As with all For A Cause events, A Walk Around The World will put participants up in comfortable accommodations, offer excellent food, and an unforgettable experience — this time made possible by the extraordinary setting and fanfare at the Walt Disney World Resort," Webber says.
A complete list of frequently asked questions pertaining to registration, lodging, and walk logistics is available at: awalkaroundtheworld.org/FAQ.html.
For more information about For A Cause, visit www.rfac.org.
About For A Cause
A 501(c)3 nonprofit organization, For A Cause is grounded in its mission to energize and inspire people to make a difference in the world for those who are less fortunate. Orchestrating highly unique, creative and exciting walking and cycling events, For A Cause differentiates itself from other fundraising events by allowing its participants to choose the charity/nonprofit that will benefit from their efforts. Event participants are individuals who walk or ride for everything from breast cancer to AIDS/HIV, homelessness, diabetes, childhood cancers and disabilities, and much, much more. Together, they've raised over $500 million while walking or cycling in incredible destinations worldwide — Italy, Ireland, France, Spain, Scotland, the Netherlands, and, soon, the United States' Walt Disney World Resort.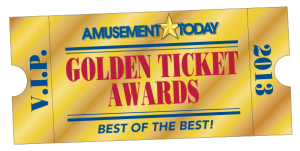 Save the date! Industry professionals are invited to mark Friday and Saturday, Sept. 6-7 on their calendars for Amusement Today's 2013 Golden Ticket Awards. Representatives from parks and attractions, manufacturers, suppliers and consultants will be able to enjoy this two-day event hosted by the beautiful Santa Cruz Beach Boardwalk in Santa Cruz, Calif.
The itinerary and specific details will be finalized in the coming months; however, for those looking ahead to make travel plans, the Golden Ticket Awards registration will kick off on September 6 at noon with behind-the-scenes tours beginning at 2 p.m. The event will conclude with a reception, the awards show and dinner on September 7 from 5–11 p.m. A possible off-site activity is being considered for September 8.
The Golden Ticket Awards have become a "don't miss" industry event, and the Amusement Today and Santa Cruz Beach Boardwalk teams are working hard to roll out the red carpet for attendees. The two-day event will feature special park tours, social receptions, presentations, dinners and time to experience Santa Cruz Beach Boardwalk in operation. The highly anticipated awards show will entertain attendees on September 7.
This will be the 16th annual year for the Golden Ticket Awards; they are presented to the "Best of the Best" in the amusement industry and are calculated from an international poll conducted by Amusement Today. More details to come later this spring!