TAMPA, Fla. — Construction on Falcon's Fury at Busch Gardens Williamsburg surpasses the 300-foot mark on Tuesday, January 7m 2014. The first-of-its-kind Intamin drop ride will top out at 335 feet and feature seats that tilt 90 degrees forward so riders are facing the ground as they plummet from the top of the ride.
ORLANDO, Fla. — The New England Association of Amusement Parks and Attractions (NEAAPA) held its annual Tom Morrow Social during the International Association of Amusement Parks and Attractions (IAAPA) Expo in Orlando, Fla. The late Tom Morrow was called "Mr. NEAAPA" for his years of contribution to the association. Shown at the gala are NEAAPA Past Presidents John Frantzis (left) and Ed Connor (right) with Morrow's son, Greg, who is with Lake Winnepesaukah, Rossville, Ga. More than 100 attended the association dinner.
Housing closes Monday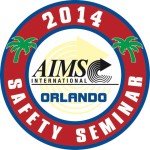 The 41st Annual AIMS Safety Seminar is set to Kick off on Sunday January 12, 2014. Industry professionals from around the globe will gather in Orlando for five days of intensive education, testing and certification. For those that have not yet arranged housing with the host hotel — now is the time. Housing will close on Monday 1-6, so book today.
AIMS commitment to the industry is safety and education, as such, registration will not close, and walk up's are welcome. Visit us at aimsintl.org for more information. See you in Orlando.
ARLINGTON, Texas — The offices of Amusement Today will close at noon on Monday, December 23, 2013, and will re-open on Thursday, January 2, 2014 in order to give our employees a chance to celebrate Christmas and New Years with their family and friends.
Amusement Today desktop edition will not be published on December 24, 25, December 31, 2013, and January 1, 2014.
The Amusement Today staff wish each and every one of our readers and followers a safe and Merry Christmas and a Happy New Year.
An Open Letter from SeaWorld's Animal Advocates

ORLANDO, Fla. — Inaccurate reports recently have generated questions about SeaWorld and the animals in our care. The truth is in our parks and people, and it's time to set the record straight.
The men and women of SeaWorld are true animal advocates. We are the 1,500 scientists, researchers, veterinarians, trainers, marine biologists, aquarists, aviculturists, educators and conservationists who have dedicated our lives to the animals in our care as well as those in the wild that are injured, ill or orphaned. Whether it's a sea lion, manatee, sea turtle or whale, we are on call 24/7.
Here are some important facts about SeaWorld and our work:
SeaWorld does not capture killer whales in the wild. Due to the groundbreaking success of our research in marine mammal reproduction, we haven't collected a killer whale from the wild in 35 years. In fact, only two of the whales in our care were collected by SeaWorld and they continue to be in our care today. In addition, our research has led to a much greater understanding of whales in the wild, giving researchers important scientific insights surrounding marine mammal reproduction.
We do not separate killer whale moms and calves. SeaWorld recognizes the important bond between mother and calf. On the rare occasion that a mother killer whale cannot care for the calf herself, we have successfully hand raised and reintroduced the calf. Whales are only moved to maintain a healthy social structure.
SeaWorld invests millions of dollars in the care of our killer whales. In the last three years alone, we have invested $70 million in our killer whale habitats and millions of dollars annually in support of these facilities. Our habitats are among the largest in the world today. They are state-of-the-art, multimillion-gallon environments of cooled and filtered water that allow for the highest and safest standards of care. We give our animals restaurant-quality fish, exercise, veterinary care, mental stimulation, and the company of other members of their species.
SeaWorld's killer whales' life spans are equivalent with those in the wild. While studies continue to define the average life span of killer whales in the wild, the most recent science suggests that our killer whales' life spans are comparable — indeed, five of our animals are older than 30, and one of our whales is close to 50.
The killer whales in our care benefit those in the wild. We work with universities, governmental agencies and NGOs to increase the body of knowledge about and the understanding of killer whales — from their anatomy and reproductive biology to their auditory abilities. Some populations of wild killer whales have been classified as endangered or threatened, demonstrating the potential critical nature of these research opportunities. This type of controlled research and study is simply not possible in the wild, and has significant real-world benefits to the killer whales that live there.
SeaWorld is a world leader in animal rescue. The millions of people who visit our parks each year make possible SeaWorld's world-renowned work in rescue, rehabilitation and release. We are constantly innovating when it comes to this care: Our veterinarians have created nursing bottles to hand-feed orphaned whales, prosthetics to save sea turtles, and a wetsuit to help injured manatees stay afloat during rehabilitation. Whether it's the result of natural or man-made disasters, SeaWorld is always on call and often the first to be contacted. We have rescued more than 23,000 animals with the goal of treating and returning them to the wild.
Naturalist Baba Dioum put it best when he said, "In the end we will conserve only what we love; we will love only what we understand; and we will understand only what we have been taught."
At SeaWorld, this has been our calling since we first opened our doors 50 years ago. It is a responsibility we do not take lightly. More than 400 million guests have visited SeaWorld. We are proud that their experiences here have a lasting and positive impact on them, and on the world in which we live.
The truth about SeaWorld is right here in our parks and people. Our guests may enter our gates having never given much thought to the remarkable animals in our oceans. When they leave with a greater appreciation for the importance of the sea, educated about the animals that live there and inspired to make a difference, we have done our job.
CEDAR FALLS, Iowa — A long time employee of Waterloo Tent has passed away. Rick Hagen 49, of Cedar Falls, Iowa passed away Wednesday December 11, 2013 at his home. Rick began his career with Waterloo in 2005 as a Carnival business sales rep. He later became territory manager as his business volume continued to grow. Rick was well liked and a respected asset to the Waterloo family. Our prayers go out to Rick's family and friends, Rick will be missed. Services for Rick took place Tuesday December 17th at Prairie Lakes Church in Cedar Falls.
LENEXA, Kan. — Located on the Jersey Shore, Jenkinson's South sits right on the beachfront and provides guests with everything from arcades to amusement rides. Soon they'll be giving guests the latest in cashless technology, as they have chosen CORE Cashless to provide the park with a wide variety of mobile and revenue solutions.
CORE introduced the endlessly flexible Paydia cashless payment platform at the IAAPA Attractions Expo in Orlando this past November. It has since garnered a great deal of industry buzz. The new product suite will allow Jenkinson's guests to use cashless payment at Midway games, Arcades, Redemption Centers, a Water Park, and Food and Beverage locations. Jenkinson's will also be using Paydia for all online sales, including gift cards and guest account registration. By supplying the facility with one comprehensive solution, CORE looks to make a positive fiscal and environmental difference at the park.
"Jenkinson's South is excited to work with CORE Cashless to move our operations toward the future of entertainment," says Toby Wolf, Director of Marketing at Jenkinson's. "Working with CORE Cashless will also allow us to take the next step into a sustainable future by helping us to reduce our carbon footprint."
CORE will begin installation of the new solutions this winter and will look to be finished in April for the park's operating season.
BRUSSELS. Belgium and BURBANK, Calif. — nWave Pictures is proud to announce the release of the new feature-length 3D animated film "The House of Magic" opening this Christmas in theaters in France, Belgium, South Korea, Singapore and Italy. The 85-minute film, budgeted at $34 million, is produced by nWave Pictures in association with StudioCanal and media fund Anton Capital Entertainment. "The House of Magic" is directed by renowned 3D filmmakers Ben Stassen ("Fly Me to the Moon", "Sammy's Adventures: Escape from Paradise") and Jeremie Degruson, with original music by Ramin Djawadi ("Pacific Rim", "Game of Thrones").
"The House of Magic" tells the story of Thunder, an abandoned young cat who stumbles into a magical old mansion operated by a dazzling array of automatons and gizmos. Owned by a retired magician, the house is occupied by an assortment of his wacky assistants who don't all welcome the new houseguest. But when the magician lands in hospital and his scheming nephew puts the mansion up for sale, our young hero and his new friends join forces to save their magical home.
nWave also confirms its plans for the 2014 launch of two new 4D attraction films designed for theme park and attraction exhibitors worldwide. "The House of Magic: The 4D Experience" and "The Haunted Mansion 4D" will be available this spring and Halloween respectively. Based on the animated characters from the feature film, and incorporating original material, the two 12-minute films are designed to maximize the impact of visual and special effects for the theme park audience.

Berkshire East Ski Area Charlemont, MA. — a long standing, northeast family ski destination has committed to adding Aquatic Development Group's ADG Mountain Coaster to its activity mix. Family owned and operated for 35-years, Berkshire East has placed a strong emphasis on growing its year-round and summer activity base. Over the past few years, the ski area has added zip line canopy tours, mountain biking and wind turbine tours to its summer activities. The ADG Mountain Coaster will take Berkshire East to the next level. At a total track length of 5,350 feet, comprised of 1,575 ft. uphill and 3,775 ft.downhill and with a 400 ft. vertical drop, this coaster will be billed as the longest in North America. The ADG Mountain Coaster provides a thrilling guest experience with an unparalleled level of safety. The ADG Coaster incorporates an on-board, collision avoidance system as well as automatic speed restrictors to control top speed; Berkshire's coaster represents the state of the art in mountain coaster technology.
BRANSON, Missouri — Outlaw Run itself was not impacted by a fire Tuesday, December 11, however Silver Dollar City crews had some repair work to the exterior areas of Outlaw Run's queue where the flames were confined (10' x 10') and efficiently extinguished by regional firefighters. Progress is swift in replacing the affected areas, and no impact is expected on tomorrow's scheduled opening of the park, 1:00 central.
The fire occurred at approximately 10:50 p.m. Tuesday evening on an exterior wall in the outside queue line area at Outlaw Run. The smoke alarm system immediately alerted park Security who contacted the Southern Stone County Fire Department. Regional fire departments arrived within approximately 8 minutes and the flame was quickly extinguished.
There were no injuries.
Silver Dollar City opened as scheduled Thursday, December 12, at 1 p.m. for An Old Time Christmas, running through December 30.
Additionally, due to recent severe weather, Silver Dollar City is adding special ticket pricing through the end of the season plus one additional day not reflected on the calendar, Wednesday December 18. For information, go visit silverdollarcity.com.