Anaheim, Calif. — Adventure City is proud to kick off the construction of its newest roller coaster Rewind Racers, expected to open this summer. At a cost of over 2 million dollars, this coaster will be Adventure City's largest single investment to date in its 20 year history.
Gerstlauer Amusement Rides GMBH, a well-known German ride manufacturer has been tasked with building Rewind Racers, the first family shuttle coaster in North America. The coaster will move both forward and backwards and will accommodate riders of all ages. With a mere 39″ height requirement, the coaster's unique design comfortably seats both small children and adult passengers, allowing the whole family to join in on the fun. Themeing for the ride ride, queue, station and video production for the building interiors will be provided by R&R Creative Amusement Designs of Anaheim, Calif.
For many of our visitors, an Adventure City coaster is their first roller coast ride, said Allan Ansdell, President of Adventure City. We are so excited that this summer, Rewind Racers will be many children's first coaster ride, in reverse!
Family owned and operated, Adventure City opened its gates in 1994 and has been known as Southern California's
"Little Theme Park That's Big on Family Fun." Located on the border of Anaheim and Stanton, Adventure City boasts a variety of rides including Adventure City Express Train, Drop Zone and Rescue Ride for the whole family to enjoy. Also, not-to-miss attractions like live entertainment in the children's theater and friendly animals to meet in the petting farm.
Cleveland, Ohio—Britton Gallagher announced the expansion of its staff with the recent hiring of industry veterans Rick D'Aprile, Gene Berger, Rodney Gerbers, David Gallace, Randy Ebens, Tammy Catterton, April Merino and Jennifer Wolfe.
The group brings decades of experience in the entertainment and specialty insurance industry and are experts in creating unique risk management solutions. This team will support Britton Gallagher's specialty insurance division, which has already experienced large success with niche markets such as pyrotechnics, professional athletes and entertainers along with amusements and life sciences.
"The entire Britton Gallagher team is excited to welcome the new staff additions," stated Dennis Laughlin, President and CEO of Britton Gallagher. "We are eager to develop new programs which utilize the team's extensive experiences and expertise which will allow us to offer a level of unprecedented service to niche markets in the entertainment industry."
Founded in 1942, Britton Gallagher, a Cleveland-based privately owned insurance brokerage firm has been providing liability and risk management solutions for a diverse scope of industries. The service-based client model has established Britton Gallagher as the leader in unique arenas including amusement, pyrotechnics, life sciences, professional athletes and entertainers, construction, employee benefits, childcare and executive risk. For more information on Britton Gallagher, please visit www.brittongallagher.com or contact the office at (800) 607-4711.
LAS VEGAS, Nev. — After several weeks extensive testing and media teasing, El Loco — the acrobatic, S&S Worldwide-designed roller coaster that is only the second of its type in the U.S. — finally cut loose inside The Adventuredome at Circus Circus Las Vegas on Feb. 18.
Filling the space formerly occupied by the indoor amusement park's Rim Runner flume ride, the undulating, expectation-defying thriller packs a lot of action into its swift 72-second running time. Its 1,300 feet of bright yellow track include a rapid, 90-foot ascent followed by a high lateral-G hairpin turn and a greater-than-straight-down diving drop.
Sudden, outwardly banked curves and dips catch riders off-guard throughout. The coaster's concluding element, a reverse 240-degree roll that dives into an inverted drop, provides pocket-emptying upside down hang time just before returning to the loading station.
El Loco's four-person, open-carriage cars allow for tight, fast turns. Passengers are treated to a custom soundtrack featuring Latin, Hip Hop and rock music via a surround-sound system built into each seat.
"El Loco offers our guests something they have never experienced before and is the perfect addition to The Adventuredome," said Tom Nolan, the park's vice president of operations. "Riders enjoy El Loco's twists, turns and drops in such close proximity to our other rides that, for an instant, they get the sensation that they may run into Canyon Blaster or even touch the top of the dome. It creates a truly thrilling experience."
For more information, visit www.adventuredome.com. Look for a full report on El Loco in the April print edition of Amusement Today.
— BY DEAN LAMANNA, AT STAFF / FEBRUARY 19, 2014
ARLINGTON, Texas — Six Flags Hurricane Harbor, the largest water park in North Texas, is going to the races with the introduction of the all-new Wahoo Racer! The thrilling multi-lane water slide complex is the largest of its kind in the world and will complement the park's already impressive line-up of more than 40 rides and attractions.
Standing nearly 60 feet tall, Wahoo Racer is a two-tiered slide mat racer that first sends riders on an intense, winding stretch through colorful tubes before shooting them out into six racing track-styled lanes. Riders then zoom down head first, at speeds of up to 40 feet per second, on aero-dynamically designed water toboggans for the final stretch. Each course is timed, allowing guests to challenge themselves, along with family and friends to reach the checkered flag for the win.
"This massive slide structure is a great addition to our park," said Steve Martindale, Six Flags Hurricane Harbor park president. "No other water park in North Texas offers this much thrilling variety and we are committed to delivering a bigger, better and wetter experience to guests of all ages."
Wahoo Racer is part of the second phase of Hurricane Harbor's multi-year enhancement project which includes a new retail location, season pass processing facility and redesigned restrooms.
Wahoo Racer is scheduled to open Memorial Day weekend. Six Flags Hurricane Harbor opens for the 2014 season on Saturday, May 10. For more information about Wahoo Racer and the other exciting water rides and attractions, visit www.sixflags.com/hurricaneharbortexas.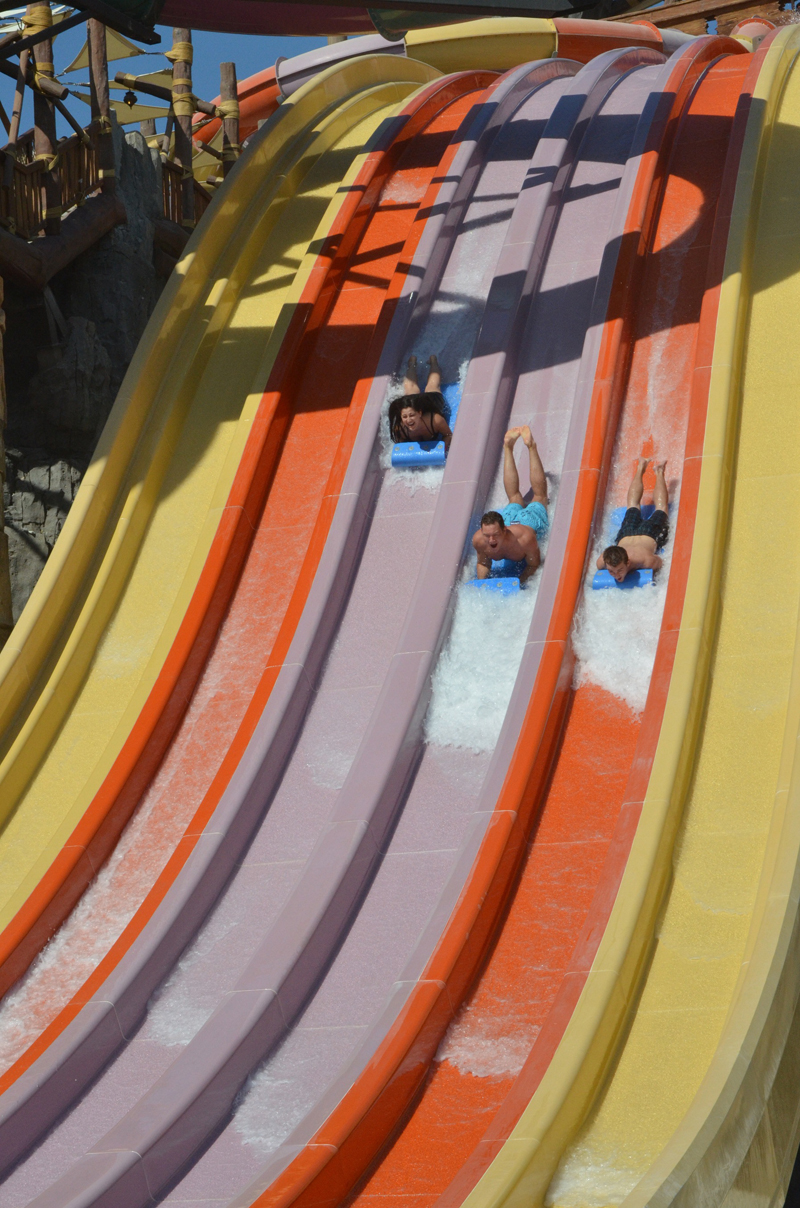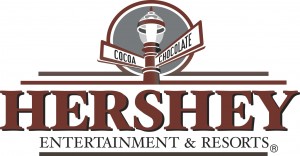 HERSHEY, Pa. — The roller coaster count at Hersheypark will increase in 2014 when the Park introduces a new coaster designed for families to ride together.
Cocoa Cruiser, a new coaster from Zamperla of Italy, will give more opportunities to for adults to ride with their children. Located in the park's Music Box Way area, the compact oval layout will feature a midcourse helix. and the six-car train will hold up to 12 riders.
Two other family favorites will open at the park for the 2014 season — a Tea Cup ride and Sweet Swing, both rides are also from Zamperla.
"Everyone at Zamperla is excited to be adding these three new rides to Hersheypark," said Sales Director Ramon Rosario. "Our rides are designed to attract and entertain the entire family, so they will be a perfect fit.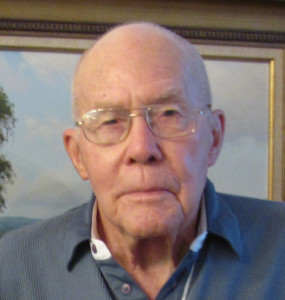 HEWITT, Texas — It is with heavy hearts that we announce the loss of a member of the Amusement Today family. Bill Rea was on hand at the very beginning as the Advertising Manager when Amusement Today was launched in 1997. He passed away Friday, February 7 at a hospice in Hewitt. He was 90.
Rea retired from Amusement Today at the end of 2008, but always kept in touch with staff members and Editor-in-Chief Gary Slade.
Before joining the AT staff Rea was long-time advertising salesman at the Dallas Morning News. He was born and raised in Pottsville, Texas, where he played Texas six-man football. He would go one to attend and graduate Texas Christian University where he would become a Horned Frog fan for life.
Bess Rea, his long-time wife and love of his life, preceded him in death. Funeral services are pending
Look for a complete obituary and tribute in the March issue of Amusement Today.
MASON, Ohio – The vehicles for the first of three trains for the new Banshee roller coaster at Kings Island were delivered to the 364-acre amusement and waterpark on Wednesday. Currently under construction, Banshee will be the world's longest inverted roller coaster when the $24 million ride makes its highly-anticipated debut April 18. Riders will scream their way through 4,124 feet of track and seven inversions at speeds up to 68 mph.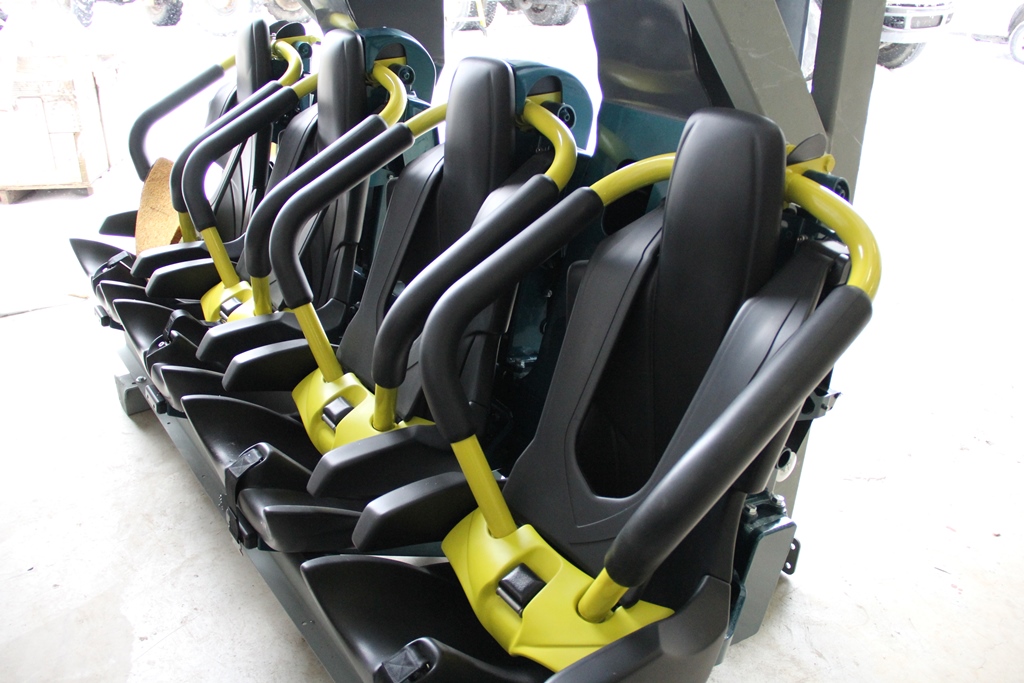 MASON, Ohio – In this photo, a workman prepares for the installation of the chain for the lift hill of the new Banshee roller coaster at Kings Island. The $24 million ride will be the longest inverted roller coaster in the world when the ride debuts April 18. Riders will scream their way through 4,124 feet of track and seven inversions at speeds up to 68 mph.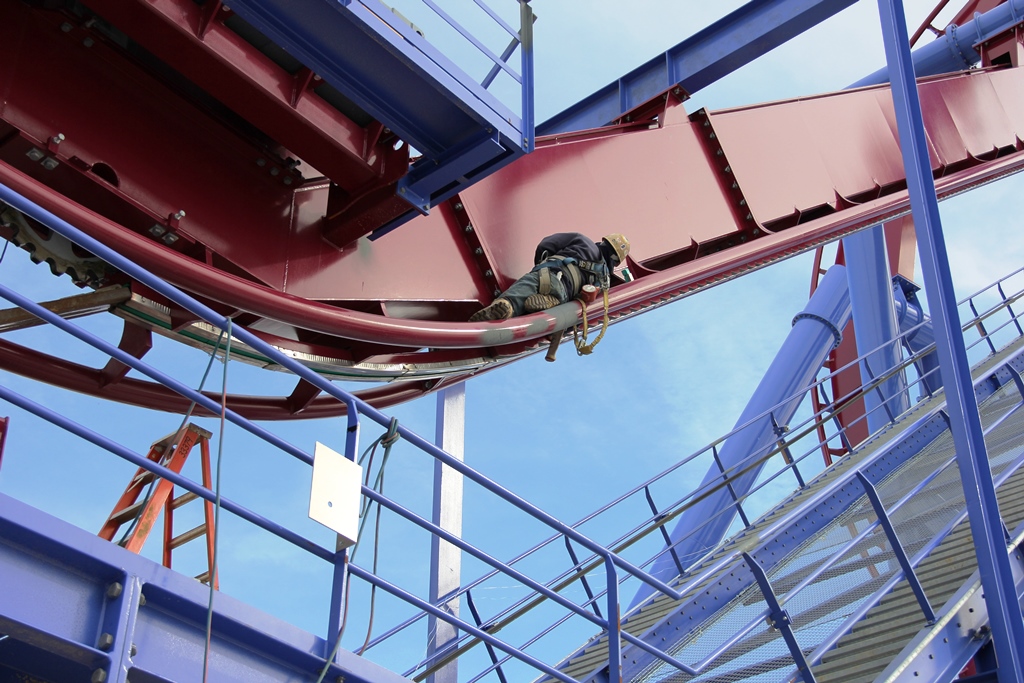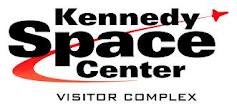 CAPE CANAVERAL, Fla. — Visitors interested in receiving unprecedented access to the Vehicle Assembly Building (VAB) at Kennedy Space Center now have until only Feb. 11 to enjoy the KSC Up-Close Tour of the VAB.
After a little more than two years, the tour is being halted to allow for modifications needed while Kennedy Space Center is changing into a multi-user Spaceport and preparing for the Space Launch System.
The VAB tour is part of the KSC Up-Close Mega Tour that also takes visitors to Launch Pad 39-A. The Mega-Tour will also end on Feb. 11, but the Launch Pad and Launch Control Center (LCC) up-close tours are continuing at this time, although both are also subject to potential Kennedy Space Center efforts for SLS and commercial space programs.
One of the largest buildings in the world, the VAB had been off limits to visitors for more than 30 years until the Up-Close tour was added in November 2011. For the first time since 1978, guests at Kennedy Space Center Visitor Complex have had the chance to disembark their tour buses and tour inside the VAB to see firsthand where monstrous vehicles were assembled for launch, from the very first Saturn V rocket in the late 1960s to the very last space shuttle, STS-135 Atlantis, in 2011.
"Kennedy Space Center Visitor Complex has been honored to give our guests rare access to the VAB for the past two years, yet we knew that the day would come when preparations for the SLS would take precedent," said Therrin Protze, chief operating officer for the Visitor Complex. "Kennedy Space Center is an operating space program facility, and preparations for the next chapter in space exploration are the utmost priority, and we are very excited about the future."
CHICAGO, Ill. — Ray Pilszak, 82, a long-time employee of Amusement Business, died January 18, 2014, in the city of his birth, Chicago. He would have turned 83 years old on March 5,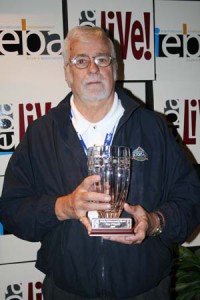 2014.
Known in the industry as a tenacious ad salesman, Pilszak had only one job his entire adult life and that was with Billboard Publications/Amusement Business.
Pilszak had put together a bio most likely when he was inducted into the International Entertainment Buyers Association's Hall of Fame in 2012.
In it, he stated: "After eight years in the [United States] Marines, [I] joined Billboard Publications in Chicago as a trainee in the production department, then moved into advertising sales. [I] transferred to the New York office and was appointed Ad Manager for Amusement Business, publishers of Arena, Auditorium and Stadium Guide, Calvalcade of Acts & Attractions and Funspot Directory, in addition to weekly issues of Amusement Business (this was in the late 1960s).
"AB relocated to Nashville in 1970. I always serviced ad accounts for arenas, fairs, talent and carnivals. Weekly ad campaigns included Reba McEntire, George Strait, Randy Travis, Barbara Mandrell, Louise Mandrell, Alabama, Ricky Nelson. [I] served on the Board of Directors of Gospel Music Association and the Academy of Country Music. Received the Mae Boren Axton Award from the ACM. Received the Maynard L. Reuter Award from Billboard Publications."
Pilszak remained in Nashville until he retired in 2001. He continued being a part of the industry and remained in Nashville until the last couple of years when family members' health needed attention so he went to Chicago to help tend to them.
Pilszak was well-known in the industry and he excelled in the talent area of advertising.
Former AB employees have been remembering Pilszak this past week by relating numerous "Ray Pilszk stories" of how he never took no for an answer and never knew a deadline.
He also was known to do anything he could for his friends and, according to Beth Jenkins, who had known Pilszak since she began working in AB sales shortly after the magazine moved to Nashville, "he considered everyone he worked with and did business with his friends."
Tom Powell, former AB editor who now writes for the Outdoor Amusement Business Association, worked with Pilzsak for more than 40 years. In OABA's ShowTime Xtra, Powell writes: "We used to joke that he drove everybody nuts, but everybody eventually learned to love him. He had a good heart and, literally, would give you the shirt off his back." Powell's column is filled with affectionate humor for a friend he said he would deeply miss…a friend with which he spent much of his life.
Jenkins said: "Ray was a leader in the fields that AB covered. He was a valuable source in all industries and was one of the leaders in the country music industry at a time when its growth was taking off in Nashville."
Tim O'Brien, a senior editor for AB for 18 years and who afterwards worked for Ripley's for 10 years, worked closely with Pilszak during his years at AB. Upon hearing about Pilzak's passing, O'Brien said: "Ray was loved by everyone, but no one could really figure him out. As a salesman, he was great because he really knew how to work the room, and he loved to drop names of celebrities! He knew a lot them and would often invite them to come into the AB offices to impress us.
"He kept his personal life close to his vest, but he could talk about the industry and its history for hours," O'Brien said. "I always felt that he had an issue with how the publication was run and he was always quick to point out how it could be improved, but he hung in there and did his best because he loved the industry, especially the talent side. When I close my eyes now, I think of the kind smile he had, the annoying whistle that always seemed to emanate from his mouth, and how he could nurse one bottle of beer during an entire event. He was quite the man. "
At Pilszak's request, no funeral services were planned. Survivors include his wife, of 56 years, Georgia, and a daughter, Krisa Pilszak, a dance instructor.
Please see an extended obit in Amusement Today's March print issue where more former AB employees share their friendships about Ray Pilszak. This author also worked closely with Ray. Our offices were immediately next door to each in the offices on Music Row in Nashville. His enthusiasm for his work was unmatched…well was maybe matched by his buddy and partner in crime, Tom Powell. Almost daily I would hear someone yelling Ray's name and going after him as he would head swifty, with that soft smile on his lips, directly into his office where he would close his door quickly. And, more likely than not, Ray had just sold a full page ad to someone days, a week or perhaps two weeks after deadline, depending on the publication. Sales, editorial and production would be quickly on his heels. But, he was never denied. We ALWAYS found a way to take Ray's advertising dollars.
— Pam Sherborne