Smoke alarm pledge sweepstakes winner announced, with grand prize trip to LEGOLAND Florida Resort or LEGOLAND California Resort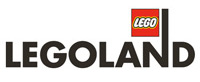 WINTER HAVEN, Fla. – As a national sponsor of Legoland Parks, the National Fire Protection Association (NFPA) joined Legoland Florida Resort today to celebrate Fire Prevention Week (Oct. 5-11) with a special fire safety day in the park. Fire safety day featured live performances by PBS personality Steve Rosnolek of "SteveSongs" fame. NFPA teamed up with SteveSongs this year to help educate children about fire safety, including the release of a children's music video, "Little Rosalie" which informs children about what to do when they hear the sound of a home smoke alarm.
The fire safety day was held at Legoland Florida's longest-running live show "The Big Test," an acrobatic comedy in which the Fun Town Volunteer Firefighters try to become "real" firefighters. The event also included a number of learning stations with key safety messages from NFPA, highlighting smoke alarm testing, and meet and greet sessions with local firefighters.
NFPA also announced today the grand prize winner of its smoke alarm pledge sweepstakes in partnership with Legoland Florida Resort and Legoland California Resort. The winner, Laura Patterson, Woodland, Wash., will choose a prize trip for up to four people to either park. The pledge, which ran September 2 to October 5, encouraged the public to test their smoke alarms each month, and was created to reinforce this year's Fire Prevention Week theme, "Working Smoke Alarms Save Lives: Test Yours Every Month!". Additional prizes are being awarded to 10 smoke alarm pledge participants who win free tickets to Legoland Florida Resort or Legoland California Resort.
"Getting the word out about the importance of working smoke alarms is so important to help save lives from home fires," said Lorraine Carli, NFPA's vice president of Outreach and Advocacy. "Teaming up with our Legoland partners to sponsor the smoke alarm pledge and hold special events around Fire Prevention Week is a great way to inform children and their families through fun and entertaining time together."
"Combining fun with learning is a key part of Legoland Florida's mission," said Legoland Florida Resort General Manager Adrian Jones. "We're excited to team up with NFPA and actively support Fire Prevention Week, and help educate children on the importance of smoke alarms and fire safety."
This year represents the third year NFPA and Legoland Parks have joined forces to promote Fire Prevention Week and its home fire safety messages. NFPA and Legoland California Resort teamed up recently to reach families about testing home smoke alarms during an appreciation day for local firefighters.
According to NFPA statistics, about 3,000 people die in U.S. fires each year, with the majority of those deaths occurring in homes. Three out of five home fire deaths occur in homes where there are no smoke alarms or no working smoke alarms. Meanwhile, working smoke alarms cut the chance of dying in a home fire in half.
For more information about smoke alarms and this year's Fire Prevention Week campaign, visit FPW.org.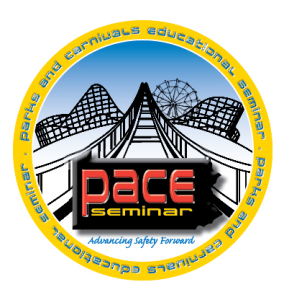 This year's PACE Ride Safety Seminar will be held in Bloomsburg, Pa., October 27 through October 30. The annual seminar is jointly sponsored by the Pa. Amusement Parks Association (PAPA) and the Pa. State Showmen's Association (PSSA) with the educational portion of the seminar led by instructors from the National Association of Amusement Ride Safety Officials (NAARSO).
The classroom portion of the seminar is being held at Bloomsburg University. Included in the training this year is a "Hands On" session that will be held outdoors at Knoebels Amusement Park.
Attendees can sign up for either 24 hours of certification training or 32 hours of certification training. All training hours are recognized by NAARSO and Pennsylvania for continuing certification hour credits. In addition, Certified Inspector Testing will be offered on Wednesday, October 29, for both Pennsylvania or for NAARSO.
For more information on the PACE Seminar information can be obtained by visiting the PAPA website paamusementparks.com or PSSA website pashowmen.com.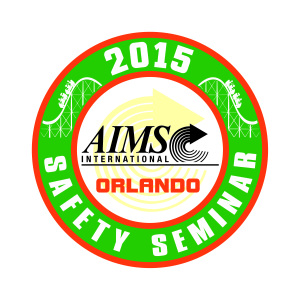 Nashville, Tenn. — Registration for AIMS International's 43rd Annual Safety Seminar is now open and available online. This comprehensive seminar, to be held January 11-16, 2015 at the Doubletree by Hilton in Orlando, Florida, offers classroom and hands-on safety training along with invaluable networking opportunities for ride inspectors, maintenance, operations and aquatic personnel in the amusement industry. With more than 300 students expected, the seminar is renowned for its diverse curriculum and the quality of its expert instructors who are today's leading industry professionals.
Tuition is $595 and includes all class materials, lunches, two daily breaks, Continuing Education Units (CEU), and completion certificates. AIMS certification testing and other certificates are offered at an additional fee. Level I testing is available in Spanish. A complete schedule and class list along with hotel and other information can be found at aimsintl.org. For more information about the AIMS Safety Seminar, please email info@aimsintl.org or contact Holly Coston, Seminar Operations Manager, 714.697.6654.
About AIMS International
AIMS International is a non-profit 501(c)(6) association dedicated to improving amusement Industry safety through its leadership in education. AIMS International provides training classes and certification (CEU) programs for ride inspectors, operations, aquatics and maintenance personnel through its annual Safety Seminar and at other venues throughout the year. AIMS also serves to inform its members on legislative and other issues relating to industry.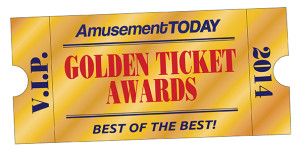 ARLINGTON, Texas — For those that may have missed the 2014 Golden Ticket ceremony or wish to see it again, a copy of the entire show, made while it was live-streamed from SeaWorld San Diego, has been posted to Amusement Today's YouTube channel is now available online. Also online are photos highlighting various aspects of the three-day event.
Visit GoldenTicketAwards.com and click on 2014 event.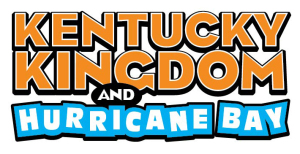 LOUISVILLE, Ky. — As Kentucky Kingdom wraps up its 2014 season, the park's management team is pleased with the solid results for this first year, but spends little time looking over its shoulder, announcing that "More Rides, More Water, More Hours, and More Fun" are on the way for 2015.
According to Ed Hart, Kentucky Kingdom's President and CEO, "Our guests have demonstrated their support throughout the 2014 season. Now it's time for us to demonstrate our ongoing commitment to everyone who's made Kentucky Kingdom their family's new place to play." Hart added, "Throughout the season, our guests told us they love the expanded water park, but would like more time to visit. Guests also asked us if we had plans to add more rides to the theme park. Let me sum up our response by saying next season is all about "more rides, more water, more hours, and more fun!"
The operating calendar for Kentucky Kingdom and Hurricane Bay will increase from 94 days in 2014 to 110 days in 2015 and the park will operate for longer hours on weekdays.
But the really big news is the park's announcement of the biggest reinvestment in Kentucky Kingdom's history. For 2015, the park will add five new marquee attractions worth more than $30 million:
T3 — Terror to the Third Power. Originally T2, North America's first Vekoma suspended looping coaster will be refurbished with new trains, a new look, and new ride experience.
Cyclos — A Zamperla swinging pendulum ride with a rotating platform that does a full 360-degree swing.
SkyChaser — A 130-foot-tall rotating swing ride manufactured by ARM Rides.
Raging Rapids River Ride — return of the 1999 Intamin river rapids ride.
Enterprise — return of the popular Huss Enterprise.

AMSTERDAM, the Netherlands — Over the three day period September 23 to 25, 2014, the Euro Attractions Show (EAS) realized the highest number of exhibitors, the largest amount of exhibit space, and a record attendance by visitors. It is the largest trade show for the attractions industry in Europe and this edition in Amsterdam has been the most successful in the event's 11-year history.
EAS is organized by the International Association of Amusement Parks and Attractions (IAAPA) and rotates every year over different European countries. IAAPA Vice President of European Operations, Karen Staley said: "Again Amsterdam has proven to be the right place for our show. With numerous projects going on in the northwest part of Europe and with a strong and dynamic industry in the Benelux-region, we had high expectations but these figures are really extraordinary."
Preliminary counts show that about 10.750 visitors came to the event this year. In comparison to EAS 2013 in Paris this is an increase of 26 percent. The visitors came from more than one hundred countries and about a third came from The Netherlands. This year organizers noted a substantial increase of managers from campgrounds, shopping centres, and family entertainment centres. A record 441 companies from 36 countries showcased their latest products, including roller coasters, attractions, ticket and access systems, 3-D movies, games, and much more. The growth in guest interactivity and the combinations of different technologies in one attraction are some important trends featured among the products exhibited at this year's show.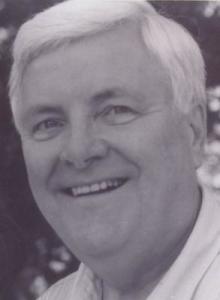 NASHUA, N.H. — Robert J. "Bob" Goldsack, 82, of Nashua, passed away Wednesday morning, August 13, 2014 at St. Joseph Hospital in Nashua. Born and raised in Plainfield, New Jersey, he was the son of Robert and Marguerite Goldsack. He graduated from Plainfield High School where his fellow students elected him President of his 1949 Senior Class. A graduate of Seton Hall University, Mr. Goldsack started as a copy boy and worked his way up to advertising director of the Courier-News, a one time 60,000 circulation daily Gannett newspaper in Plainfield-Bridgewater, New Jersey. While employed at The Courier-News, Bob graduated from the Newspaper Advertising Executives Management course at Columbia University in New York City and served as Chairman of the New Jersey Press Association in 1971. He was also very active in the Retail Trades Division of the Plainfield Area Chamber of Commerce, the National Retailers Association and Plainfield Jaycees. From 1962 through 1969, he and a partner owned the New Jersey Red Oaks, a very successful on the field and at the ticket office, Semi Pro football team. After 25 years with the Courier-News, Bob joined the Corporate Staff of the Thomson Newspaper chain as a consultant to the many daily newspapers owned by that corporation throughout the United States. He and his family moved to Nashua in 1978.
Mr. Goldsack accepted a position as Regional Manager of Metro Creative Graphics, a company that furnishes art work and advertising ideas to newspapers throughout the country. His territory consisted of all six New England States, New York and New Jersey. During the Korean War, he served aboard aircraft carriers during a four year Navy hitch. He was awarded the United States Korean Service Medal, United Nations Korean Medal, American Defense Medal, Good Conduct Medal and the South Korean Government's Commerative Medal. Following the Korean War, he was involved in supplying aircraft to the French in French Indo China, which later became Vietnam. In 1953, Bob married the love of his life, Joan Stevens, a classmate from grammar and high school, who passed away in January 2008, after 54 years of marriage. They were the parents of nine children. In Nashua, Mr. Goldsack has served as a substitute teacher in the middle and high schools for 16 years. He served several terms as a director of the Nashua Historical Society and as assistant treasurer of that organization. He was a parishioner of the Parish of the Resurrection for the past 36 years. A lifetime historian and writer documenting the outdoor entertainment business, his first book The World of Mirth was published in 1984. Fourteen more books followed that including Remembering Benson's Wild Animal Farm; A History of New England Amusement Parks; Those Big and Colorful Railroad Carnivals; A History of the Clyde Beatty-Cole Brothers Circus; and Behind the Scenes at the Eastern States Exposition – The Big E. In 2010, he produced an updated book on Benson's Wild Animal Farm for Arcadia Publishing. Mr. Goldsack also published his own quarterly magazine "Midway Journal Illustrated" from 1996 through 2000, and was then hired by the Circus Fans of America to serve as editor and publisher of The White Tops, the organization's bimonthly magazine. He retired from that position in 2006. For five straight years he was commissioned to write a two page historical story for "Midway Marquee," the Outdoor Amusement Business Association's yearbook and was often hired to write articles for various publications. He also worked as a consultant for many show business projects and gave talks throughout the country, regarding the subjects of his books and the outdoor entertainment industry in general. He also presented several courses at Rivier College for the RISE Program. His memberships in amusement organizations included the Outdoor Amusement Business Association; Showmen's Club of Gibsonton, Fla.; Showmen's Club of Sarasota, FL; Circus Model Builders Society; Carnival Historical Society; Caroussel Historical Society; and was very active in raising funds to build and open the Showmen's Museum in Gibsonton, Fla. He was also a member of the Veterans of Foreign Wars, the American Legion and the Korean War Veterans Association. An avid traveler, Bob and his wife toured Europe three times, steamboated several times on the Mississippi (1990) and Ohio (1993) Rivers and spent time in every state except North Dakota.
Robert was predeceased by his wife Joan and son Garrett.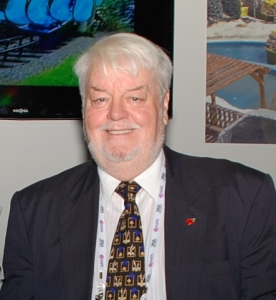 NEWCASTLE UPON TYNE, United Kingdom — Mike Anderson, well-known throughout the amusement and theme park industry as part of the Interlink team, passed away at the end of August.
Anderson began his career in the industry somewhat by default after he was asked to build a monorail for the UK park Flamingoland in North Yorkshire in 1983. In that same year he founded ride manufacturer Mimafab Ltd. and subsequently went on to work for Interlink in 1986/87.
Anderson's particular areas of expertise were in engineering and fabrication, in particular with water based leisure attractions, while he also had many years' experience in the operation of rides in parks. He managed Interlink's UK company, working as technical and commercial director, and was also responsible for the company's rides installation sub division. He celebrated his 70th. birthday on July 15.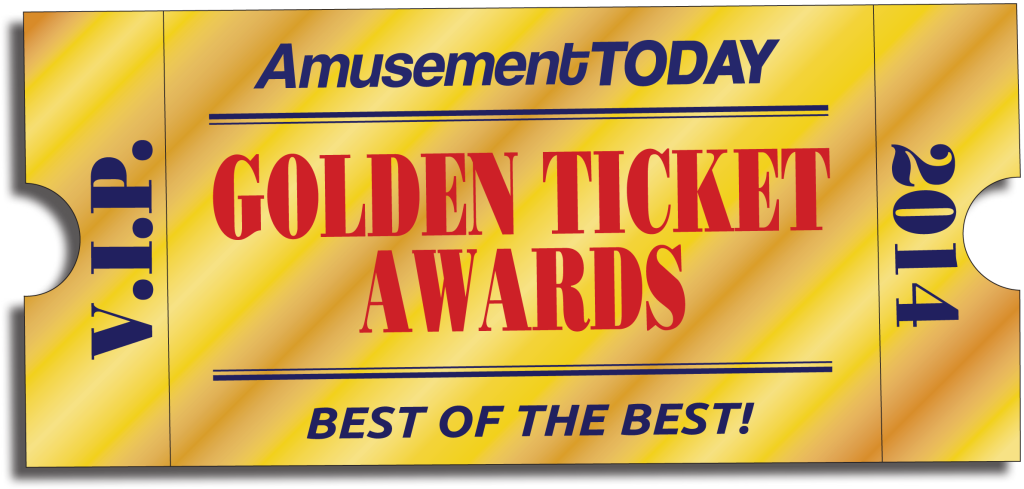 SAN DIEGO, Calif. – In an awards' show hosted by SeaWorld San Diego, Amusement Today announced the winners of its prestigious 2014 Golden Ticket Awards, which are presented annually to the "Best of the Best" in the amusement industry. Calculated from an international poll conducted by Amusement Today, the Golden Ticket Awards are the results of a detailed survey that is sent to a database of experienced and well-traveled amusement park fans around the world – in balanced geographical regions – asking them to rate the "bests" in 25 categories.
The poll revealed some surprises. For the first time in the 17-year history of the Golden Ticket Awards there was a new winner for "Best Amusement Park" when Europa-Park in Rust, Germany, took top honors; 16-year perennial favorite Cedar Point in Sandusky, Ohio, came in second place. And in a tight race for "Best Landscaping," Gilroy Gardens in Gilroy, Calif., came within one percent of the votes to nearly beat always-favored Busch Gardens Williamsburg in Williamsburg, Va., for the first time ever.
For a complete listing of the 2014 recipients visit goldenticketawards.com.
Restored, 1925 Prior and Church car will be a jewel in museum collection.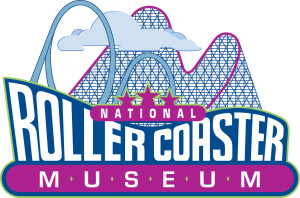 SAN DIEGO, Calif. — The nearly ninety year journey from iconic roller coaster to a beachside Saloon is finally ending as a coveted piece of history in the National Roller Coaster Museum.
The Prior and Church car ironically sat in front of The Coaster Saloon in San Diego for many years after it was retired from service on Belmont Park's Giant Dipper wooden roller coaster.
The car will join an unrestored Prior and Church car from the Giant Dipper in the NRCMA collection. "We certainly want to thank San Diego Coaster Company, Belmont Park, John Renna owner of the Coaster Saloon, former members of the Save the Coaster committee and, of course, Dana Morgan, for the donation and the tireless hard work in preserving this beachfront icon of California and the amusement industry," NRCMA Chairman Gary Slade said.
Ongoing acquisition of artifacts like this one from Belmont Park and the Coaster Saloon, which include items from Cedar Point, Six Flags New Orleans, Knott's Berry Farm, Elitch Gardens, Circus Circus, Lakeside Park, Adventuredome, White Water Branson, Busch Gardens, AstroWorld, Morey's Piers and Adventure City forced the NRCMA to outgrow its current facility.
"We are always looking for facilities interested in our mobile or custom exhibits. In order to continue to acquire artifacts, we need the industry to support us and to help us expand. If we don't preserve our history for generations to come, it will be lost," Slade said.