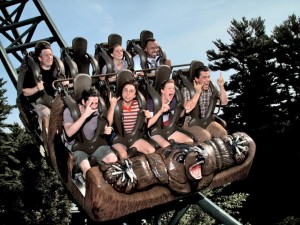 SALEM, N.H. — The call came from a production coordinator for the new Jason Reitman film, Labor Day. The movie crew had been shooting parts of the film nearby in Massachusetts and the script called for a scene featuring two of the principal characters in an amusement park setting, specifically riding "tea-cups." Academy Award-winning actress Kate Winslet and award-winning actor Josh Brolin were the focus of the scene.
"Our team worked with the production coordinator to ensure that their experience filming in our great state of New Hampshire was smooth and seamless," said Chris Nicoli, Canobie's Marketing and Entertainment Manager. "Canobie Lake Park has been used as a location in other film and television productions over the years, both as a setting and as a featured subject. In this case, we were able to accommodate a major motion picture company that needed just the right look of a classic family amusement Park for the scene."
Canobie's staff arrived at the Park at 3AM on a recent Friday morning to get ready for the arrival of the tractor-trailers of equipment and a full production crew that arrived shortly thereafter. Lighting, cameras, monitors and other essential equipment were put in place in the center of the Park. Test shots were made and extras were put into costume and make-up. The key actors then arrived, the scene was shot and the crew wrapped up after nearly six hours of work before the Park's scheduled opening of 11AM. All for what will amount to only seconds in the film.
"The entire event went extremely smooth," said Nicoli. "Respecting the privacy of the production, a closed set was ordered. About one-fourth of the Park was sealed off to allow the film team to gather the necessary footage. Once all was complete, actor Josh Brolin and director Jason Reitman wrapped up their day with a ride on our vertical incline roller coaster, Untamed. Absolutely no trace of the substantial production remained by the time the Park gates opened to the public."
Labor Day is based on the book of the same name by Joyce Maynard about a thirteen-year-old boy from New Hampshire and the life lessons he learns over a long Labor Day weekend. Jason Reitman, who also directed the films Juno, Up In The Air and others, wrote the script for the movie adaptation and is the director. It is scheduled to be released sometime next year and Canobie Lake Park can say they had a hand in its production – at least for a few seconds of it.
---
Comments are closed.
---