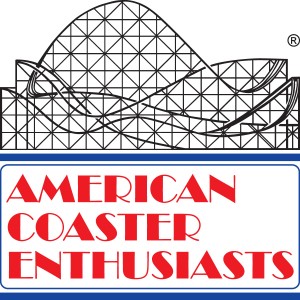 130 roller coaster enthusiasts from across the U.S. will traverse between Illinois and Wisconsin to recognize three parks for their acts of coaster preservation. The three-day celebration is the annual preservation conference of American Coaster Enthusiasts (ACE), which will be held August 10–12 at Six Flags Great America, Little Amerricka and Bay Beach Park.
A highlight of the event will take place the afternoon of Friday, August 10, when the members of ACE will present a monument plaque to Six Flags Great America designating the park's iconic steel coaster, Whizzer, an ACE Roller Coaster Landmark. Designed by engineer Werner Stengel and manufactured by the legendary Anton Schwarzkopf, Whizzer is the last remaining large, steel, custom-built Schwarzkopf "Speedracer" coaster in North America. Originally named Willard's Whizzer after Marriott founder J. Willard Marriott when the park opened as Marriott's Great America on May 29, 1976, its name was shortened to just Whizzer in the 1980s. Six Flags Great America has done a commendable job preserving and maintaining Whizzer, much to the delight of the unique coaster's multi-generational fan base. The ACE Landmark Coaster designation is a rare and coveted award as only a small number of coasters have earned this status denoting their position in the amusement industry as historically significant. Whizzer is joining Batman the Ride, which was designated an ACE Roller Coaster Landmark in 2005. This makes Six Flags Great America among a select group of parks, and the first Six Flags park, to receive two such awards.
---
Comments are closed.
---