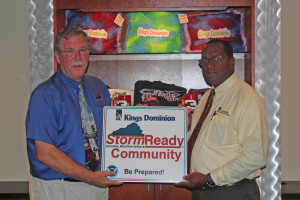 DOWSELL, Va. — Kings Dominion is excited to announce the park is now one of only three businesses in Virginia to be recognized by the National Weather Service as StormReady!
On July 12, Meteorologist Bill Sammler with the National Weather Service in Wakefield visited Kings Dominion to officially celebrate Kings Dominion's StormReady recognition. Kings Dominion is now just the third StormReady business in Virginia. StormReady is a National Weather Service preparedness program that recognizes Kings Dominion as a business that has the plans in place and mechanisms available to alert guests and employees to potential severe weather. Kings Dominion received its StormReady designation on May 31, 2013. The StormReady recognition is valid for 3 years, until a renewal process begins.
"This StormReady recognition sends a positive message because unlike a lot of business that have most of its employees inside, Kings Dominion has employees and patrons outside in the most vulnerable locations. Kings Dominion is primarily in business when thunderstorms are most active. This sets an example for other businesses to show how to keep its employees and guests safe," said Bill Sammler, Meteorologist, National Weather Service
"The StormReady recognition shows Kings Dominion cares about the safety of not only the people who work here, but also those who visit here. It is another tool to help Kings Dominion better prepare itself if we should get any severe or hazardous weather," said Hezy Braxton, Security Manager, Kings Dominion
---
Comments are closed.
---