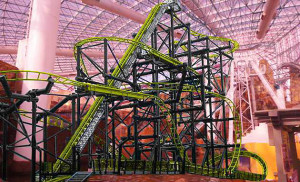 LAS VEGAS, Nev, — S&S Sansei has confirmed that the Utah-based ride manufacturer will supply one of its El Loco steel roller coasters for the Adventuredome at Circus Circus. The new coaster will replace one of the park's original rides, the Rim Runner (Arrow Dynamics Shoot-the-Cute), which closed to the public on Feb. 3, 2013.
When El Loco opens in later this year it will be only the second such ride to operate in the U.S. The first opened as Steel Hawg at Indiana Beach in 2008. Like that coaster, El Loco will feature a 70-foot beyond-vertical first drop along with a 45-degree outward banked turn and an 180-degree barrel roll along its 1,300 feet of track.
"The addition of El Loco to the Adventuredome is a significant move in our efforts to entice a new generation of roller coaster lovers," said Tom Nolan, vice president of operations for Adventuredome. "We are committed to reinventing the Adventuredome experience with fresh and exciting rides for new and repeat guests."
With construction slated to begin in a few weeks, the new coaster should be up and running by December.
---